Kiermaier still dealing with right thumb injury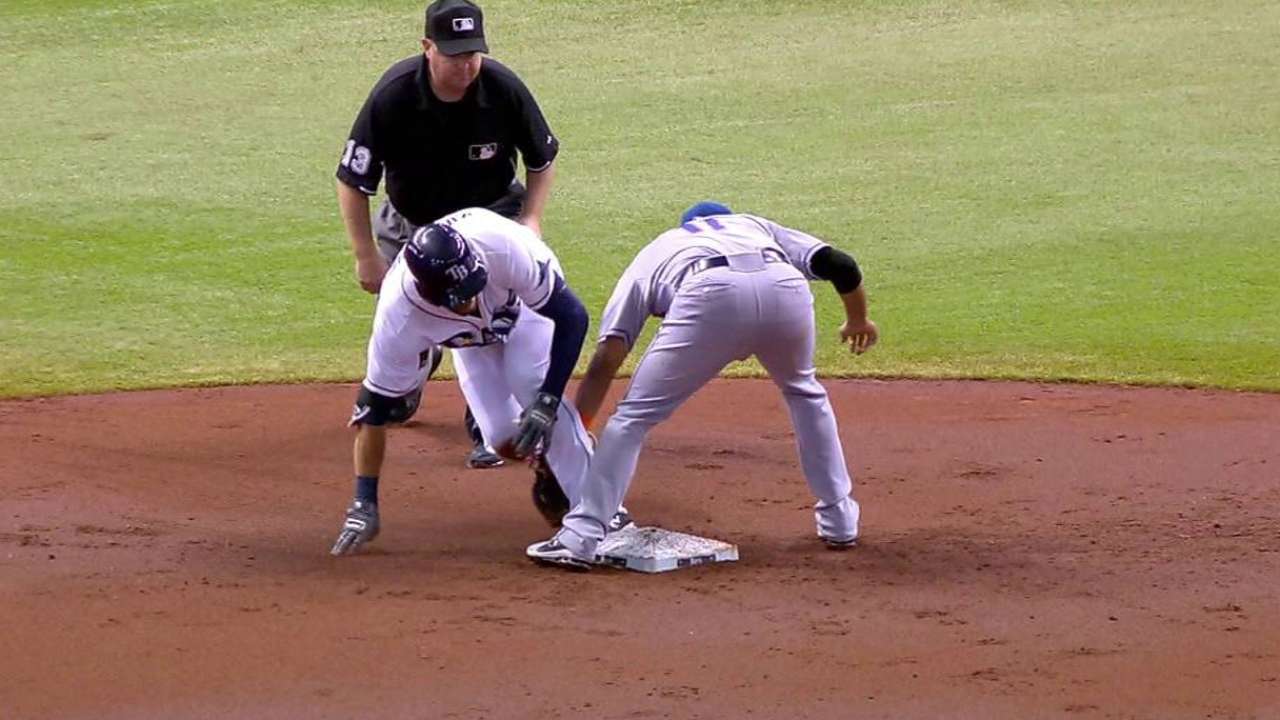 ST. PETERSBURG -- Kevin Kiermaier was able to play the remainder of Saturday's 5-4 victory after jamming his right thumb in the first inning,but the injury held the Rays outfielder out of the starting lineup in the Rays' 4-3 victory over the Mets on Sunday.
Kiermaier did enter Sunday's contest as a pinch-runner -- wearing a mitten-like glove on his right hand to avoid re-injuring the thumb -- after John Jaso singled in the seventh inning. He then proceeded to play in center field for the remainder of the game.
"It didn't feel like I hoped it would feel when I woke up this morning after getting treatment," Kiermaier said before the game on Sunday. "I tried swinging a bat and didn't have a whole lot of grip strength, so we made the decision that I'll be available for defense [if needed], but it's probably best to let it rest and let all the swelling and inflammation settle down."
Kiermaier injured the thumb after he delivered a two-run single to give the Rays an early 4-3 lead. After reaching first, the speedy outfielder saw an opportunity to get to second after a throw to third was made, and while sliding feet-first into the bag, he jammed his thumb in the dirt.
He remained in the game after the injury, but said it was a "struggle" to play with, especially on the offensive end.
This injury comes just a couple of weeks after Kiermaier suffered a minor abrasion of the left eye -- an injury that did not cost him any games -- being hit with a resistance band he was using to stretch with.
"It was a dumb, reckless slide that could have been avoided and it caught up with me," Kiermaier said. "It's been a frustrating couple of weeks for me and this is just the icing on the cake."
Kiermaier believes that with the Rays having an off day on Monday, he should be able to return to the lineup on Tuesday when the Braves come into town.
Worth noting
Rays catcher Curt Casali, who was removed from Saturday's ballgame with a head contusion after being hit by Travis d'Arnaud's backswing in the first inning, said he felt fine this morning and did indeed pass his concussion test.
Troy Provost-Heron is an associate reporter for MLB.com. This story was not subject to the approval of Major League Baseball or its clubs.