Miggy will run bases Tuesday to test calf
Tigers superstar, who has been sidelined since July 3, will also take live BP
DETROIT -- All-Star Miguel Cabrera is scheduled to take the next step in his recovery process from a Grade 3 left calf strain by running the bases Tuesday before the Tigers face Kansas City at Kauffman Stadium.
Cabrera, who hasn't played since July 3, also plans to take live batting practice that afternoon.
"The important thing is that he comes through the baserunning portion," Tigers manager Brad Ausmus said Sunday morning. "He's been hitting on the field, so I'm not really concerned about the live batting practice.
"It's the baserunning that we need to get him past before the next step can be taken."
Ausmus has said he believes Cabrera could rejoin Detroit near the end of its eight-game road trip -- which starts Monday -- or around Aug. 20, when the Tigers begin a home series against the Rangers. Either scenario places the first baseman's return closer to the short side of his initial six-to-eight-week prognosis.
"I don't think it's the stopping that's the concern; I think it's the sudden lateral movement in the field or the sudden movement when you're on the bases or coming out of the batter's box," Ausmus said. "[It's] more the acceleration, to whatever extent Miggy accelerates."
The Tigers still haven't decided if Cabrera will go on a rehab assignment.
"Part of that's going to be up to him, whether he feels he needs it or not," Ausmus said.
Detroit hasn't had many difficulties replacing Cabrera at first base. Alex Avila, who has spent the bulk of his career behind the plate, has impressed Ausmus with his defensive abilities at first base, while Jefry Marte -- a third baseman by trade -- made several nice plays at first during Saturday's 7-6 win over the Red Sox.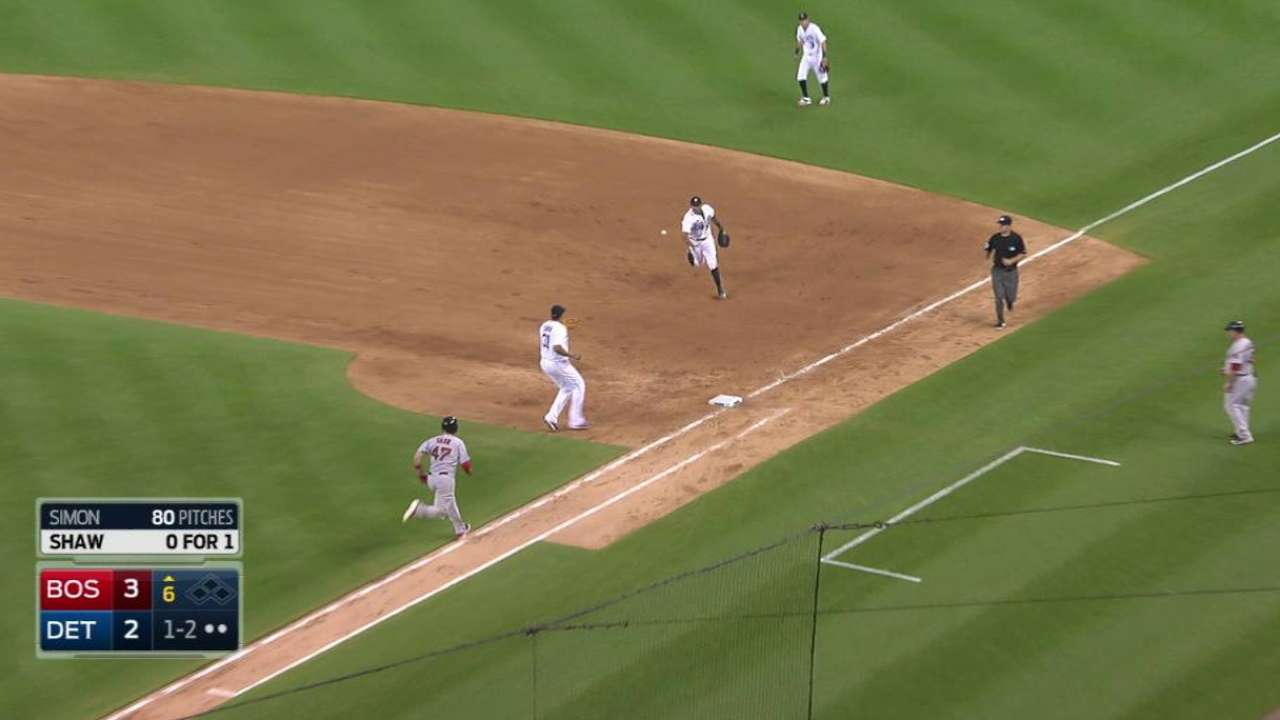 Neither Marte nor Avila, though, can replace Cabrera's bat. Detroit has gone 14-17 and is averaging 4.65 runs per game since July 4, the club's first day without its superstar slugger.
"I know from experience that I'm sure it's a lot less daunting for the [opposing] pitcher," Ausmus said of his lineup without Cabrera. "I'm not knocking anybody. But, let's be honest -- if you're standing on the mound with the baseball and you have to pitch to Miguel Cabrera or you have to pitch to Jefry Marte, it's probably a little bit more relief involved if you're facing Marte."
Alejandro Zúñiga is an associate reporter for MLB.com. This story was not subject to the approval of Major League Baseball or its clubs.