MLB.com Columnist
Barry M. Bloom
Sampson making most of opportunity with Reds
Rookie beats D-backs to earn first career win
PHOENIX -- Sometimes the baseball world works in mysterious ways. In December, the Padres picked up reliever Shawn Kelley in a trade with the Yankees.
San Diego needed to make room for the right-hander on its 40-man roster and put a fairly unknown pitching prospect named Keyvius Sampson on waivers. On Jan. 8, the Reds picked him up. On Saturday, he earned his first Major League win, 4-1, over the D-backs.
"[The Padres] called and had a long convo with me," Sampson said after making only his second start for Cincinnati and tossing six innings of four-hit, one-run ball at Chase Field. "It didn't make it easy, but it made it easier to know that I was one of the last guys they wanted to take off [the roster].
"It happened that way and I have nothing but great things to say about the organization over there."
The months rolled on and the Reds began divesting themselves of players. A rotation that was finally stripped bare with the non-waiver Trade Deadline swap of Mike Leake to the Giants meant there was a sudden opportunity for a young player. That player happened to be Sampson, the Padres' fourth-round pick in the 2009 MLB Draft.
On July 24, Sampson pitched eight innings of five-hit ball in a 1-0 win for Triple-A Louisville at Indianapolis. Five days later he was brought up to Cincinnati and threw an inning as a reliever.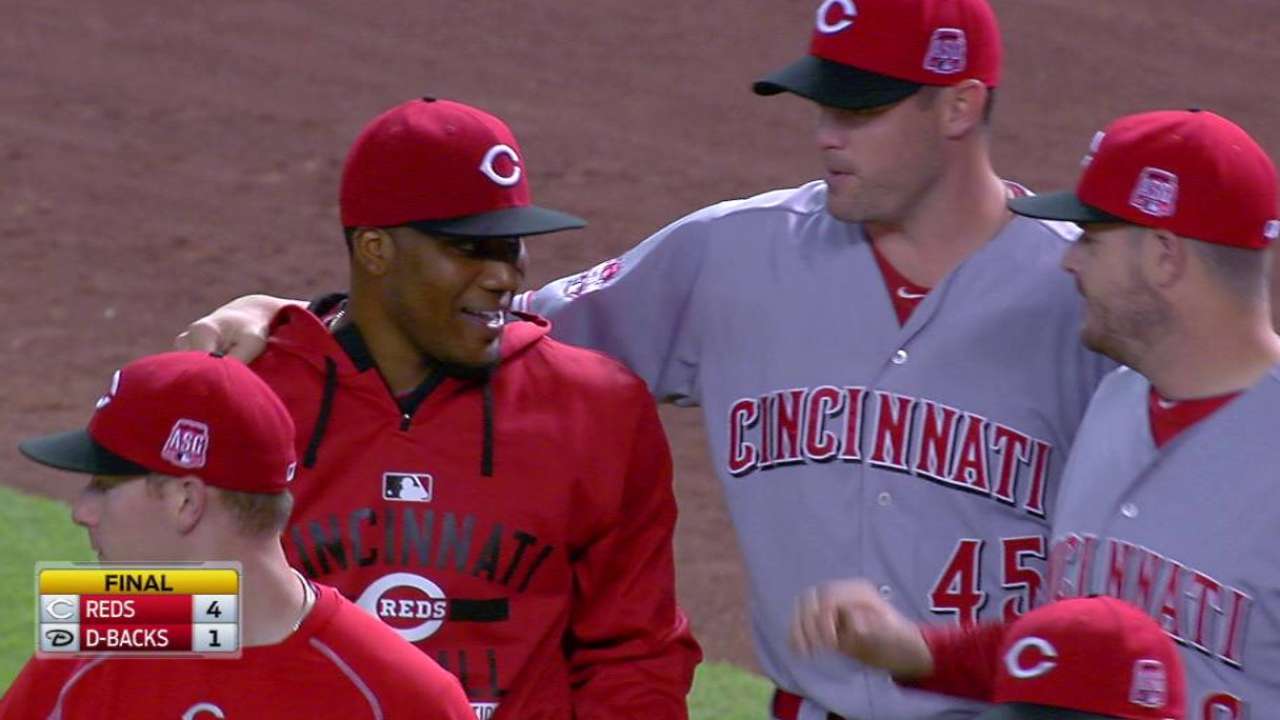 "We call him up and he pitches one inning in the first game of a four-game series against the Pirates," Reds manager Bryan Price said. "We trade Leake. Now we need a starter. So we gave the ball to Keyvius."
Talk about destiny calling; Sampson threw five innings of three-run, three-hit ball in the final game of that series against the Pirates, a 3-0 loss. That earned him the start against the D-backs on Saturday night.
For the first time in three games, the Reds' offense produced some runs, snapping a 30-inning scoreless streak that included back-to-back shutout losses when Eugenio Suarez hit a two-run homer off D-backs left-hander Robbie Ray with two outs in the fourth inning. That gave the Pirates and Sampson a 2-1 lead.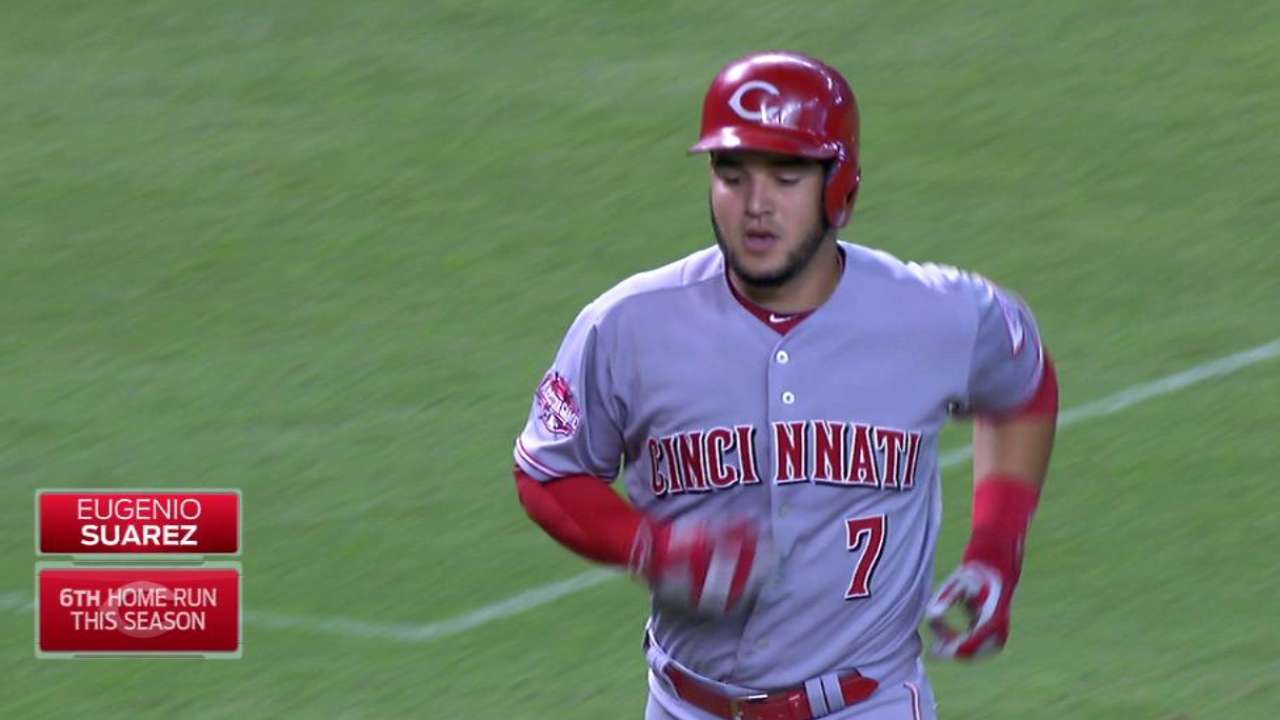 Brandon Phillips hit another homer in the fifth, making it 3-1. Meanwhile, Sampson allowed the only Arizona run of the game in the first inning on an A.J. Pollock double followed by David Peralta's single. Sampson has a live arm with a good crackling fastball and worked in and out of trouble, walking three and whiffing four.
He got Paul Goldschmidt to ground into a double play with runners on first and second to end the fifth inning.
Marlon Byrd hit a homer for an add-on run in the ninth and Sampson had that first win. He said he grabbed three baseballs as mementos from the game, his first two K's and his last out, Aaron Hill's grounder to third.
But more importantly, he's earned at least another start on Thursday against the Dodgers in Los Angeles. It's been a wild year, from waivers to Double-A, to Triple-A and now the Majors.
"I'm here now just trying to buy more starts," Sampson said. "That's all I'm doing day by day. Just trying to buy more starts. I don't know, until they tell me I have to throw a bullpen in two days I'm still on the bubble as far as my head. My attitude is the next one could be the last one so you want to leave it all out there."
Barry M. Bloom is a national reporter for MLB.com and writes an MLBlog, Boomskie on Baseball. Follow @boomskie on Twitter. This story was not subject to the approval of Major League Baseball or its clubs.