Ray takes tough-luck loss for D-backs
Lefty uses slider to notch eight K's after Hall of Famer Johnson honored at Chase Field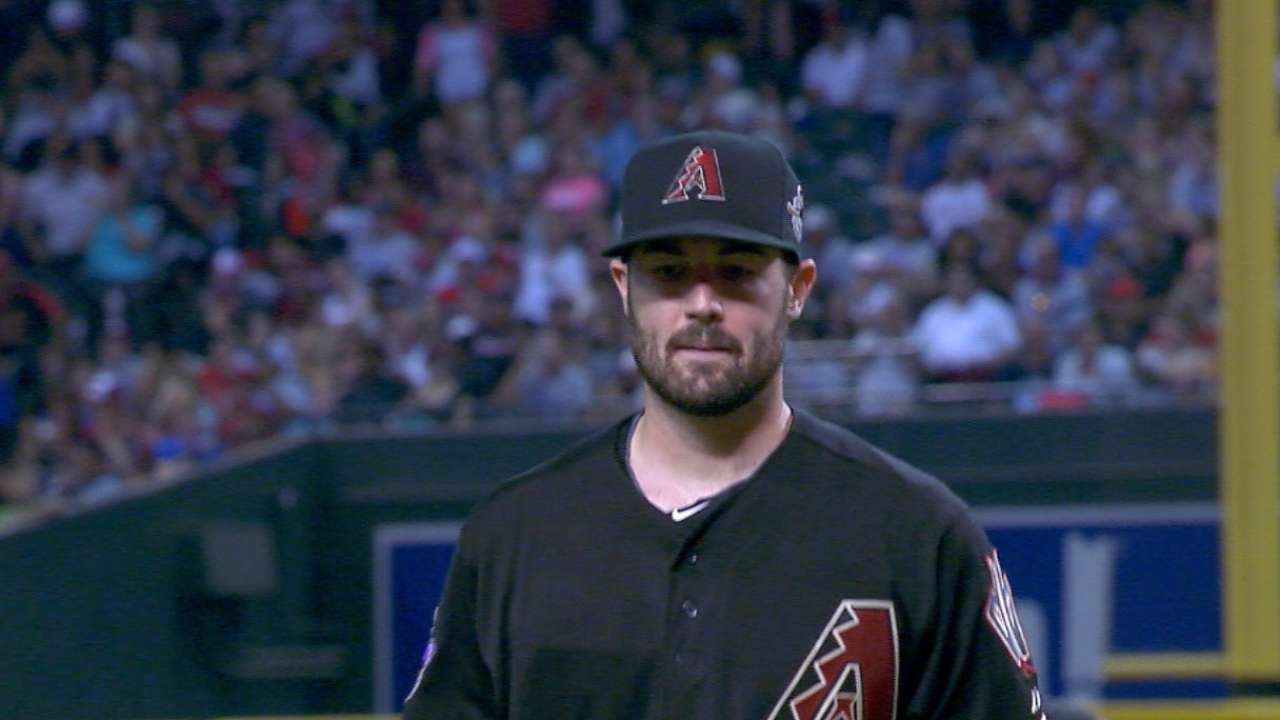 PHOENIX -- It meant a lot to D-backs starter Robbie Ray to take the mound on the night Hall of Famer Randy Johnson's No. 51 was retired by the organization and was painted on the dirt right behind where he toed the rubber.
Ray was also encouraged by the performance he turned in, another quality start that put the D-backs in a good position to win. But Ray surrendered a pair of home runs, didn't have the run support to back him up, and lost for the third time in four starts as the D-backs fell, 4-1, to the Reds on Saturday.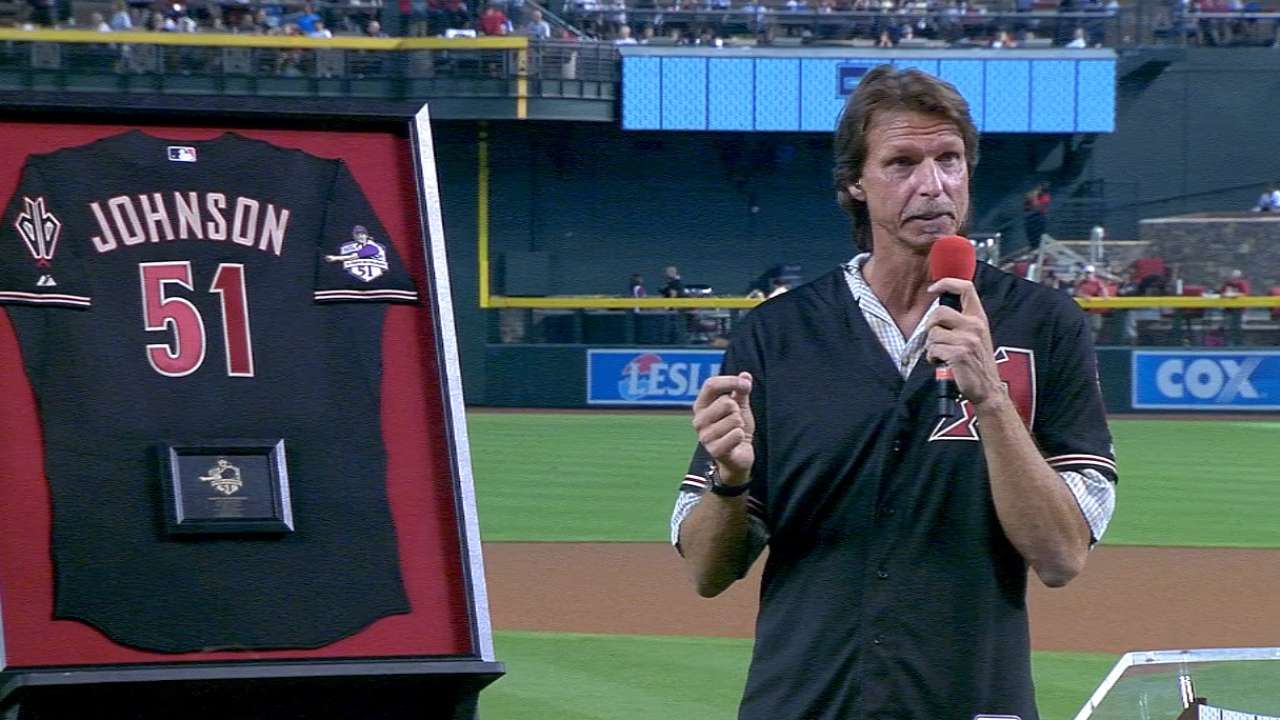 "I felt like I pitched well, it was two pitches that got me tonight and if I could take those two back, I would," Ray said. "For the most part, I threw well and I gave my team a chance to win."
Ray came out strong, pitching a scoreless first three innings and notching five strikeouts in the process, including fanning the side in the third. But with two outs in the fourth, Ray gave up a two-run homer to Eugenio Suarez that put his club down, 2-1.
The following inning, Ray gave up another two-out home run, this one a solo shot to Brandon Phillips. After allowing just two homers in his first 10 starts, Ray has given up four over his last three outings.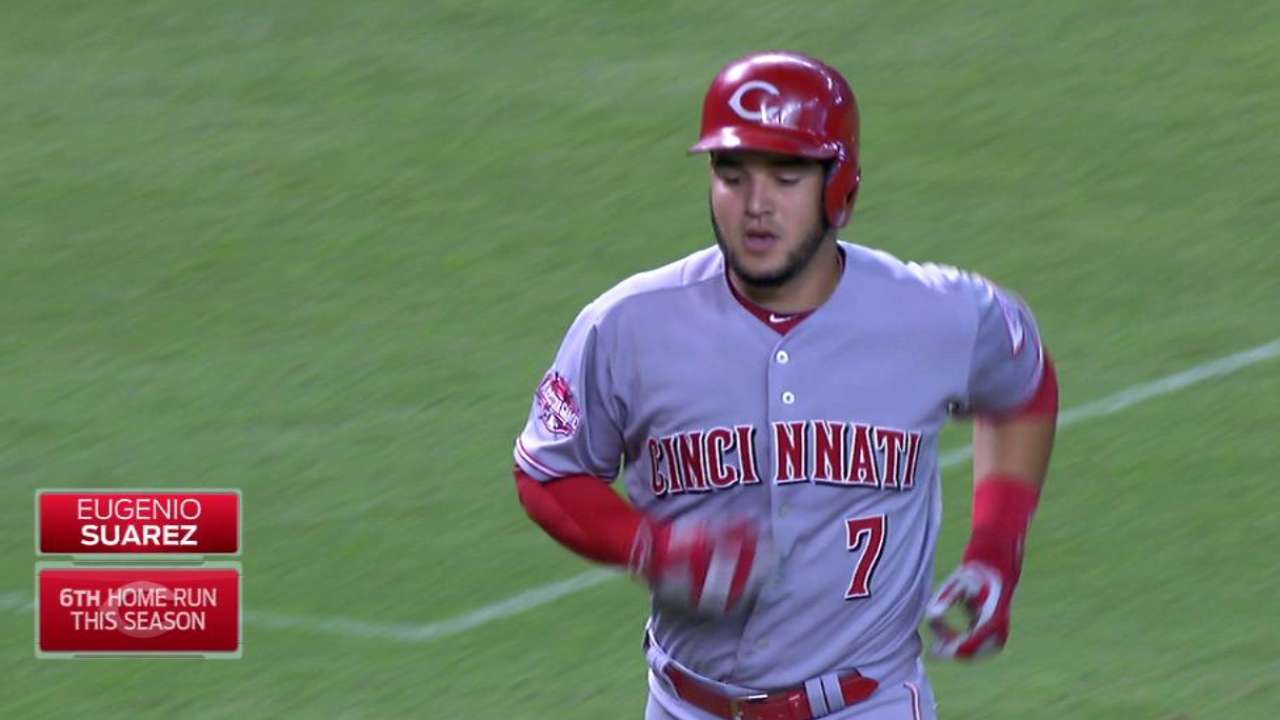 Both of the homers Ray gave up to the Reds came on offspeed pitches that caught too much of the plate.
"It's just the way the game is," D-backs manager Chip Hale said. "Good hitters like that are going to take advantage of mistakes, and they did. Other than that, he pitched very well. He threw his breaking ball a lot tonight and he's getting better command with it as he throws it more, that's part of the process."
Ray still completed six innings and matched a career high with eight strikeouts, relying on a strong fastball and a good slider, much like Johnson used to do in the same ballpark.
Earlier on in the season, Ray was struggling with batters fouling off too many pitches against him and as a result, chasing him earlier on in the game. But the improvement shown in his slider helped prevent that from happening.
"I was able to put guys away and throw it in any count and limit any of those long at-bats," Ray said. "My slider got a lot better tonight and I was commanding my fastball pretty well tonight, too."
For the second night in a row, however, the D-backs struggled against one of the Reds' young starters. After a first-inning run against Raisel Iglesias on Friday, a first-run inning was all the D-backs could manage against Keyvius Sampson a night later.
"They've pitched well against us," Hale said. "These two young kids threw the ball well and just were better than we were."
Jake Rill is an associate reporter for MLB.com. This story was not subject to the approval of Major League Baseball or its clubs.