Papi on second-half slugging surge
Veteran Red Sox DH continues to torment Tigers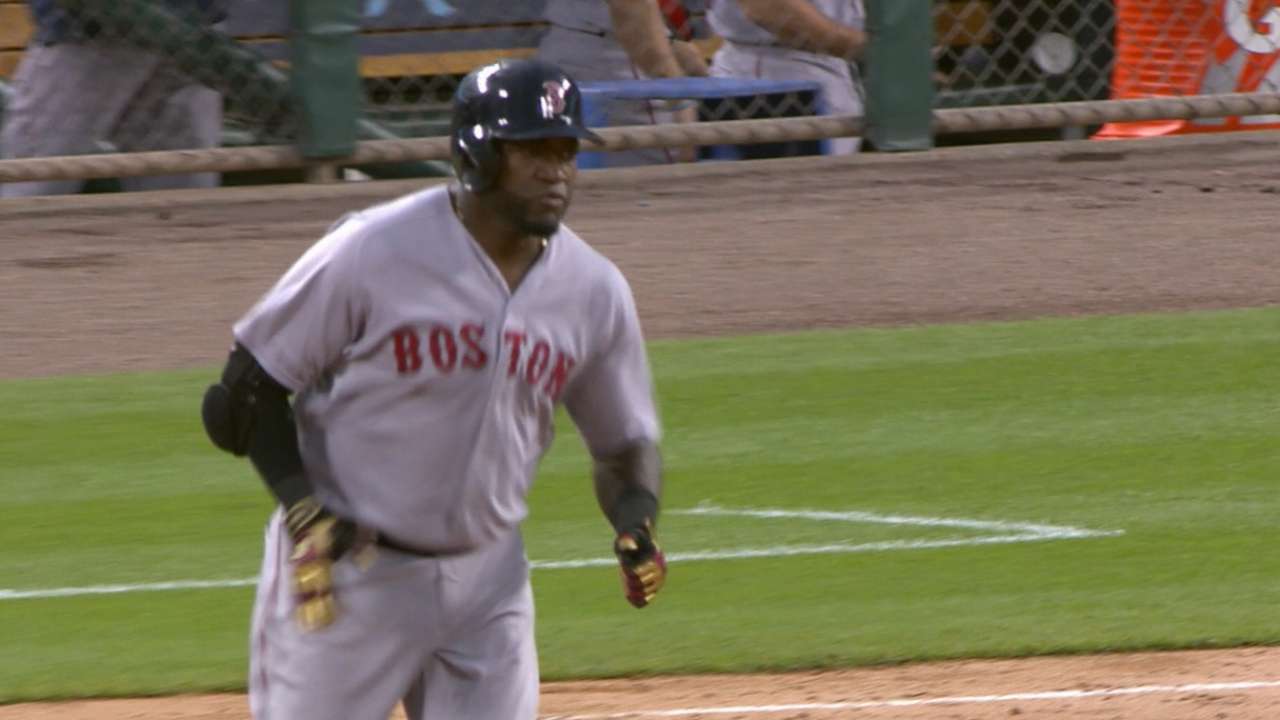 DETROIT -- Before the halfway point of the season, Red Sox designated hitter David Ortiz was slugging just .435 with a .231 batting average and 15 home runs in 80 games. Since the All-Star break, though, Ortiz's offense has returned, and in a big way.
He's mashed eight home runs and is slugging at a .671 clip after Saturday's three-hit, three RBI night in a 7-6 loss to the Tigers. With his 21st career homer off Tigers pitching, Ortiz is slugging 1.438 against Detroit.
"My gosh, there's power, there's plate coverage," Boston manager John Farrell said. "He's seeing the ball well. Obviously opposing pitchers are being extremely careful with him, and then when he does get his pitches, not missing it. Evident by going down on the count with two strikes on [Blaine] Hardy. And he gets a fastball down the middle that he does not miss. He is in a groove, he's locked in."
Since 2002, Ortiz has mashed at least 20 home runs every season. And he's only 11 home runs away from No. 500, which only 25 players have hit. Only two active players have passed that mark -- the Angels' Albert Pujols (No. 15, 550) and the Yankees' Alex Rodriguez (No. 4, 678) -- and the next closest player to achieving that mark is the Tigers' Miguel Cabrera, who is 95 home runs shy.
Yet, those aren't numbers that Ortiz is focusing on. During his first plate appearance Saturday, Ortiz's 2016 option vested, ensuring that he'll remain with the team provided he passes the offseason physical. At 39, Ortiz believes that it's his responsibility to earn whatever he receives. Playing gets harder as the body gets older and training doesn't come effortlessly. What matters for Ortiz is he can continue to be a valuable member of the team, both off the field and with the bat.
"To be honest with you, I try not to think about it," he said. "When I'm hitting, I'm just trying to put a good swing on the ball. I'm not trying to go out there and use every single pitch I see. I think that when we do that, I just get worse. I just stick with the plan and put a good swing on the ball. Whatever happens, happens."
On Saturday night, Ortiz had a solid plan against Tigers pitching: Fastballs up the middle. And when he got his pitch, Ortiz didn't miss. But even with his ability, Comerica Park can be a daunting stadium, particularly in center field where balls are known to die. Ortiz missed a home run by about a foot in the second inning. So close did he come that Tigers center fielder Anthony Gose turned and pulled up, expecting to see the ball disappear in the bushes. Instead, it fell in for a long, loud double.
"That's crazy. I hit that ball pretty good. My chest hurts from that," Ortiz joked. "That's crazy. At least I got something out of it. Sometimes I hit the ball to the 420 [sign] and I get out."
Ortiz later homered off starter Alfredo Simon, but it was in the seventh that the Tigers made a mistake. Leading by one run, Tigers reliever Blaine Hardy had worked Ortiz to a 1-2 count after a 77-mph curveball. Ortiz had already seen two cutters, and he was sitting on a fastball, waiting for a mistake. Hardy had Ortiz at a disadvantage, particularly because of his breaking ball. One that Ortiz thought Hardy was going to throw in back-to-back pitches.
"That pitch kind of fooled me a little bit," Ortiz said. "It was a pretty good breaking ball."
Except Hardy didn't throw a curveball, but a fastball down the middle. Ortiz knocked it for a two-run single, putting Boston back into the lead. In a seesaw battle between the Tigers and Red Sox bullpen, Detroit ultimately won out. But Ortiz's latest monster night was the highlight of a show that he has been putting on since the second half started. One that he's fully earned with every plate appearance.
Catherine Slonksnis is a contributor to MLB.com. This story was not subject to the approval of Major League Baseball or its clubs.