Folty proves he can regroup after rough stretch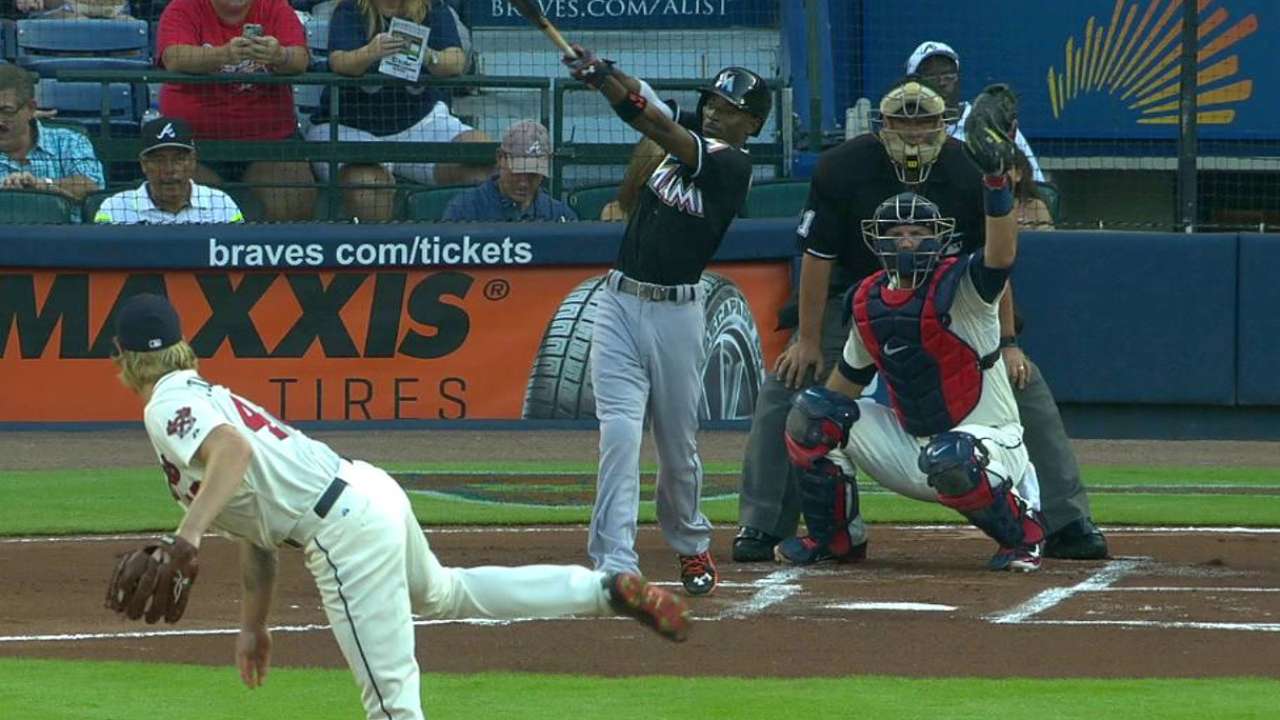 ATLANTA -- Mike Foltynewicz will continue to experience growing pains as he attempts to establish himself as a starting pitcher at the Major League level. But the talented Braves hurler seemed to take a step in the right direction on Saturday night, when he quickly bounced back from a rough third inning to help the Braves claim a 7-2 win over the Marlins at Turner Field.
"Folty, he had that one inning where he got two quick outs and then the hamster kind of fell off the wheel a little bit, but I'm glad to see he got back on and gave us a solid outing," Braves manager Fredi Gonzalez said.
Foltynewicz limited the Marlins to two earned runs and five hits over 5 2/3 innings. In the process, the rookie hurler proved to himself and the Braves that he could prove quite effective with the drop in velocity he showed while attempting to harness his command after nearly being chased in the third inning.
After needing just five pitches to record the first two outs of the third, Foltynewicz issued three consecutive walks, including two of the four-pitch variety. His attempt to escape unscathed was thwarted when Cole Gillespie chopped an infield single that scored Casey McGehee. But the Braves rookie hurler responded by retiring each of the next nine hitters he faced.
"I think I just lost focus there a little bit," Foltynewicz said. "I got two quick outs and you get a little relaxed. Things started hitting the fan there and I got a little uncomfortable there and couldn't find the strike zone. It happens, but I'm happy I got out of that inning giving up just one run."
When Foltynewicz began the fourth inning with consecutive 90-mph fastballs, Gonzalez and assistant trainer Jim Lovell went to the mound fearing injury. The 23-year-old hurler fastball had sat around 95 mph and even touched 97 during the third inning.
But Foltynewicz quickly convinced them he was fine, and then proved it as he did not allow the Marlins to produce another baserunner until he surrendered a single and issued a walk with two outs in the sixth inning.
"I think I was just tired after throwing about 60 pitches there in the third inning," Foltynewicz playfully said. "I was a little uncomfortable there and I couldn't find the strike zone. I was just trying to throw it in there. It was about 14 pitches that were bad. But other than that, I threw the ball well."
Mark Bowman is a reporter for MLB.com. This story was not subject to the approval of Major League Baseball or its clubs.