After post-break slump, V-Mart heats up
Tigers DH delivers decisive blow, his 3rd HR in 3 games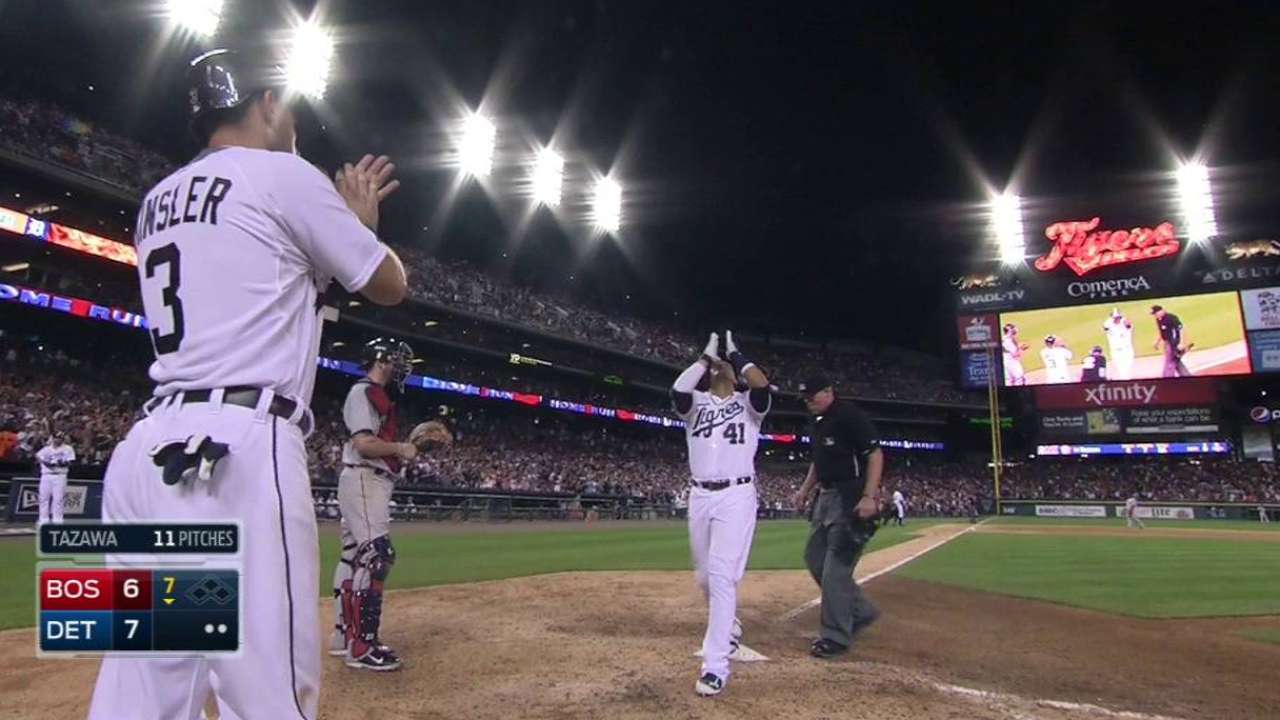 DETROIT -- While Victor Martinez discussed his go-ahead home run that helped the Tigers edge the Red Sox, 7-6, on Saturday night at Comerica Park, Alfredo Simon walked by the crowd of reporters with a message.
"Victor's the man," Simon interrupted. "Tell them, Victor, how good you hit that ball."
The right-hander had a point: Martinez had gotten all of a seventh-inning forkball from Boston reliever Junichi Tazawa to drive the ball deep into the seats in right field. The two-out, two-run blast was projected by Statcast™ to land 413 away from home plate, and it turned a deficit into the game-winning lead.
"It's good to end up on the good side," Martinez said. "We've been having some battles and coming up on the bad side. But it definitely felt great to pull this game out."
In the top of the seventh. the Red Sox had claimed the lead on a two-run single by David Ortiz. Then, Tazawa retired the first two batters he faced before Ian Kinsler delivered a sharp ground-ball single to left. That brought Martinez to the plate, and the designated hitter didn't disappoint.
"I'm glad that it helped the team win and that ball didn't caught," Martinez said. "Obviously, you get tired. You want to square the ball up every time you go to the plate, and at some point, you definitely want results."
Martinez had been mired in a difficult stretch since the All-Star break. In his first 19 games after the Midsummer Classic, the slugger hit .162 with just two extra-base hits. But he blasted a pair of homers Thursday against Kansas City, added a hit Friday and provided the clutch knock Saturday night.
The no-doubter marked his ninth home run and the 198th of his career. It was his first homer of the year to come after the fifth.
Relievers Blaine Hardy and Bruce Rondon pitched the eighth and ninth innings, respectively, as the Tigers held on, putting themselves in position to win consecutive series for the first time since early July.
"Any time you have games that go back and forth, it's enjoyable to watch for both teams," Hardy said. "It's like, 'Oh, we're up!' 'Aww, down now. Dang it.' The fact that it never really got out of hand, it was within one or two runs the whole day, it's a fun game to watch. These are the games that fans come to see."
Alejandro Zúñiga is an associate reporter for MLB.com. Follow him on Twitter @ByAZuniga. This story was not subject to the approval of Major League Baseball or its clubs.