Koehler: Marlins need collective effort to rebound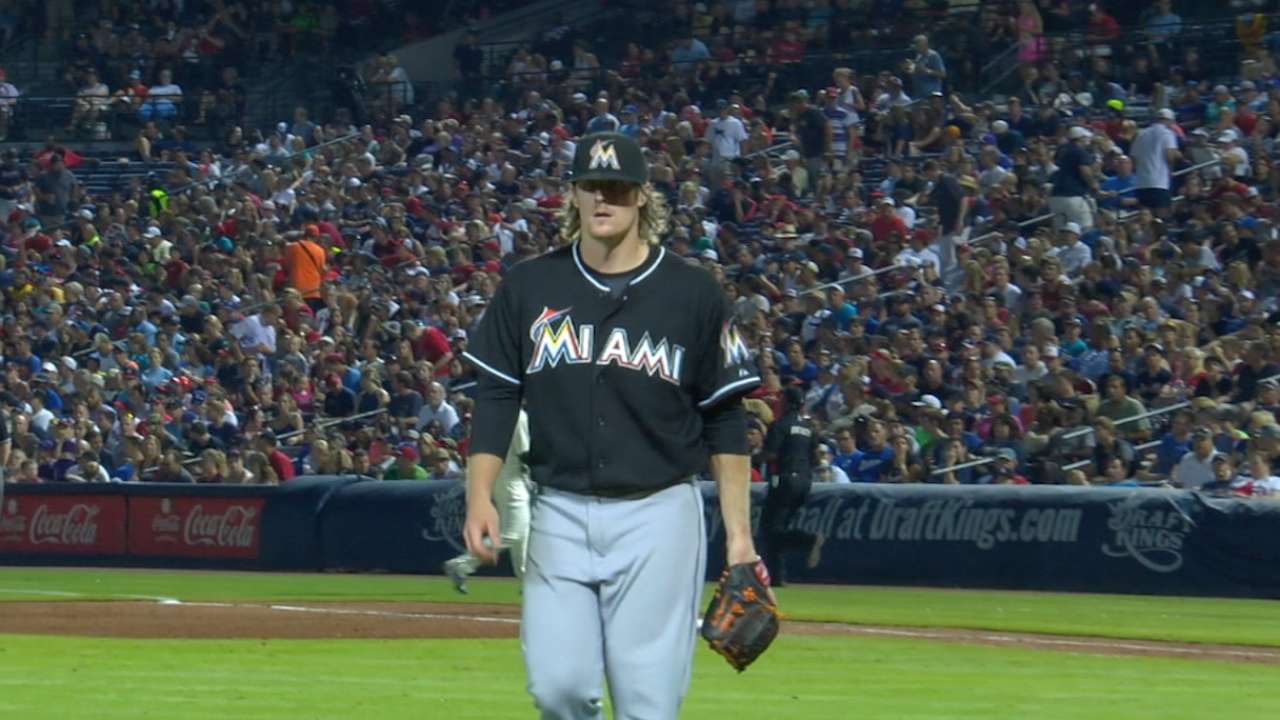 ATLANTA -- On a day it was revealed ace Jose Fernandez will have his right shoulder examined, the Marlins were desperately in need of a quality start. Tom Koehler provided it Saturday night, but the right-hander's six-inning stint wasn't enough to stop Miami's slide.
The Braves broke the game open late and claimed a 7-2 victory at Turner Field, extending the Marlins' losing streak to six games.
For a team that opened the season thinking playoffs, the Marlins are now 5-17 since the All-Star break and in last place in the National League East.
"If you were going to ask me in Spring Training if this is where we'd be at this point in the year, I would have said, 'No chance,'" Koehler said. "But it's where we're at. Nobody put us here but ourselves. No one is feeling bad for us. Fans at home aren't sitting at home feeling bad for us. The other teams aren't feeling bad for us. So we've got to step up as a group, 25 men, we've got to go out there, play hard, and turn it around ourselves."
The frustration continues to mount, and key players continue to go down. Now, there is a chance Fernandez may be out a while, which means the rest of the rotation has to step up.
Koehler gave up three runs in six innings, marking the first time in six games a starter has lasted that long. When Koehler exited, Miami trailed, 3-2. But the bullpen gave up two runs in both the seventh and eighth innings, putting the game away.
"He battled through," manager Dan Jennings said. "Three runs, that's certainly within reach. The game is within reach right there. But when you get the opportunity, you get chances, we have to take advantage of those opportunities. Right now, we're just not doing that."
To turn things around, it will require a group effort.
"Everybody has got a job to do," Koehler said. "Baseball is a team game that is played by a bunch of individuals. You've got to play well for yourself, and you've got to play well for the guy next to you. If you lose focus, this is the kind of stuff that happens. We've just got to regroup and start executing the little things inside the game and rattle off some wins.
"Expectations or no expectations, when you step foot on that field, regardless of who you are as a player, you better be expected to win. Nobody wants to lose. If you're coming out here wanting to lose, then you're doing the wrong thing for a living."
Joe Frisaro is a reporter for MLB.com. He writes a blog, called The Fish Pond. Follow him on Twitter @JoeFrisaro and listen to his podcast. This story was not subject to the approval of Major League Baseball or its clubs.