Easy as 1-2-3 for Royals' bullpen
Madson, Herrera and Holland retire 9 of 10 batters to close out win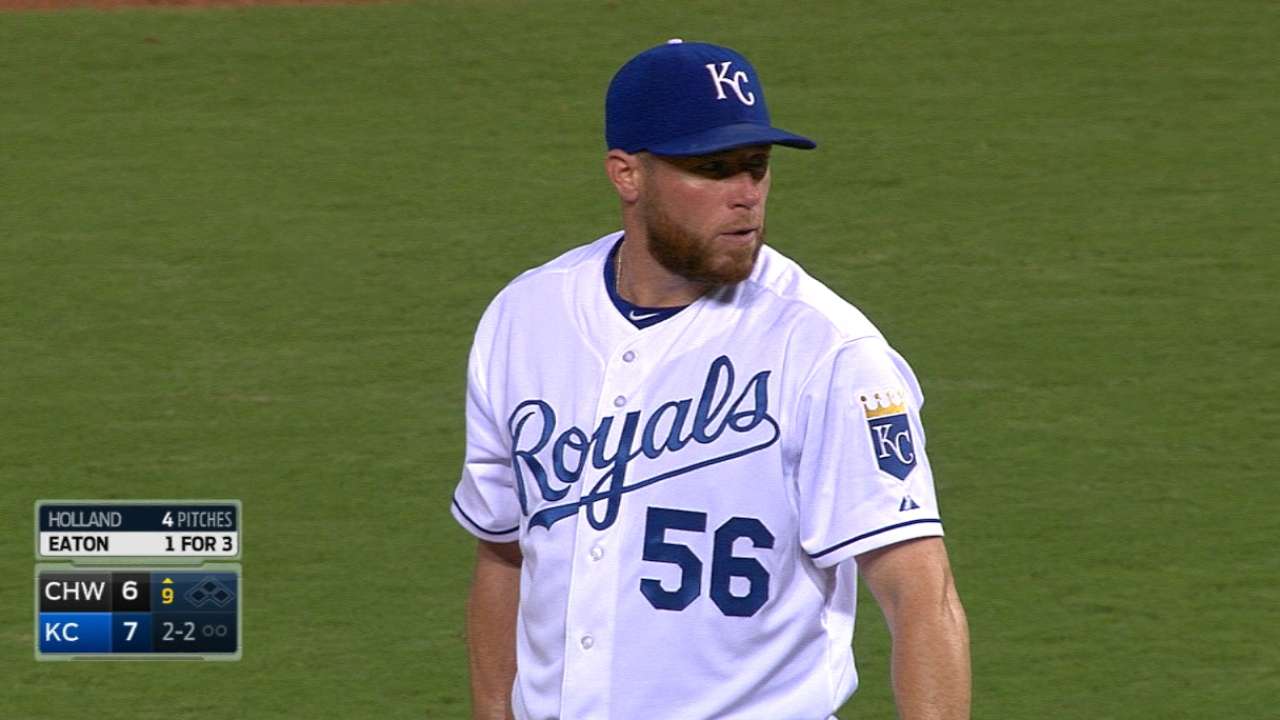 KANSAS CITY -- If there was a pivotal inning in the Royals' 7-6 win over the White Sox on Saturday night, it likely was the seventh, when reliever Ryan Madson came aboard to restore order after the White Sox had trimmed a four-run deficit to a single run.
And remember, this was pivotal for Madson personally as well -- he had coughed up a potential win in Toronto on the last trip and then allowed a walkoff homer in Detroit.
But this time, Madson was on top of his game, inducing three weak ground balls in a 1-2-3 inning.
Madson said he wasn't thinking about what the White Sox had done the previous inning.
"I have been trying to keep it simple," Madson said. "I didn't think about [the White Sox] that much at all. I was just trying to think about myself and not so much what they were doing. I got caught up with that in Toronto, but I didn't today. I just focused on throwing good pitches.
"Mechanically, I felt a lot better. I felt I had more deception. I wasn't coming out of my delivery. I stayed within myself and stayed closed so there's more deception. When I have deception, those are the swings I usually get."
And after Kelvin Herrera tossed a scoreless eighth, in came closer Greg Holland, who may have delivered his best inning of the season in the ninth -- three straight strikeouts, including one on the dangerous Jose Abreu, who already had homered twice in the game.
"We got a 1-2-3 inning finally," Holland said. "Seems like we haven't had one in a while."
As for getting Abreu, Holland was aware not to be too fine with his pitches.
"Yeah, it's a fine line," Holland said. "You get too careful, you fall behind and then you're in real trouble. You got to attack, but you have to attack not in the middle of the plate. He's a great hitter."
Holland eventually got Abreu on a called third strike -- a fastball on the outside corner -- to end the game.
"I had thrown him a lot of sliders," Holland said. "I actually hung him one that he had a good swing on. So I was going to go [fastball] down and away or just off the plate."
Jeffrey Flanagan is a reporter for MLB.com. Follow him on Twitter at @FlannyMLB. This story was not subject to the approval of Major League Baseball or its clubs.