Herrera looking like a steal for Phillies
Outfielder was picked up in Rule 5 Draft from Rangers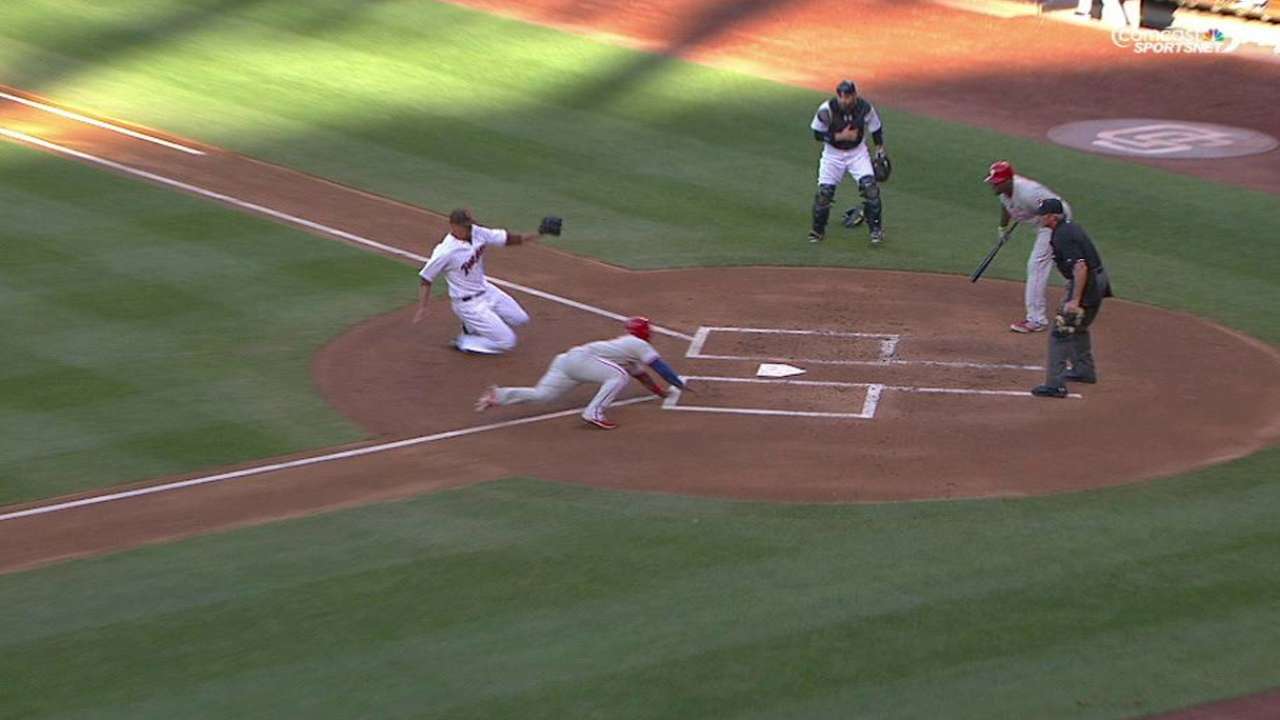 SAN DIEGO -- The Phillies considered Odubel Herrera more than just a Rule 5 Draft pick in December. They considered him a talented hitter with legitimate potential.
"We feel like we're taking a shot on a prospect," Phillies pro scouting director Mike Ondo said at the Winter Meetings.
Herrera looks like a pretty solid find for the Phillies. He did just about everything for the Phillies in Saturday night's 4-2 victory over the Padres at Petco Park, going 2-for-4 with two RBIs, two stolen bases, one run scored and one outfield assist.
"He plays like his hair is on fire," Phillies interim manager Pete Mackanin said.
Herrera hit well at the beginning of the season, but by June 5 his batting average dropped to .243 and his OPS dropped to .624.
He looked as if he might be a future fourth or fifth outfielder, and if he continued to struggle, a candidate to start 2016 in Triple-A. But Herrera has adjusted to big league pitching and has been thriving since. He is hitting .350 (48-for-137) with 10 doubles, one triple, four home runs, 16 RBIs and a .901 OPS in 45 games since June 5.
"Every day that goes by I feel more confident," Herrera said through his translator, Phillies assistant coach Jorge Velandia. "I feel like I keep on learning what it is to be a big leaguer. I keep learning from all the different experiences."
Herrera, who hit third for the first time this season, singled to center field in the first inning to score Chase Utley from second base and hand the Phillies a 1-0 lead. Herrera stole second and advanced to third when Maikel Franco grounded out to Padres shortstop Clint Barmes. Herrera waited until Barmes threw to first then bolted for third base.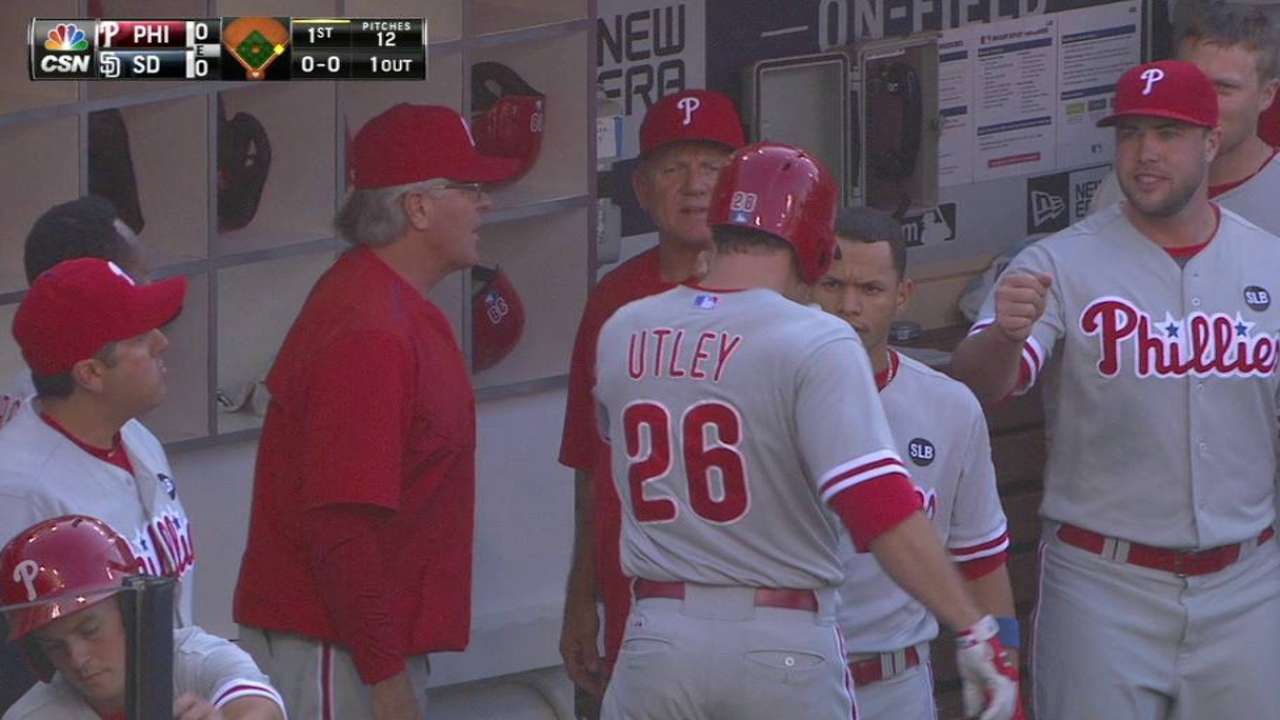 "The shortstop never took a peek at me, so I thought I had a good chance to make it to third," Herrera said.
He scored on a wild pitch that bounced only a few feet from home plate to give the Phillies a 2-0 lead.
"Our whole bench was like, 'No! No!'" Mackanin said. "He beat it. He's getting more aware. He's still going to make some aggressive mistakes, but boy, he's fun to watch play."
"The third baseman was playing the shift so I had a good lead," Herrera explained. "So I knew I could be aggressive with anything on the dirt."
Herrera singled in the third to score Cesar Hernandez from second to make it 3-0. He stole second and in the fourth inning he threw out Derek Norris at third for a big out.
It is hard to believe the Rangers did not protect Herrera for the Rule 5 Draft, but they did not because their system was stacked with prospects.
"It gives me an edge," Herrera said about the Rangers letting him go. "I always believed I was going to play in the big leagues."
Todd Zolecki is a reporter for MLB.com. Read his Phillies blog The Zo Zone, follow him on Twitter and listen to his podcast. This story was not subject to the approval of Major League Baseball or its clubs.