Ross has trouble getting into groove vs. Phils
Padres starter struggles early in second straight start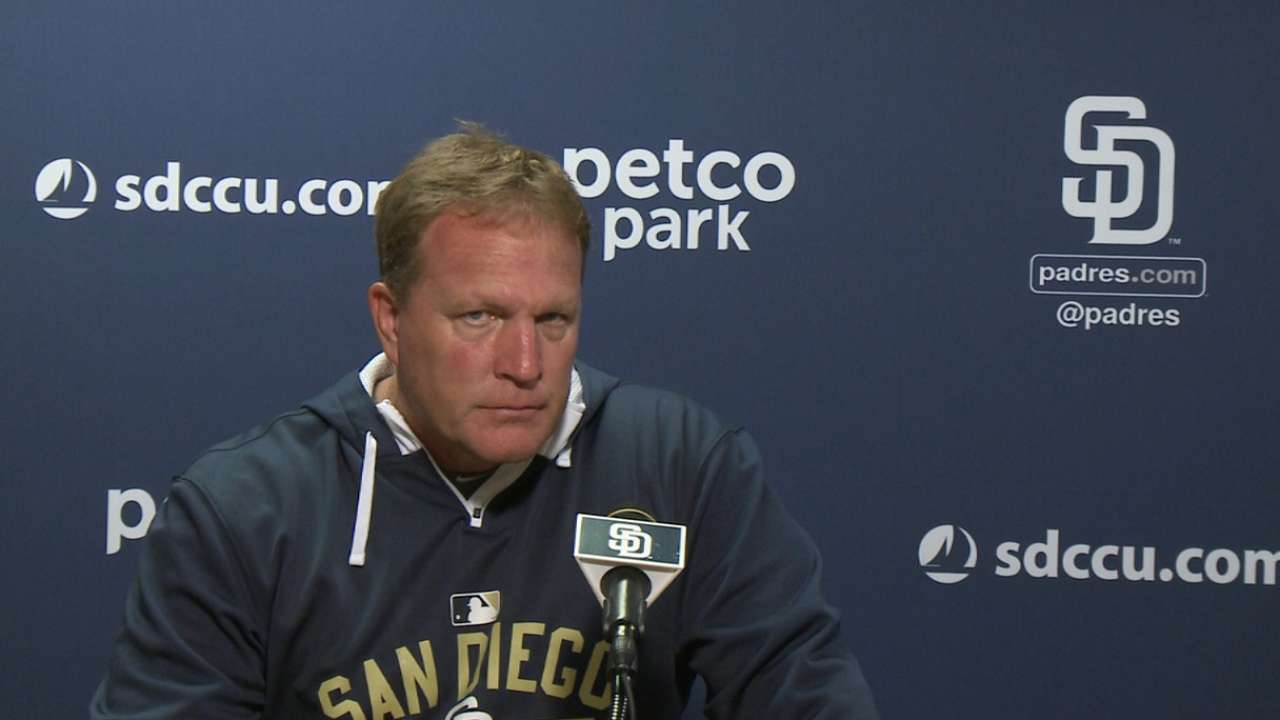 SAN DIEGO -- The long delay before gametime seemed to get the best of starting pitcher Tyson Ross, as the Padres lost, 4-2, to the Phillies on Saturday night.
Before the Padres took on the Phillies, Benito Santiago and Garry Templeton were honored as the newest inductees into the Padres Hall of Fame.
Padres induct Templeton, Santiago into HOF
"I think he was affected by the start time," interim manager Pat Murphy said. "He sat there for a long time, he couldn't really judge when the start time was going to be. And after that he was more of himself."
The right-hander agreed.
"I just didn't come out making pitches that first inning," Ross said. "Leadoff double and trouble after that. It took me a couple innings to find my rhythm and after that it was smooth sailing."
Saturday marked the second straight start in which Ross had a rough first inning. In his last start against the Brewers, on Aug. 3, Ross gave up two runs in the first inning, but was able to settle down.
In the first inning Saturday, Ross allowed a double to Chase Utley, who later scored on Odubel Herrera's RBI single. With Ryan Howard at the plate, Ross threw a wild pitch, which scored Herrera to give the Phillies a 2-0 lead.
Ross is 8-9 for the season. He pitched seven innings, giving up three runs on five hits, while walking one and striking out eight.
"Sometimes you start off rough, sometimes you finish rough," Ross said. "It's all about making adjustments, coming out the next inning and settling down and finding ways to get outs."
Ross was able to make adjustments, allowing another run in the third inning, but retired his last 14 batters.
"[The Phillies] are playing some hot baseball right now. I was peeking over, trying to vary my times and things like that, but ultimately the focus is getting the hitters out," Ross said. "They were aggressive tonight. They got three bags. That happens sometimes."
Ross was at 99 pitches when he came up to bat in the seventh inning. The Padres had a runner on first and second with no outs, but Ross was unable to execute a bunt.
"You got a four-man bench, we told him we would keep him in there if there were no outs," Murphy said. "The pitchers spend more time bunting than the position players. The pitchers bunt every day. That's their job. He's usually really good and, because he didn't do it today, it's magnified."
Beth Maiman is an associate reporter for MLB.com. This story was not subject to the approval of Major League Baseball or its clubs.