Samardzija loses command of zone, Royals
Right-hander unable to work around walks
KANSAS CITY -- For three innings on Saturday night, Jeff Samardzija was perfect. But the fourth and fifth innings were a different matter as the White Sox right-hander struggled mightily in the Royals' 7-6 win at Kauffman Stadium.
Samardzija went a season-low 4 2/3 innings for a second consecutive start and was charged with seven earned runs. Over his last two starts, his ERA has jumped from 3.94 to 4.62. He's now 0-5 in his career against Kansas City and 0-3 this season with a 7.71 ERA.
What changed after the third when Samardzija took the mound with a 2-0 lead? Samardzija felt that after Alcides Escobar led off the fourth with a single his outing changed dramatically with back-to-back walks to Mike Moustakas and Lorenzo Cain. That left the bases loaded with nobody out, and the Royals would go on to score three runs.
"Two walks will kill you," Samardzija said. "Moustakas and Cain put together two good at-bats there. Walks come back to haunt you all the time."
Samardzija's back-to-back rough outings have come against the Royals and Yankees -- the two teams with the best records in the American League.
"You play two good teams and if you aren't on your game, it's going to come back to get you," Samardzija said. "It doesn't change anything. You've got five days and you start again. We'll go back to work and be ready next time."
White Sox manager Robin Ventura agreed that it was a general lack of command in the fourth and fifth that led to Samardzija's early exit.
"It seemed like he was working from behind a lot in the middle innings," Ventura said. "He's always better when he's jumping ahead.
"You know guys are going to have a bump here and there. When you score [six runs] against these guys, you have to kind of earn it. [The Royals] put the runs up. Our job is to try and stop them and right now, it's not happening."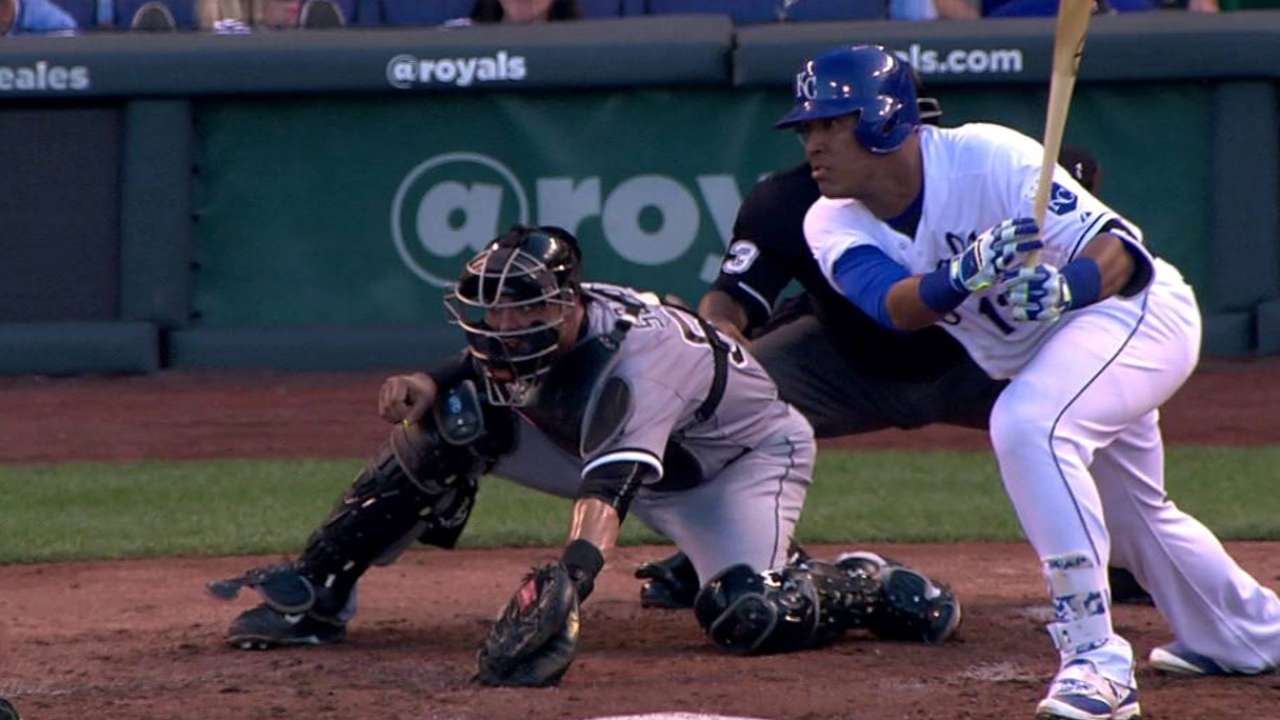 Even after loading the bases with nobody out in the fourth, Samardzija had a chance to get out of the inning with just one run. With two on and one out, Kendrys Morales hit a wicked shot that third baseman Tyler Saladino got a glove on. Had he held on, Saladino could have turned an inning-ending double play against Morales, who does not run well. But the ball popped away and Saladino could only get an out at first as the tying run scored. Salvador Perez then produced an RBI single that put the Royals up 3-2.
The Royals then went to work with four runs on four hits in the fifth, and Samardzija's outing came to an abrupt halt.
"When you score six runs, you should win those games," Samardzija said. "Speaking for myself, you've got to go out and be better than I've been the last couple of times."
Robert Falkoff is a contributor to MLB.com. This story was not subject to the approval of Major League Baseball or its clubs.