Ubaldo's eight scoreless lead O's over Halos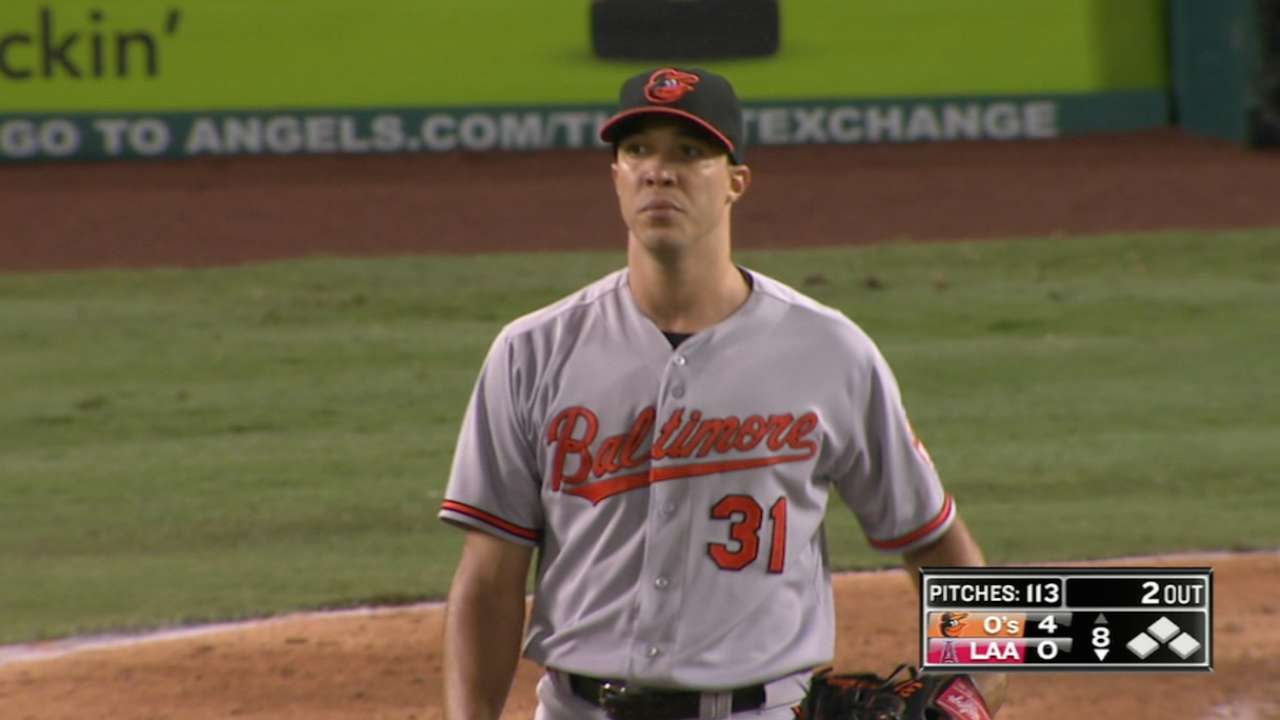 ANAHEIM -- Ubaldo Jimenez held the Angels to two hits over eight innings as the Orioles cruised to a 5-0 win on Saturday night that evened the series at Angel Stadium.
Manny Machado and Caleb Joseph went deep for the O's, who scored three times off Angels starter Garrett Richards. The Angels tried to get something going in the ninth inning, as Mike Trout and Albert Pujols had back-to-back singles to lead off the frame, but Trout was ruled out at the plate, following an Orioles challenge, after tagging up on David Murphy's flyout to center field.
The Angels (58-51) remained 1 1/2 games behind the Astros in the American League West, with Houston also losing on Saturday, but they ceded the top AL Wild Card spot to the Blue Jays. Baltimore (56-53) got back to within two games of the Angels in the Wild Card standings.
"We've got 60 games to play -- nobody in here's scoreboard watching," Richards said. "We've got two months left of baseball."
MOMENTS THAT MATTERED
Ubaldo silences Halos: Jimenez, who pitched a no-hitter for the Rockies, against the Braves in April 2010, flirted with a no-no one in this one before Kole Calhoun doubled to straightaway center field with two outs in the sixth inning. He finished with six strikeouts and threw a season-high 118 pitches.
"I felt really good today," Jimenez said. "I think I was able to execute most of the pitches down in the zone, and I think Caleb Joseph was calling a great game." More >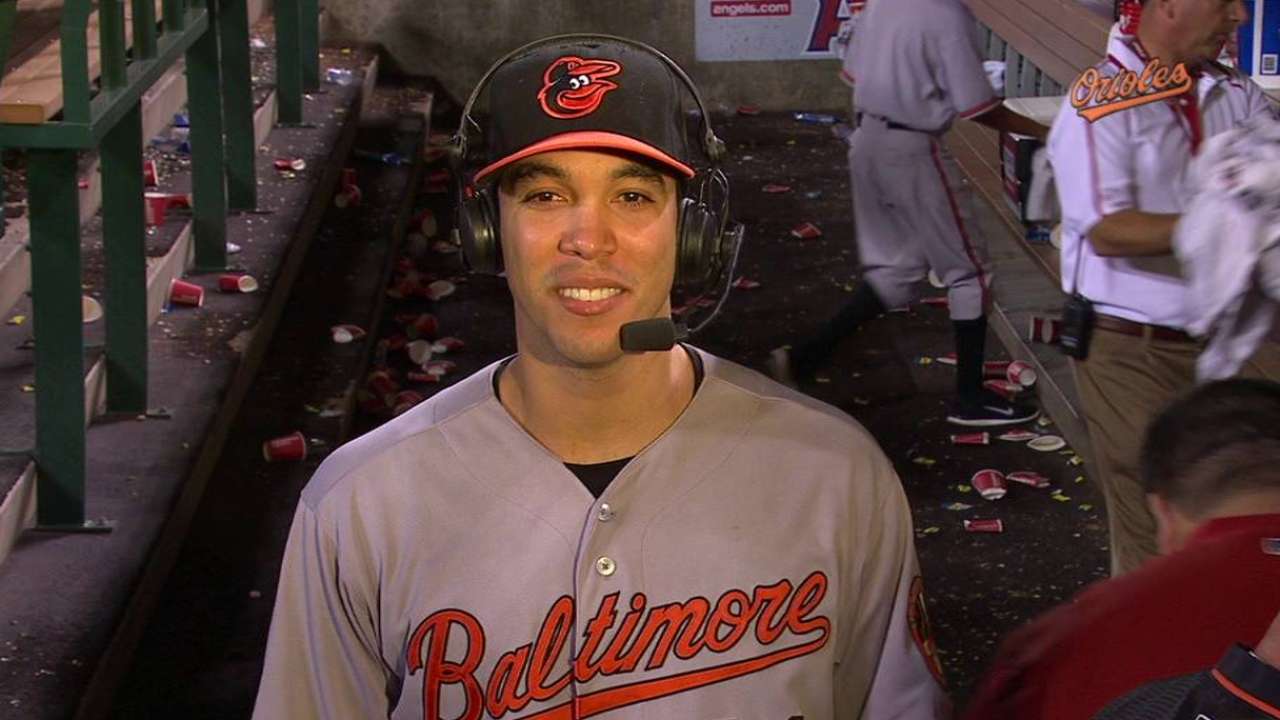 Handy Manny: Machado launched his career-high 24th homer with one out in the fifth inning, driving Richards' 88-mph 3-2 slider out to left field. Exit velocity was 102 mph, according to Statcast™. The Orioles' third baseman finished the night 4-for-5.
"I'm barreling up a bit, getting some hits to drop," Machado said. "I'm kind of feeling like myself again."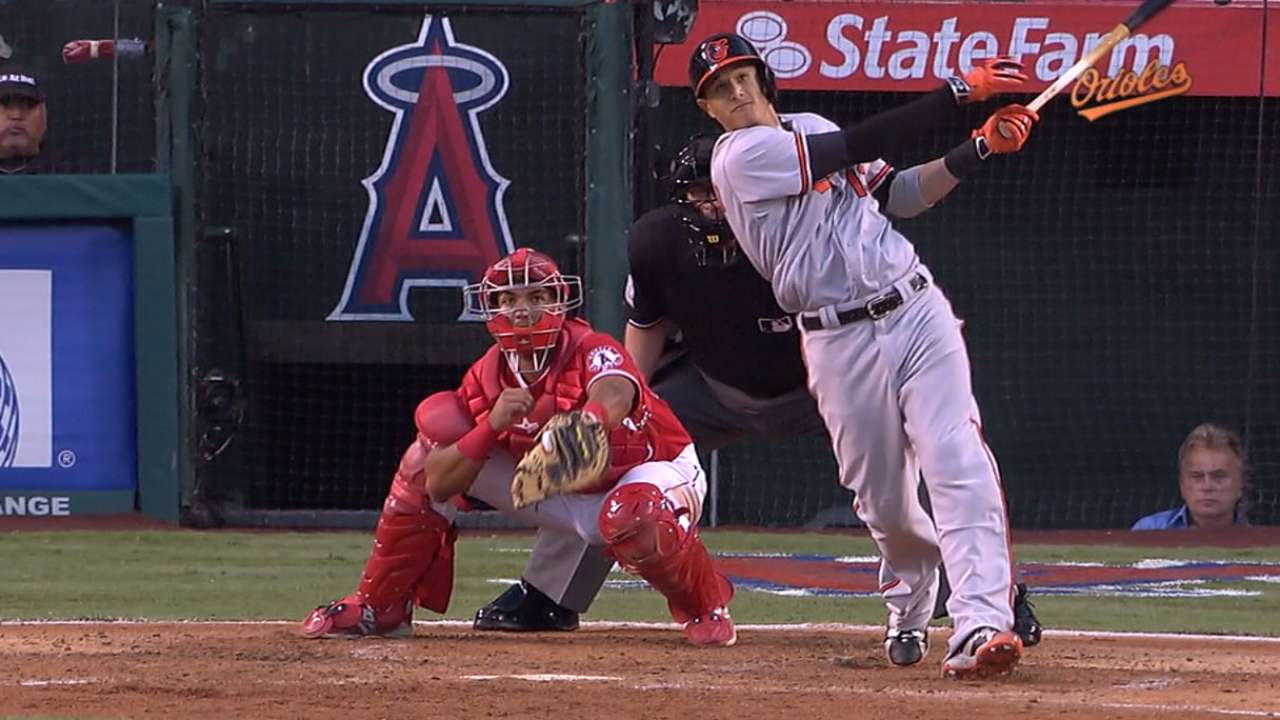 Richards off the mark: Richards' six-inning, three-run line counted as a quality start, but the right-hander's command was erratic for much of the night. He struck out seven Orioles, but he missed some spots by wide margins -- most notably on the breaking ball he hung over the heart of the plate to Machado. Richards has given up five home runs in his last four starts, after allowing five all of last season.
"Hanging sliders. Hanging sliders, that's it," Richards said. "Last year was last year. This is a new year." More >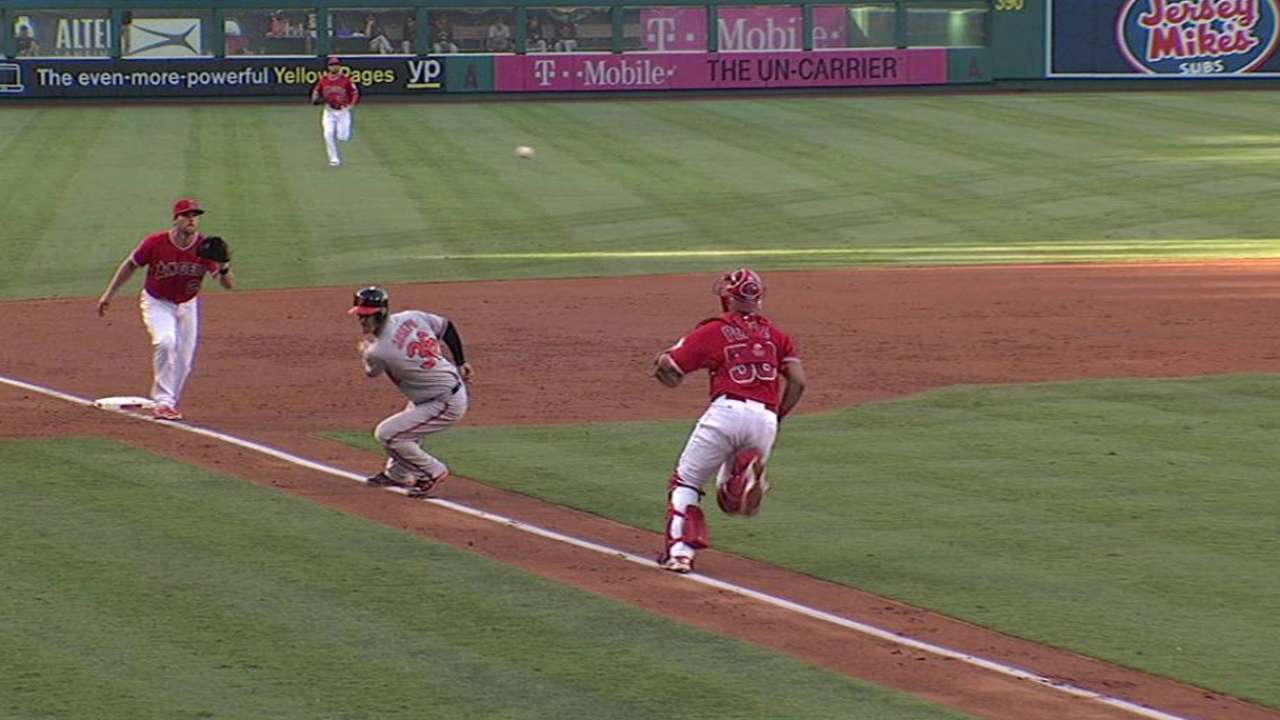 Blown coverage: The Angels made two sloppy defensive plays where they forgot to cover bases. In the third inning, Adam Jones advanced to second base on a pitch in the dirt, but catcher Carlos Perez made a strong throw that probably should have nailed Jones -- if Johnny Giavotella had covered the bag. And in the sixth, the Angels had a two-part miscue on Matt Wieters' grounder to first base. Richards covered first and took the flip from Pujols in time, but missed the bag, and then, with all three infielders shifted to the right side against the lefty-swinging Wieters, no one covered second and Wieters snuck behind them and beat Giavotella to the bag.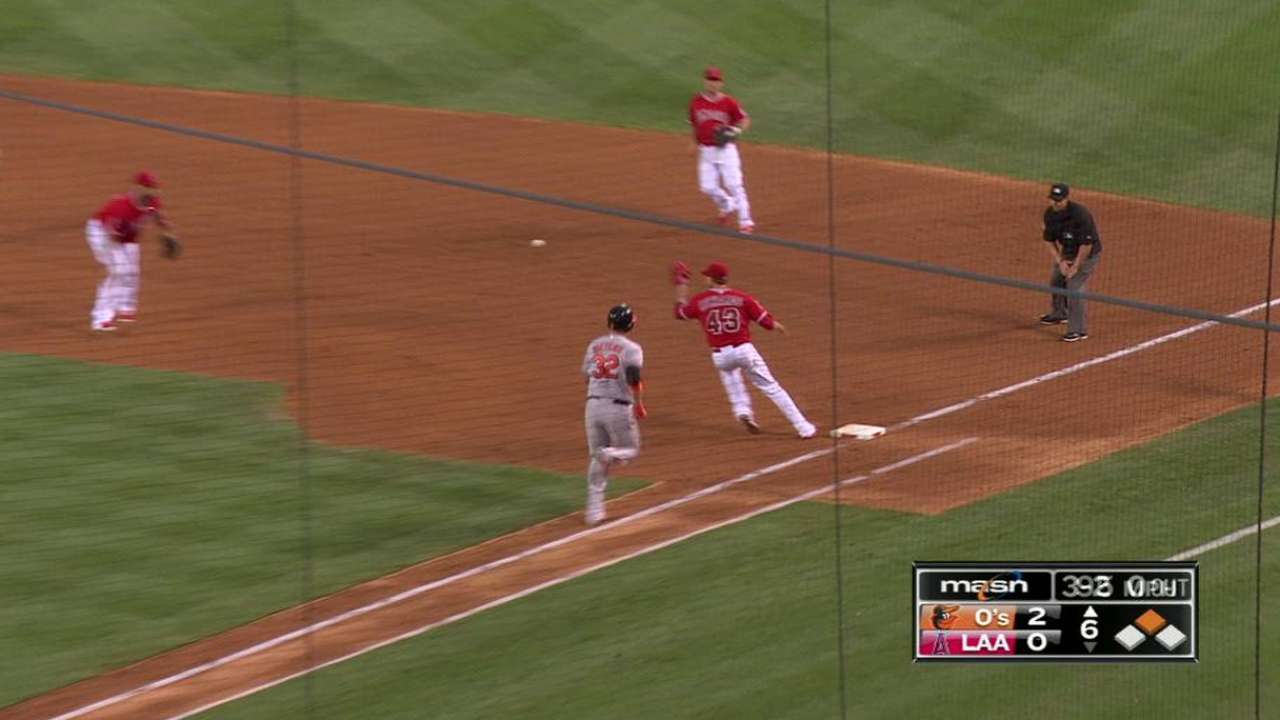 QUOTABLE
"You say, 'Why can't you do that all the time?'" -- Orioles manager Buck Showalter, on Jimenez's first career victory over the Angels, after an 0-5 start
UPON FURTHER REVIEW
The Angels won a key challenge to help keep the game scoreless in the top of the second inning. With Jonathan Schoop on first and one out, J.J. Hardy ripped a double into the right-center-field gap, past a diving Calhoun, and Schoop appeared to score easily ahead of the relay throw and sweeping tag of catcher Carlos Perez. But manager Mike Scioscia challenged that Schoop's lead foot had passed over the top of home plate, and after review, the safe call was overturned. Richards struck out the next batter, Ryan Flaherty, to end the inning.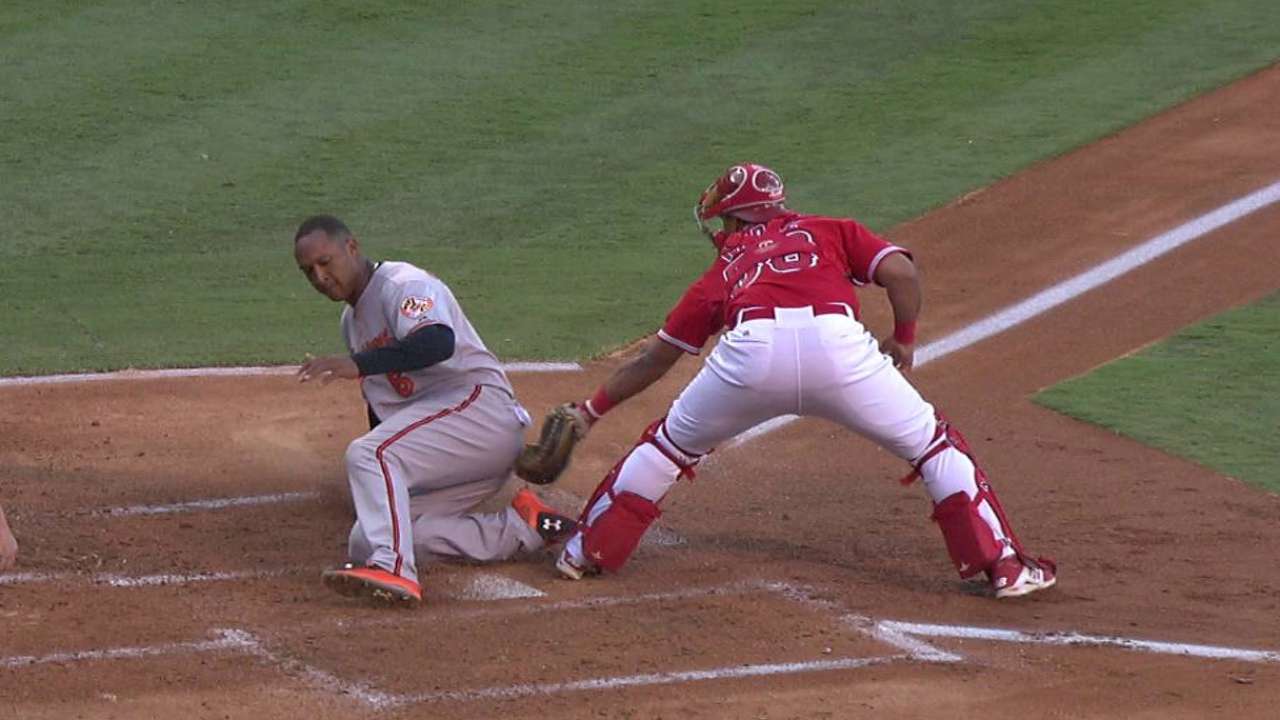 The Angels missed out on their first run when a safe call on a similar play was challenged by the Orioles in the ninth, with Trout's leg ruled not to have touched home even though his slide beat Joseph's tag.
WHAT'S NEXT
Orioles: Miguel Gonzalez gets the starting nod in the Sunday afternoon finale of this three-game series. The Orioles' right-hander is 3-1 with a 2.20 ERA in four career starts against the Angels. First pitch is set for 3:37 p.m. ET.
Angels: Jered Weaver makes his return to the Angels' rotation for the 12:37 p.m PT finale at Angel Stadium. The right-hander has been on the disabled list since June 21 dealing with left hip inflammation and an out-of-sync delivery.
Watch every out-of-market regular-season game live on MLB.TV.
David Adler is an associate reporter for MLB.com and Earl Bloom is an MLB.com contributor. This story was not subject to the approval of Major League Baseball or its clubs.