Bryant's efforts big and small make difference
Rookie hustles for RBI in first inning, adds homer in third vs. Giants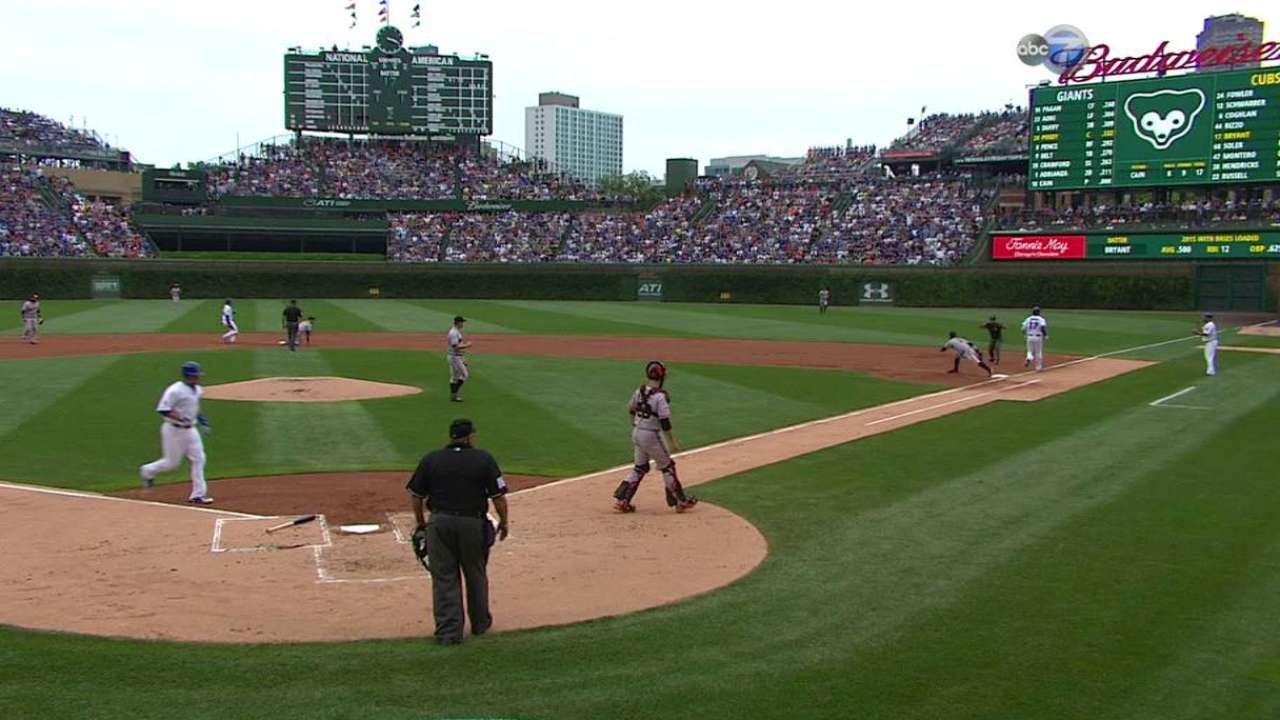 CHICAGO -- It wasn't Kris Bryant's home run that impressed Cubs manager Joe Maddon as much as the rookie's hustle in the first inning Saturday.
The Cubs had one out and the bases loaded when Bryant hit a potential double-play ball to Giants shortstop Brandon Crawford. But Bryant beat the throw to first from second baseman Ehire Adrianza and a run scored, the first of what would be three RBIs for the Cubs rookie in an 8-6 win.
"Everybody's always into the base hits," Maddon said. "Crawford, their guy, had a tremendous game -- not a good game, he had a tremendous game. [Bryant] beats out a well-struck ball and they turned it clean, and he beat it out. That to me was one of the biggest moments in today's game.
"Of course, the homer was obvious, but if you break his game down and what he's doing and the rest of his game, that, to me, is what's most impressive."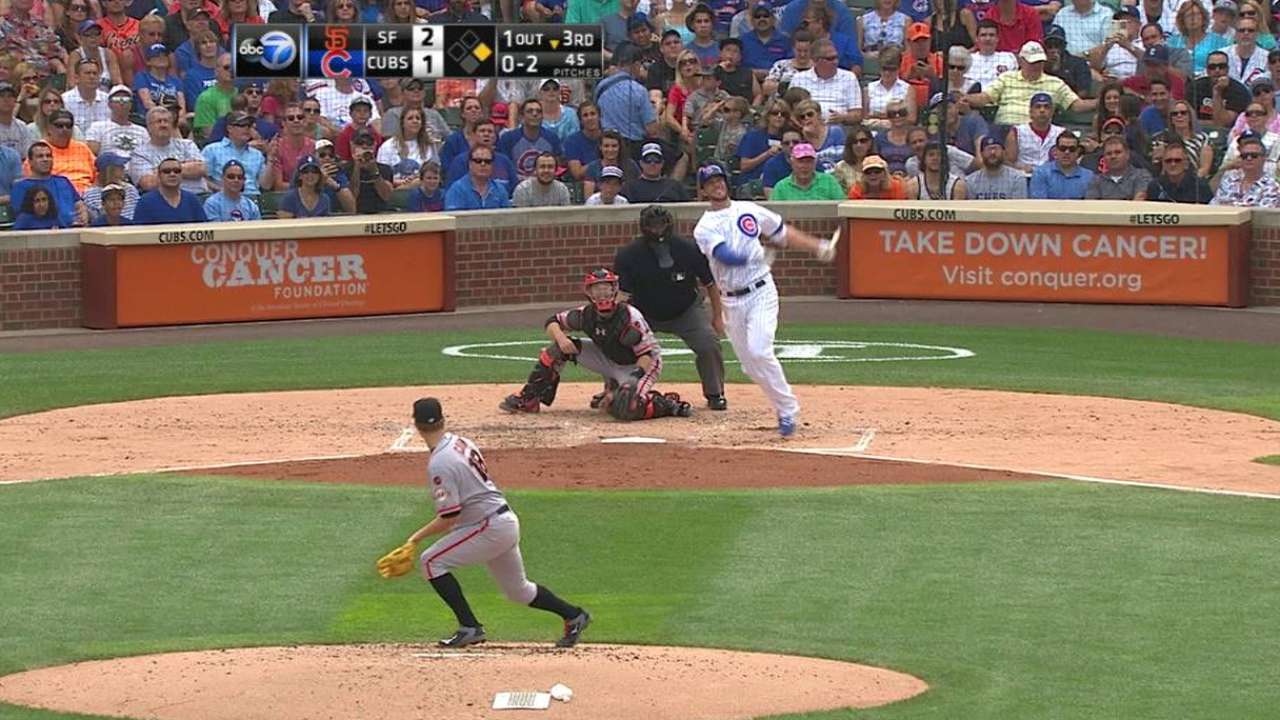 Bryant connected on his 15th homer with one out in the third to go ahead, 3-2, and raise his RBI total to 64, which leads the Cubs and all Major League rookies.
"He's a good baseball player," Maddon said. "That's what I don't want to get overlooked by all of this. People are looking at his batting average, his numbers, whatever. He's one of the better young baseball players I've had. Period."
Bryant is batting .248 overall and .169 since the All-Star break. Saturday was his first home run and multi-RBI game since July 27. He's been working with hitting coach John Mallee on his swing.
"We're focusing on being a little more short, direct to the ball," Bryant said. "I feel like when I miss the ball, I'm usually under it, fouling it back. I'm just trying to get the barrel up a little bit, trying to hit more of the middle of the ball. I've been working on that real hard in the cage and batting practice, and I'm seeing some results in the game. It's nice."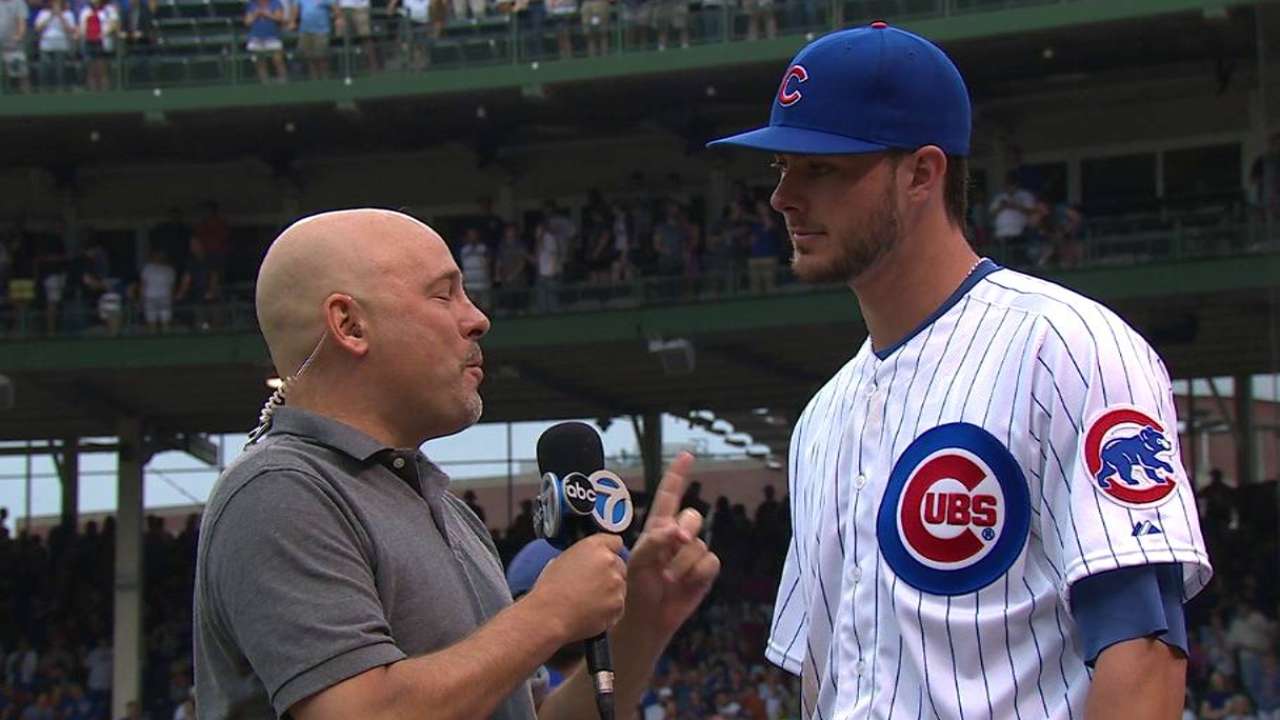 Maddon has stressed to the young Cubs that they can contribute to a win in other ways than hitting home runs. That message has stuck with Bryant.
"There's always a way to impact a game, whether it be with a glove, obviously with your bat, or baserunning," Bryant said. "I take pride in that, just trying to earn the respect of my teammates hustling down the line, whether it be a chopper back to the pitcher, or today, a nice hard hit that the guy made a really good play on. I take a lot of pride in that."
Carrie Muskat is a reporter for MLB.com. She writes a blog, Muskat Ramblings. You can follow her on Twitter @CarrieMuskat and listen to her podcast. This story was not subject to the approval of Major League Baseball or its clubs.