Chavez rewards Melvin's faith with strong finish
Right-hander allows one run over seven innings Saturday vs. Astros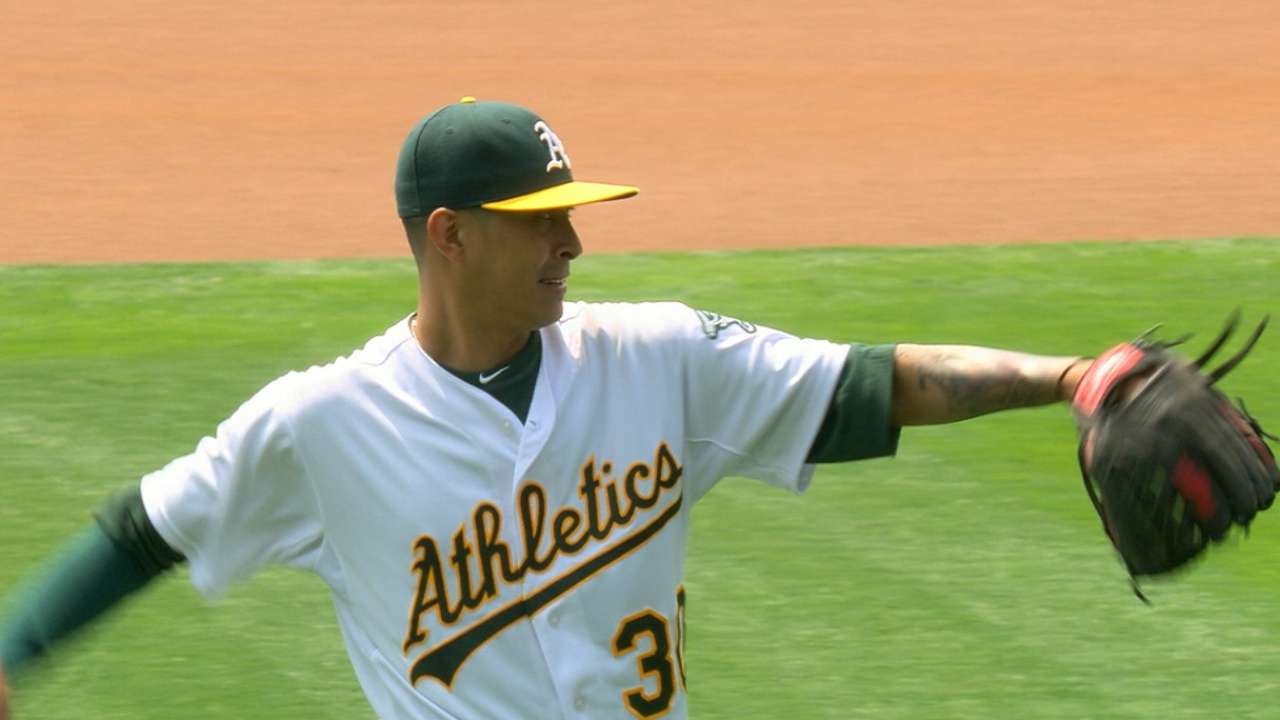 OAKLAND -- A's manager Bob Melvin thought about pulling Jesse Chavez in the sixth, but he opted to leave him in, and Chavez finished strong with his two best innings of the game.
"It was just a testament to his fortitude." Melvin said. "He wanted to be out there, he knew he was going to have to get outs and he knew he didn't have any room for error. It was just about really going out there and believing in yourself."
Chavez, who had yielded 13 combined runs in his last three starts, surrendered one run in seven innings in the A's 2-1 win over the Astros on Saturday. He gave up six hits and struck out four, throwing 106 pitches in by far his best start since July 19.
The right-hander said he was a bit hesitant at first, which is something he knew he couldn't afford to do against the Astros' lineup.
"After that, you've just got to trust your stuff," Chavez said. "It's moving the way you want it to, it's going where you want it to go. Just trust it in the zone and that's what I did in the sixth and seventh innings."
A's catcher Stephen Vogt said Chavez's cutter, curveball, breaking ball and four-seam fastball were all sharp. The four-seam fastball in particular, Vogt said, was something that got away from Chavez his last few starts, but he went back to using it effectively on Saturday.
Chavez said putting together such a strong performance -- one he knows he's fully capable of on a consistent basis -- is a confidence builder. Now his focus going forward is finding out what troubled him early in the game and working to limit those hiccups, like Preston Tucker's homer in the fourth.
He also said he made a tactical adjustment during the week, one that he believes helped him immensely on Saturday.
In his last start, in which he yielded six runs over 3 2/3 innings in a loss to the Orioles on Monday, Chavez said he would stop and try to pause before he started his momentum forward. That was causing him to lean backward, which is not something a pitcher wants to do, he said.
Pitching off his heels led to flat throws. On Saturday, he said he did a much better job of staying on top of the balls of his feet and keeping the ball down.
"You've got to credit everything to Chavy today for getting us to the eighth," Vogt said. "There was a time when we had a guy up in the fifth, and he was able to throw two more innings after that. Credit him, he came out and threw as good as he's thrown in last month or so."
Trevor Hass is an associate reporter for MLB.com. This story was not subject to the approval of Major League Baseball or its clubs.