With no room for error, McHugh stung by early walks
Right-hander allows two first-inning runs, but recovers to fan eight over six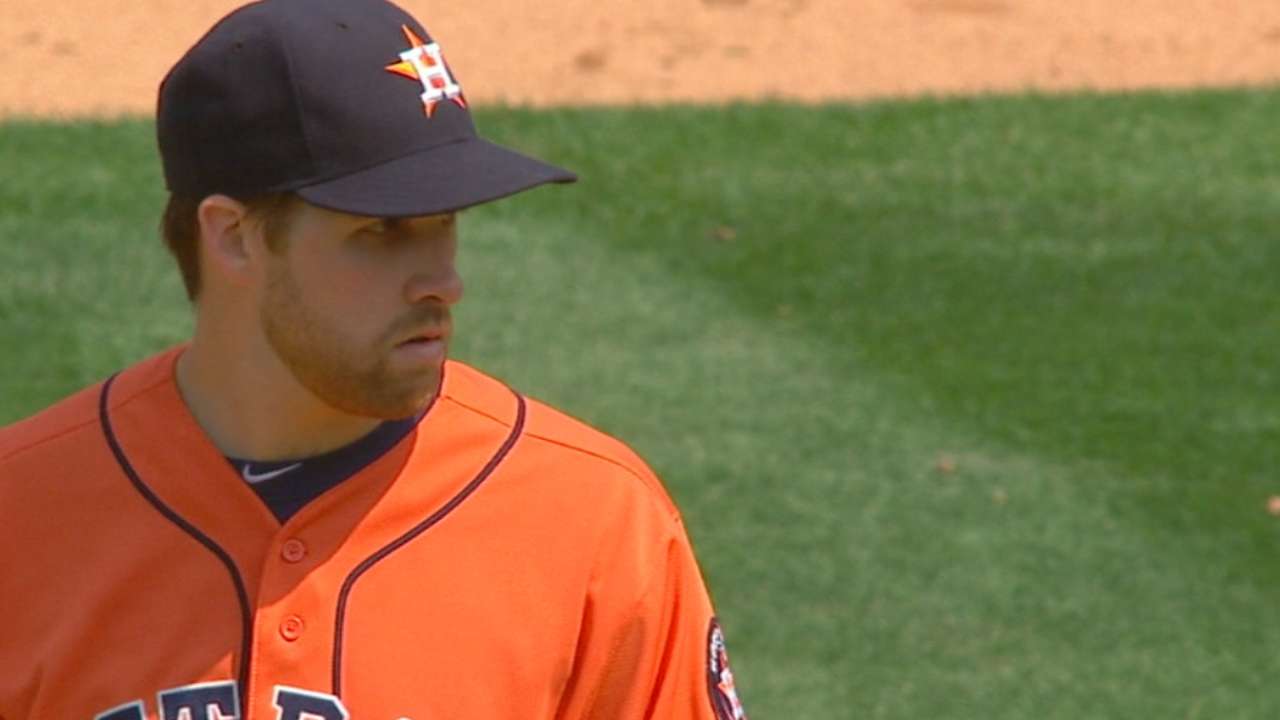 OAKLAND -- With the way the Astros have been struggling to score runs during their current road trip, allowing the A's to push across a pair in the first inning on Saturday afternoon certainly raised doubts about whether they could play from behind.
Astros starter Collin McHugh walked the first two batters he faced -- both of which scored -- and was otherwise terrific, but Houston went 0-for-10 with runners in scoring position and lost for the 13th time in their last 15 road games, 2-1, to the A's.
"He settled in and I thought he executed well," manager A.J. Hinch said. "We pitched him as hard as we could to get through six. I thought he responded well, I thought he made some adjustments. He did a good job of grinding through his outing, especially the way it started."
McHugh walked Billy Burns and Coco Crisp to start the first, and Danny Valencia drove them home with a one-out double -- the only offense Oakland needed. McHugh said it took him some time to get a feel for his pitches.
"I didn't really have a good curveball today," he said. "Went the whole day without having very good command or that good a stuff. We were in it the whole time. We were a swing away in a lot of situations. Give credit to their guys, threw the ball well, bullpen came in and did the job."
The Astros have been a streaky offense all year. When they're hitting homers in bunches like they're capable, they're dangerous. When they're not, they're a bone to be chewed by opposing pitchers. Oakland's Jesse Chavez, who had been struggling lately, held them to one run and six hits over seven innings.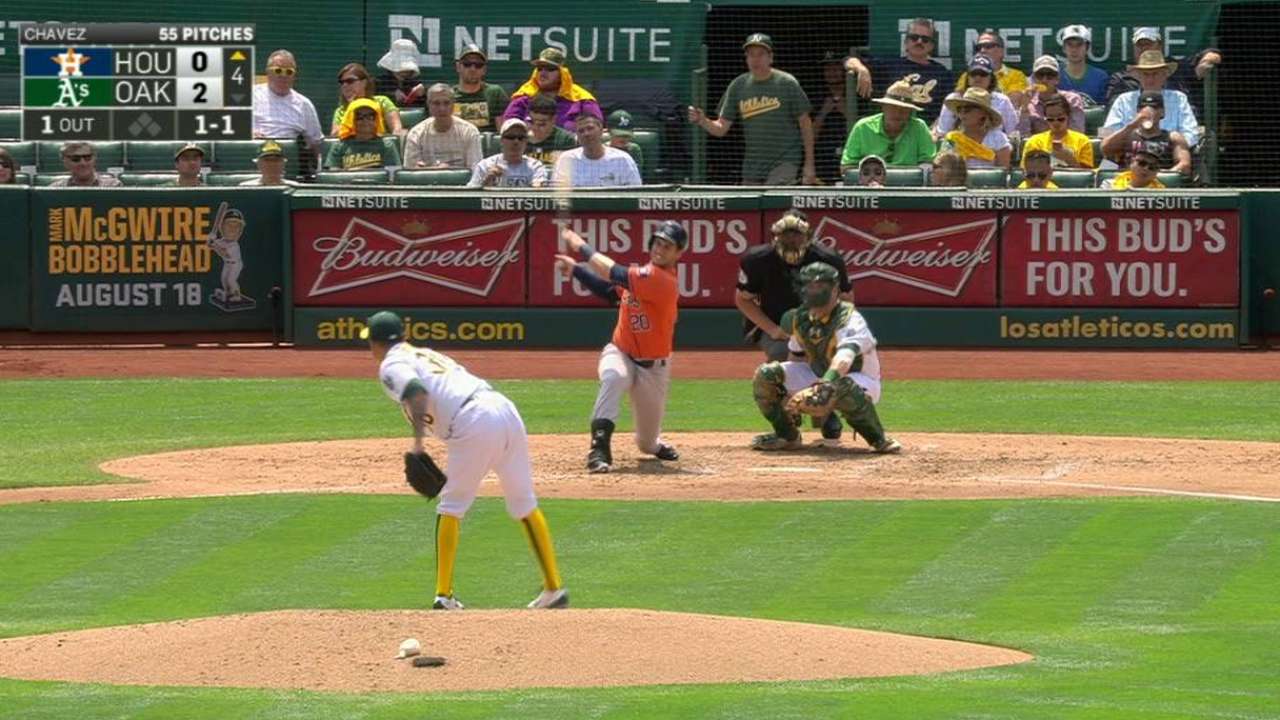 "This stretch here, we've actually hit the ball OK and haven't got the results we want," Hinch said. "We hit the ball hard today, we hit the ball yard yesterday. We've got to do better. I think the run production can and will improve. We're very, very explosive. It's these lulls that we've got to find a way to scratch a few more runs out."
Still, McHugh said he had faith the Astros were going to pull it out.
"I'll take our chances with our guys over anybody," he said. "I don't think we're really carrying that, I don't think that's something that we're really conscious of when we run out there because we can go out there and put up a seven or eight spot just like that.
"For us, we got a job to do as starting pitchers, bullpen guys have a job to do, and bullpen's done a great job over the whole season, especially lately of keeping the game where it's at, and keeping us in it after the starters leave."
Brian McTaggart is a reporter for MLB.com and writes an MLBlog, Tag's Lines. Follow @brianmctaggart on Twitter and listen to his podcast. This story was not subject to the approval of Major League Baseball or its clubs.