Four replays go against Dodgers in wild game
Pirates manager Hurdle wins three challenges, including key play at first in ninth inning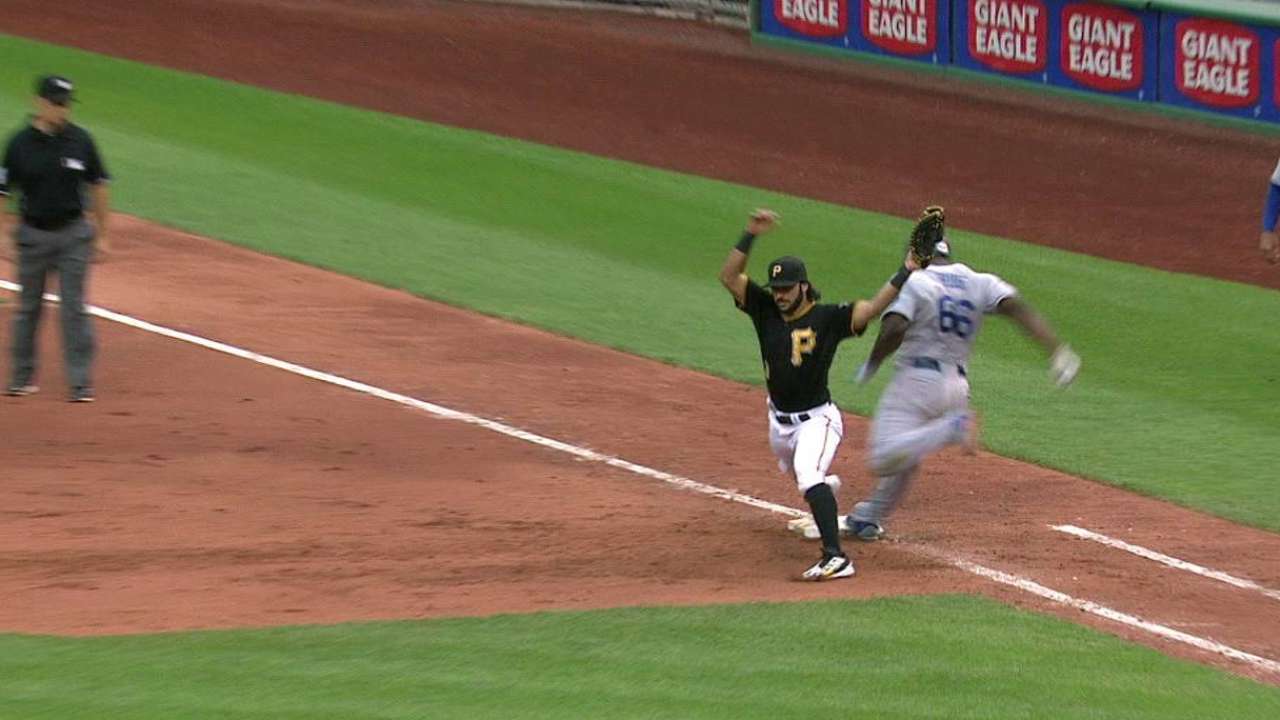 PITTSBURGH -- Manager Clint Hurdle said the four replay reviews that worked out in favor of his Pirates during Saturday's 6-5 win over the Dodgers proved that the system works.
"I don't remember going out for three reviews, winning all three," said Hurdle. "It speaks to the importance of it, why we have it. Every one of the calls was against us. It could've changed the dynamic of the game dramatically as it went on.
"I can remember them talking about when we first put it in, one of the things was you get one challenge and if you're wrong, you're done. Then you get one more. They said because the number of times that three calls are looked at, that there are three close calls during the course of the game, the percentage was so small. Today was one of those outliers, and it played out well for us. [Pirates video coordinator] Kevin Roach had a good day in there, got good looks and gave us good reads."
The Dodgers saw the replay decisions differently, and they were especially distraught when one of the decisions deflated a ninth-inning rally.
Manager Don Mattingly, after viewing replays of the replays postgame, vented his frustration with the last decision by indicating he would like to see a photo of the play showing "clear and convincing" proof that the replay official made the right call. The play in question was a Yasiel Puig ground ball to third baseman Jung Ho Kang, who double-clutched, then threw high to first baseman Sean Rodriguez, who rose up off the bag, then back onto it as Puig's foot hit the bag.
"Well obviously it's 100 percent clear and convincing," Mattingly said. "I'm sure I'll get a photo showing 100 percent the foot's on the bag, so in terms of the rules -- clear and convincing -- I'm sure it is."
"I'm just sure it's 100 percent. That replay system is so good that there's 100 percent turnover there that the foot was absolutely on the bag and I'm sure, I'm hoping to get a photo of that. I just want them to get it right. As long as it's 100 percent convincing, then it's the right call."
First-base umpire Mark Wegner ruled Puig safe, and Hurdle challenged. A replay official ruled that Rodriguez's foot was still in contact with the bag as he reached up for the ball.
"Every time you watch a challenge, you're so biased that your team will come out on top," said Dodgers catcher A.J. Ellis. "Both dugouts are thinking, we get this call, most of the time. It's disheartening to see, then you take a look at it later and there's probably a reason they called him out. Trust the process, trust the system, trust the judgment of the guys who are making the decisions."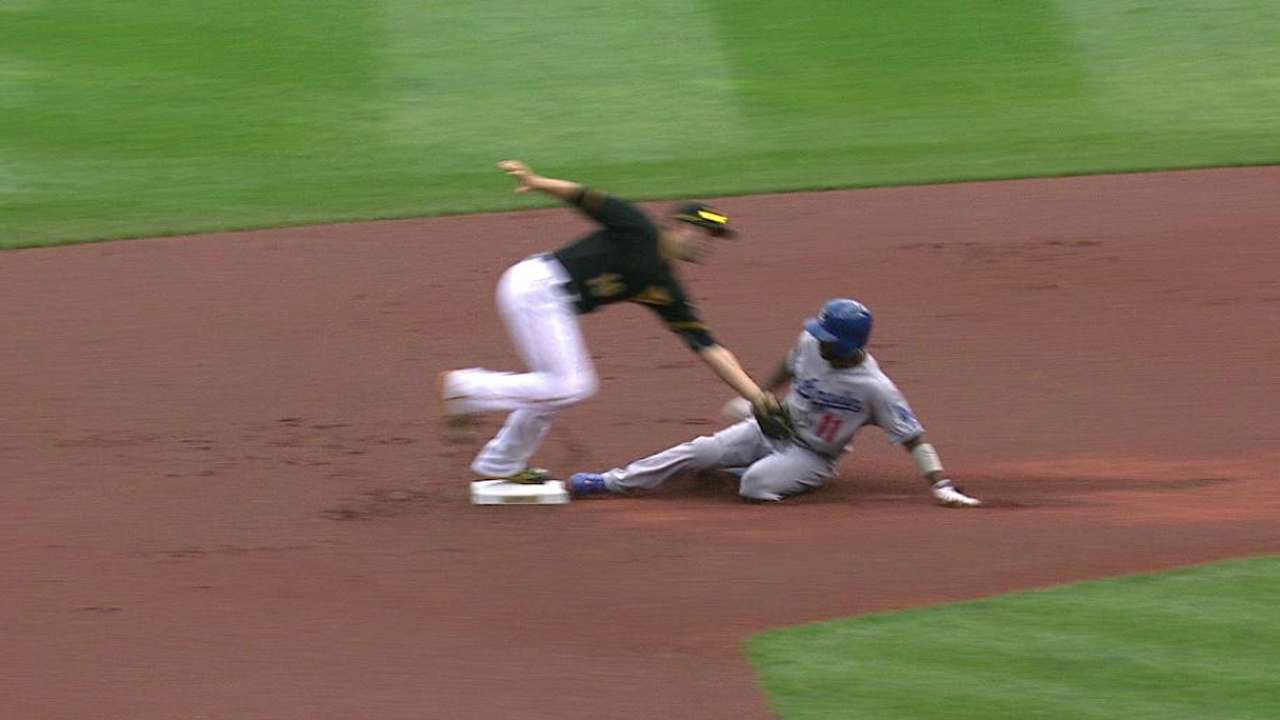 The Puig play was the fourth replay that went against the Dodgers in this game. The first came in the first inning, when Jimmy Rollins was originally called safe at second by second-base umpire Tripp Gibson after a bouncer by Howie Kendrick, but that call was reversed. Officials did, however, rule Kendrick safe at first, barely avoiding a double-play.
The second replay the Dodgers lost was in the third inning when Alex Guerrero was ruled out at second base by Gibson on an attempted sacrifice bunt by pitcher Mat Latos, and the call was upheld.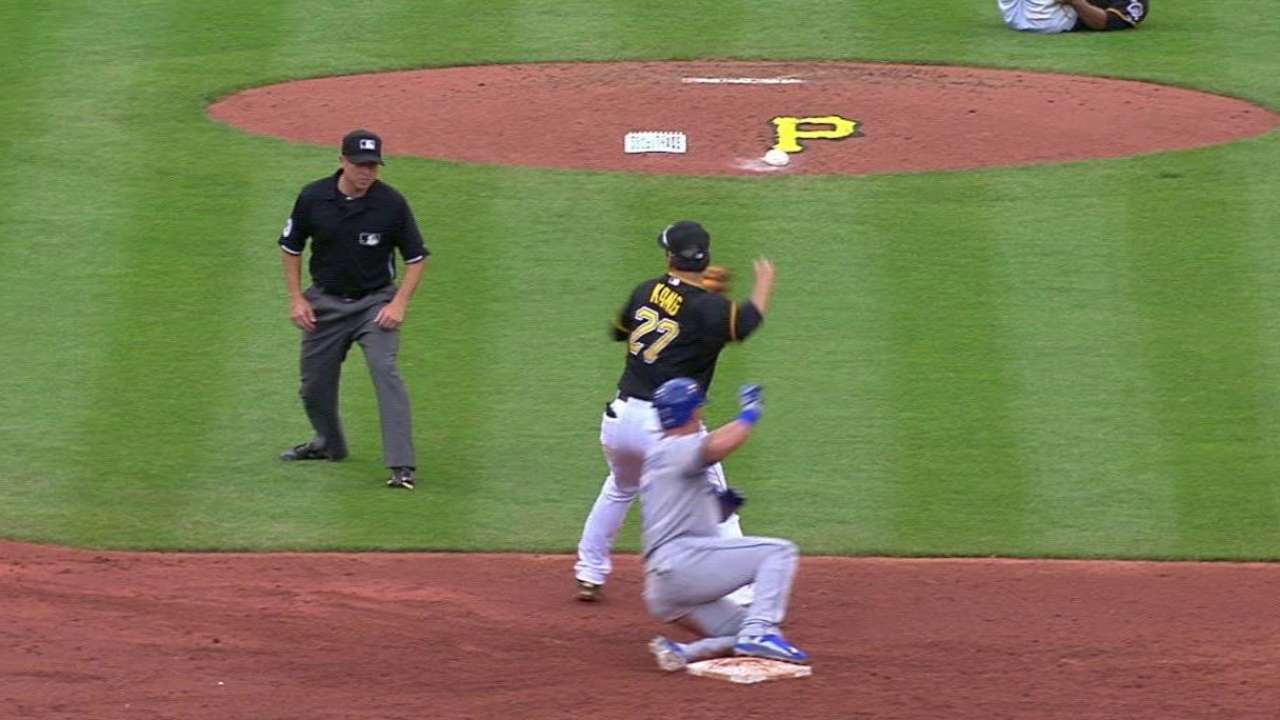 Then in the fifth inning, with runners on first and second, Pirates second baseman Neil Walker was ruled to have come off second base too early taking a throw from third baseman Aramis Ramirez, and Gibson called Ellis safe with Guerrero out at first. But the call at second was reversed.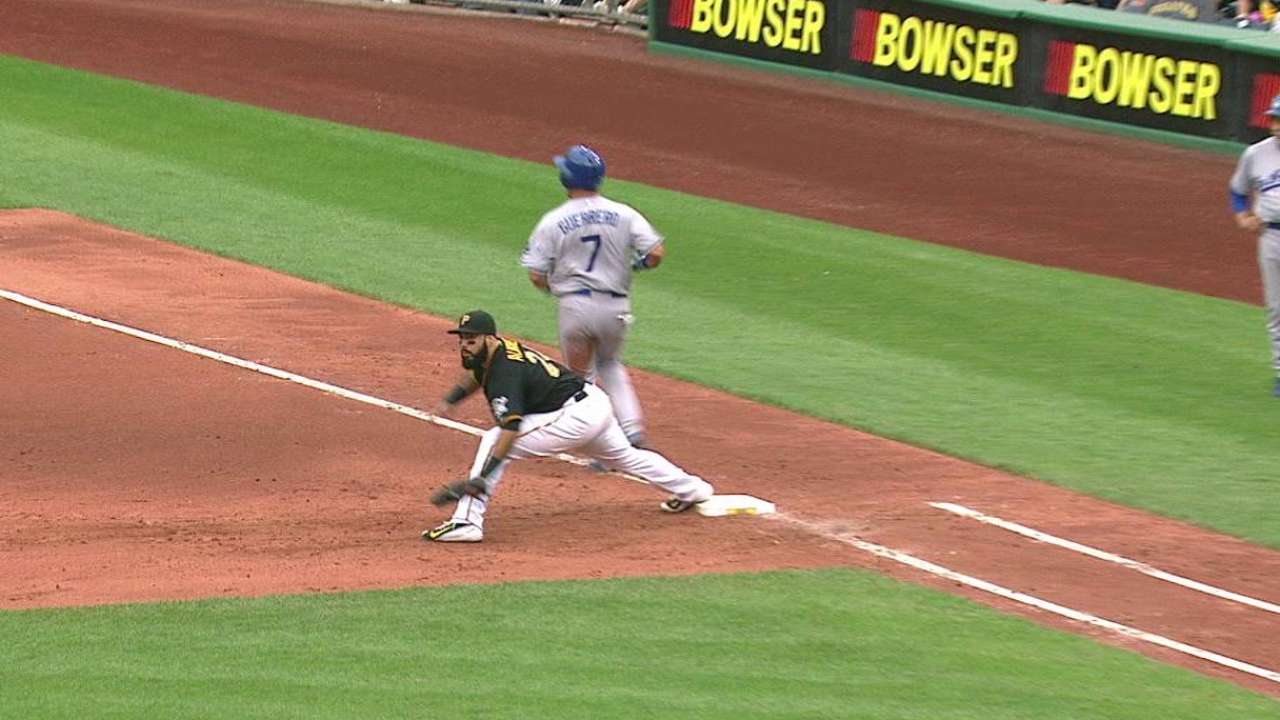 Ken Gurnick is a reporter for MLB.com. This story was not subject to the approval of Major League Baseball or its clubs.