First career HR highlights Liriano's tough day
Lefty allows four runs over three innings, but his three-run blast spurs Pirates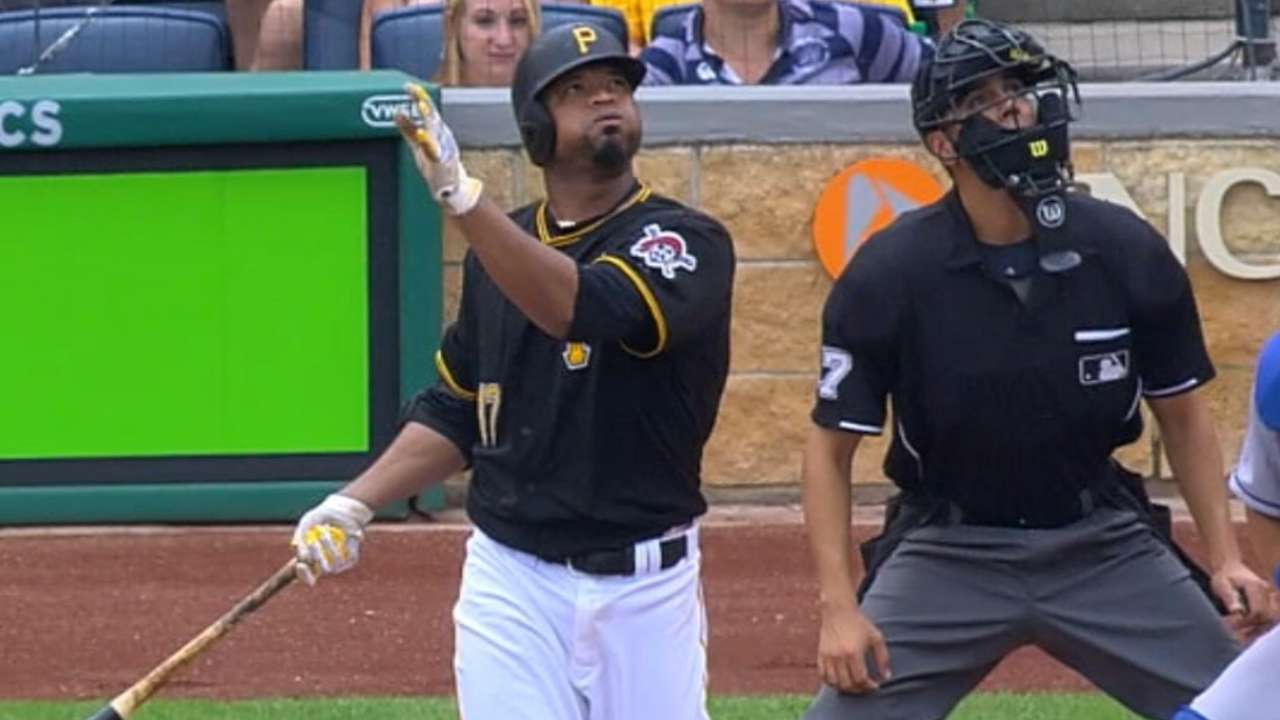 PITTSBURGH -- Pirates left-hander Francisco Liriano was clearly out of whack Saturday afternoon. He was rushing through his delivery, overthrowing and just generally didn't look himself.
Fortunately for the Pirates, Liriano made up for his shortcomings on the mound with a big swing at the plate in the second inning, a three-run homer to left field in the Bucs' 6-5 win over the Dodgers at PNC Park.
The opposite-field shot was the first homer of Liriano's 10-year career. In fact, it was his first extra-base hit in 172 plate appearances.
"That's like Halley's Comet," Pirates manager Clint Hurdle said. "I'm really happy it happened. I always kid him, 'Can I see a homer in my lifetime, as many as you hit in BP?' It was a real big swing of the bat for us, as the game played out."
Indeed, Liriano is among the Pirates' staff's most proficient home run hitters during batting practice. He often blasts balls into the right-field seats with ease.
It's not as if Liriano is a stranger to hitting. He was an outfielder when the Giants signed him as an international free agent out of the Dominican Republic in 2000. But he's not about to start fancying himself as some kind of slugger now.
"I think I got lucky there," Liriano said. "I've hit before, so I have a little bit of pop taking BP. Just trying to put the ball in play and trying to help the team out."
Given the way he pitched, the homer may have been Liriano's most important contribution. He lasted only three innings, throwing 79 pitches as he allowed four runs on seven hits and two walks.
At one point in the third inning, after his home run, Hurdle and a trainer came out to check on Liriano. They figured his back was bothering him -- anything to explain the way he was pitching.
But Liriano said he felt fine, other than a slight twinge near his right armpit from his home run swing.
"I didn't have anything going today. Just one of those days," Liriano said. "Mechanics were off. I was rushing too much and trying to do too much.
"Put this one behind me and try to move forward. Just try to work on my mechanics in the bullpen."
It's been an odd stretch for Liriano. His start on Monday was cut short due to rain, then he took the mound Saturday feeling uncomfortable on the mound -- albeit evidently not at the plate.
"It's been a tough week for me, yeah," Liriano said. "Things happen for a reason. Just hang with them and try to find a way to stay in the game, stay focused. Hopefully next time everything goes better."
Adam Berry is a reporter for MLB.com. Follow him on Twitter at @adamdberry. This story was not subject to the approval of Major League Baseball or its clubs.