Kahnle to see save chances for Rockies
On 26th birthday, righty fans Harper for first MLB save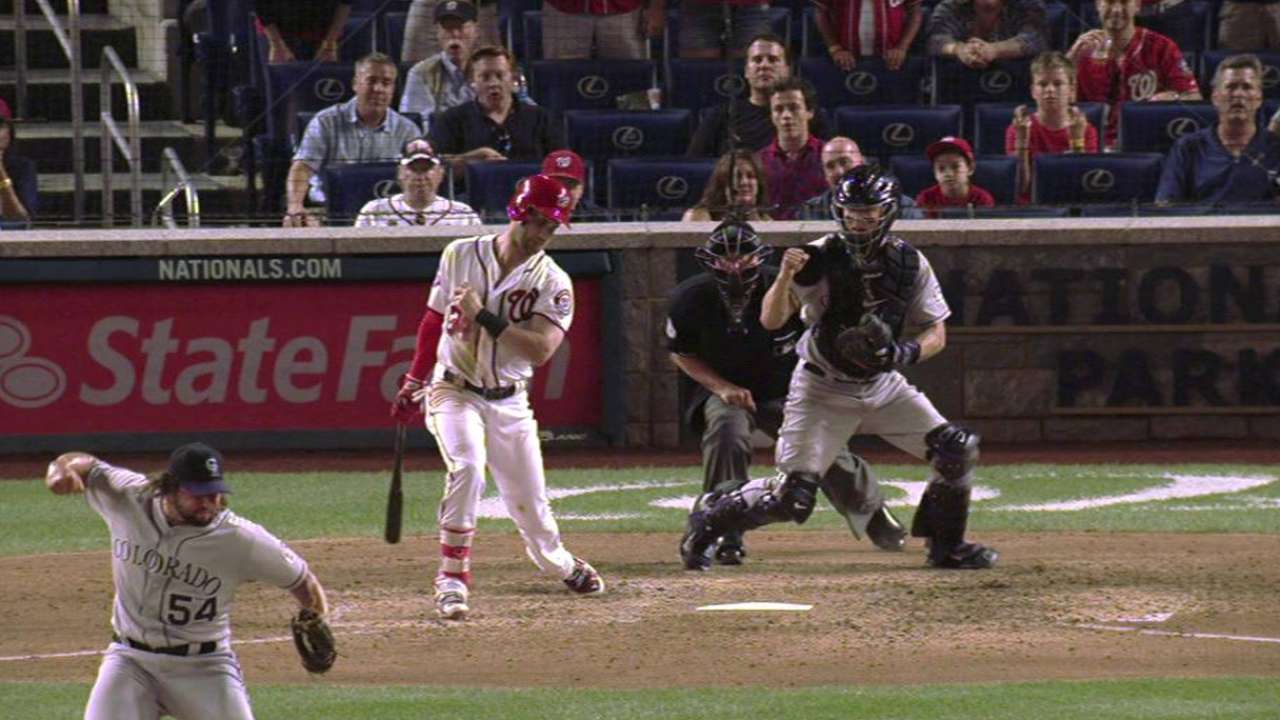 WASHINGTON -- Standing in his temporary office before Saturday's game at Nationals Park, Rockies manager Walt Weiss was not ready to coronate Tommy Kahnle as Colorado's full-time closer. He did say, though, that Kahnle's performance the night before had earned him another shot.
"That's the next step for him, and he showed up really well last night," Weiss said. "We'll give him some opportunities. I'm not necessarily committing to anything in that ninth inning, but I think the way Tommy performed last night he gets a shot."
After Carlos Gonzalez's eighth-inning grand slam provided the Rockies a 5-4 lead on Friday night, Kahnle earned his first career save, slamming the door on Bryce Harper with a deadly changeup.
"I know he's got as good of stuff as anybody in the league," catcher Nick Hundley said. "He's never going to be Greg Maddux, but he doesn't have to be. When he has the fastball command to go with [that changeup], he's going to be really tough."
Kahnle, who happened to turn 26 on Friday, has a 2.60 ERA in 27 2/3 innings. He has 17 walks, a result of occasionally spotty fastball command, but with mid- to upper-90s velocity and a top-notch changeup, he has 35 strikeouts.
"Typically, you want the hitter on the other side of the plate to make that changeup effective. But he's got that type of changeup. It's a power changeup. He can go right-on-right with it," Weiss said. "You saw last night. When it's down, it's unhittable, right or left. "
Jacob Emert is an associate reporter for MLB.com. This story was not subject to the approval of Major League Baseball or its clubs.