Rosario displays power in form of triples
Although not typical slugger, rookie shows speed, aggressiveness on basepaths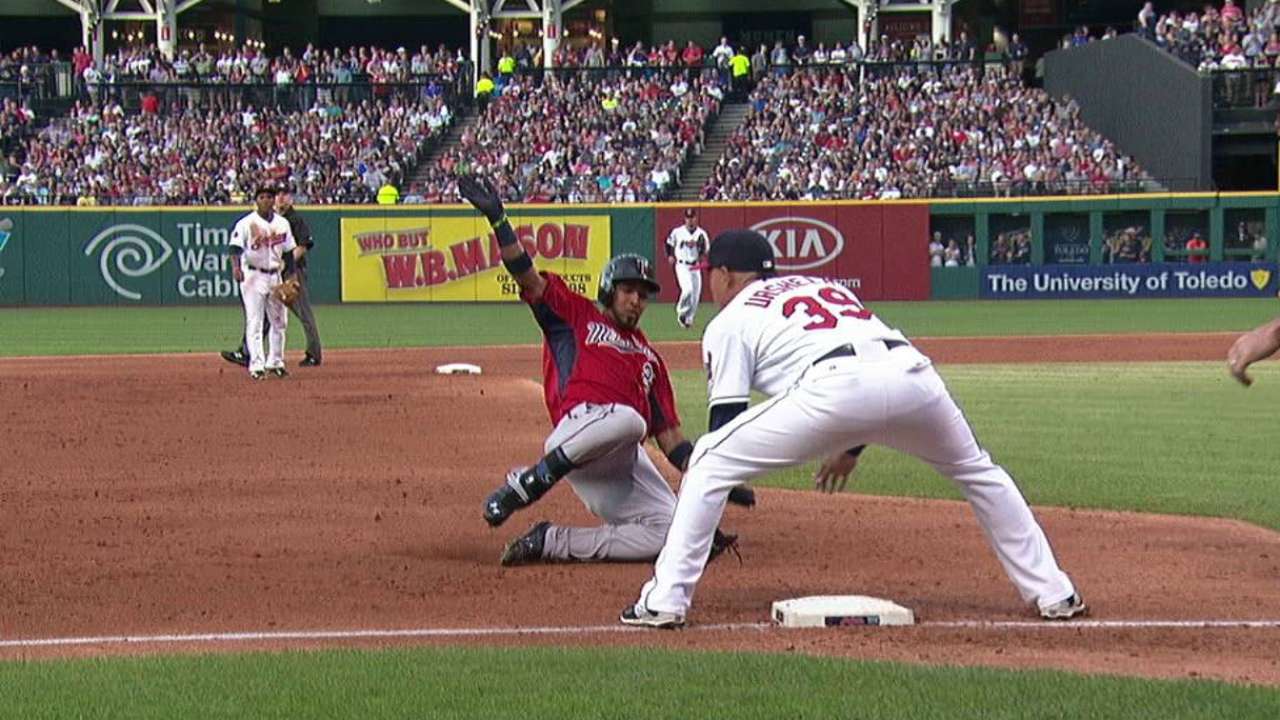 CLEVELAND -- A batter's power typically manifests itself in a rather obvious fashion.
You see a tall, hulking hitter with an uppercut swing. You hear unusually loud cracks off the bat and witness majestic home runs that find their way dozens of rows back in the outfield seats.
Eddie Rosario is not your typical slugger.
The Twins' rookie left fielder stands 6-foot-1 and weighs in at 180 pounds. He's hit just six home runs in 75 games this year, and he's never slugged more than 12 home runs in a single season above rookie ball.
Yet, by any measure, Rosario has hit for above-average power this season. His .444 slugging percentage entering play Saturday is higher than the marks of prolific home run hitters like Evan Gattis and Curtis Granderson. His .169 isolated slugging percentage (ISO) -- a better indicator of raw power that isolates extra-base hits -- leaves him sandwiched between traditional sluggers Prince Fielder and Kendrys Morales.
It hasn't been obvious, but it's there. Power doesn't have to come solely from the bat. It can come from the legs, too.
After recording two triples in Friday's 10-9 victory in Cleveland, Rosario is up to eight for the season, tied for second in the Majors despite not making his Major League debut until May 6. And while both of Friday's triples came largely as the result of outfielders falling down, there were still six that came before those.
A quick glimpse at the lefty-swinging Rosario's spray chart from this season reveals his preferred method of the three-bagger.
Six of Rosario's eight triples have come from balls hit in the gaps, including four to left-center field. About half the time that Rosario's put a ball in the gap, he's turned it into a triple.
"The part that I like about Eddie is he's a guy that knows how to come out of the box," Twins manager Paul Molitor said. "The old adage is when you hit a single, you think a double and when you a hit a double, you think triple. He's kind of shown that mindset."
Not only does Rosario have good speed, but he's also shown good baserunning instincts. He has taken the extra base in 53 percent of his opportunities -- well above the league average of 39 -- and has made just three outs on the bases all year. The best baserunners are aggressive, yet calculated.
"When he's been going for third, they've been really good decisions," Molitor said.
As was on display Friday, and as Molitor made sure to mention, triples can be fluky. Rosario never hit more than eight in a season above rookie ball, so perhaps this season is something of an aberration. He does have one thing working in his favor, though, in his home stadium of Target Field. According to the park factors hosted at FanGraphs.com, Target Field increases triples by 10 percent, making it the sixth-best triples park in the league.
Rosario may never be your typical power hitter, but as long as he's got speed, gap power and Target Field, his hidden power output could remain.
August Fagerstrom is an associate reporter for MLB.com. This story was not subject to the approval of Major League Baseball or its clubs.