In series of moves, Venable reinstated, Mateo to DL
OF returns from paternity leave; club also claims Thielbar from Twins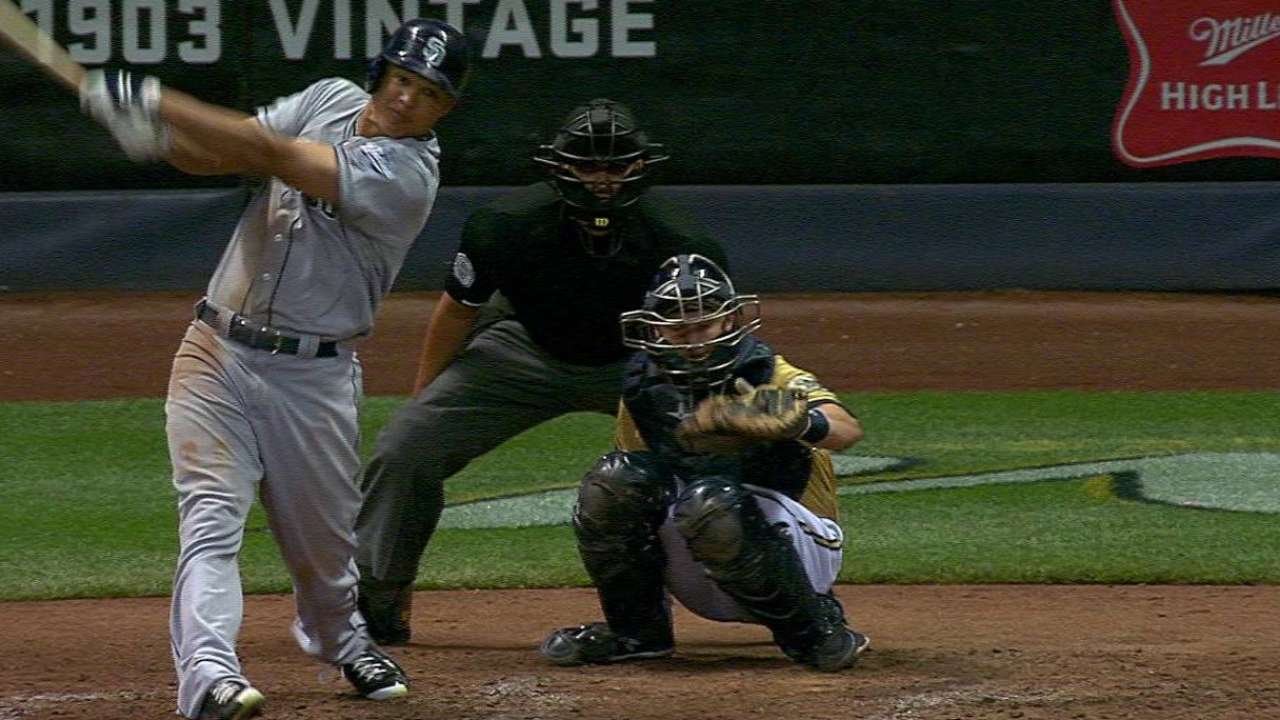 SAN DIEGO -- In a series of roster moves before Saturday's game, the Padres reinstated outfielder Will Venable from the paternity list and placed Marcos Mateo on the 15-day disabled list with a neck strain, recalling left-hander Frank Garces in his place.
The Padres also moved outfielder Wil Myers to the 60-day DL (retroactive to June 14) and claimed reliever Caleb Thielbar off waivers from the Twins. They assigned Thielbar to Triple-A El Paso, along with outfielder Alex Dickerson, who picked up his first Major League hit Friday night.
Dickerson was optioned to allow for the return of Venable, who had missed the last two games for the birth of his first child, a baby girl.
"No matter what your role is in that clubhouse, everybody has respect for Will," said Padres manager Pat Murphy. "It's always a good addition. We loved the young kid being up here, though. Dickerson is special -- a local kid, who got his first hit last night. It's always a bummer to have to tell him. But he understood and knew the deal before he came."
As for the Thielbar move, the left-hander was 5-3 with a 2.81 ERA in 29 relief appearances for Triple-A Rochester this season. In three big league seasons for Minnesota, he posted a 2.74 ERA and a WHIP of exactly 1.
It's unclear what his role will be with San Diego, but the Padres have spent most of the season without a left-hander in their bullpen. At the deadline, however, the club acquired southpaw Marc Rzepczynski from the Indians, and they promoted Garces on Saturday to take Mateo's place.
Mateo has been dealing with on-and-off neck issues since early in the season with El Paso. Assisant general manager Josh Stein said those issues resurfaced in his appearance Wednesday in Milwaukee.
"He gets this kind of tightness in his neck and clavicle area," Stein said. "We don't think it's anything too serious, but we'll let it calm down for a few weeks."
The Myers move doesn't come as surprise, as his DL stint will reach 60 days next week. Stein said Myers, who had surgery on his left wrist last month, will take dry swings with a lighter bat in his recovery on Sunday.
AJ Cassavell is a reporter for MLB.com. Follow him on Twitter @ajcassavell. This story was not subject to the approval of Major League Baseball or its clubs.