Johnson joins Indians eager to help new club
Acquired from Braves, utility man ready to contribute wherever he's needed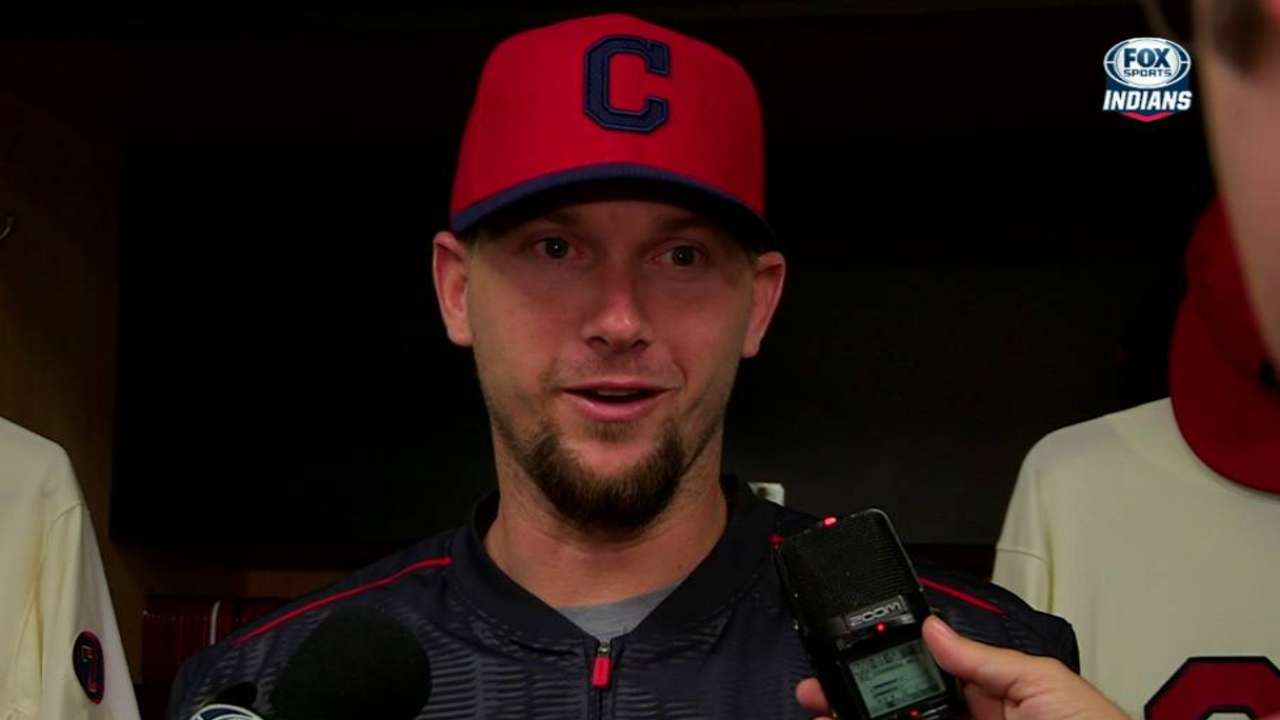 CLEVELAND -- Chris Johnson could see the direction the Braves have been going, so it did not come as a complete shock when he received the official word that he had been traded to the Indians. Standing in front of his new locker in Cleveland's clubhouse on Saturday, the utility man was just ready to get started with his new team.
"I'll tell you what, over there, I don't know if anybody would be surprised to get traded right now," Johnson said. "I guess any time you get traded, it's a little bit of a shock. You never know where you're going to go or when, it's kind of up to the organization."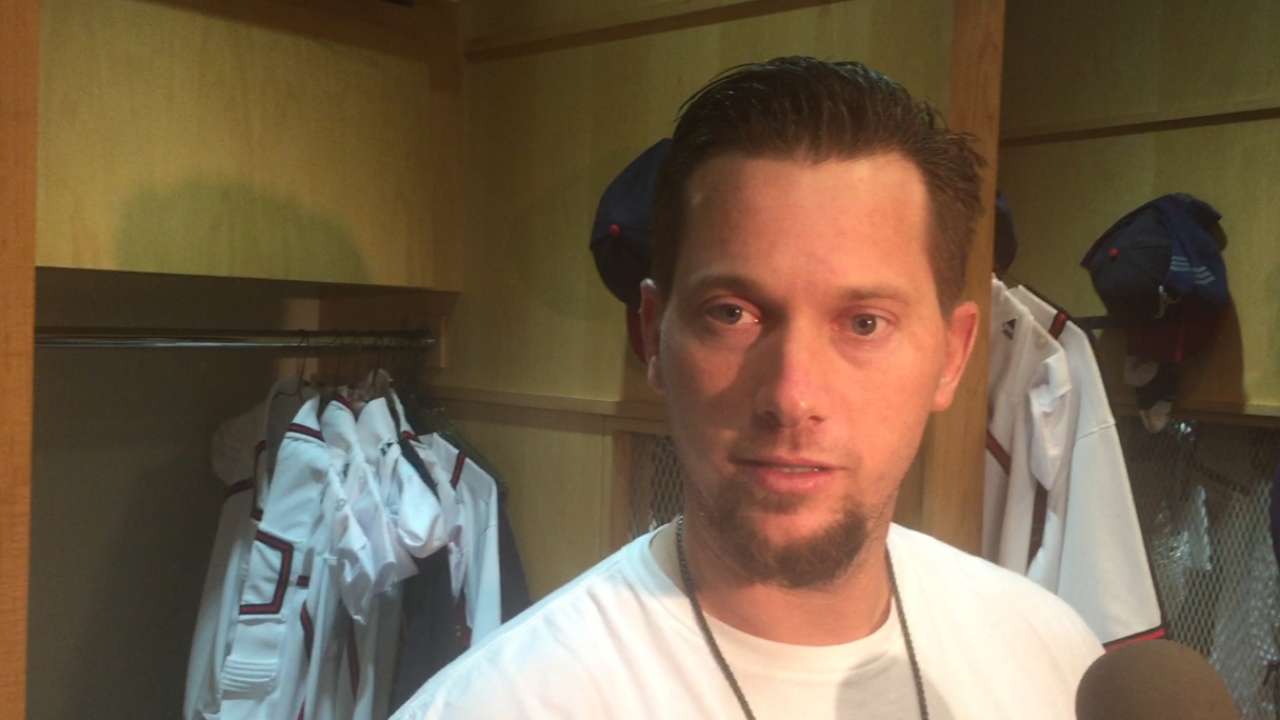 Johnson was shipped to the Tribe on Friday in exchange for veteran outfielders Nick Swisher and Michael Bourn in a trade that swapped contracts that both teams were hoping to move. Johnson is under contract at least through 2017, will earn $16.5 million over the next two seasons and has a $10 million team option for '18.
Right now, Johnson's only concern is finding out how he will fit within Cleveland's current roster structure.
"Obviously I came up as a third baseman," Johnson said. "I've played the most at third base. I've been playing a lot of first base recently and, in the Minor Leagues and college, I played the outfield. I enjoy being in the batter's box, so I'm not too worried about where [I'm] at [in the field]. Whatever I can do to help, that's what I'll do."
Johnson officially joined the Indians on Saturday and met with manager Terry Francona to discuss expectations. Cleveland plans on giving the 30-year-old Johnson a look in the outfield, considering the team currently has rookie Giovanny Urshela at third base and Carlos Santana, along with Jerry Sands, at first base.
"I think he's excited to be here," Francona said. "I think he understands that we have a third baseman and we have a number of first basemen. He's very willing to go into the outfield and take some balls. I told him to tell me when he's comfortable, and I also told him, I said, 'Hey, man, one of our goals is for this to be a good place for you to be. So, we'll work at it to make sure it is.' And he was really good about it."
Through 56 games this season with the Braves, Johnson hit just .235 with two homers and 11 RBIs, but he missed most of May due to a left hand injury. He still managed to hit .323 (.747 OPS) against left-handed pitching this season, and Johnson turned in a .287/.324/.420 slash line across the 2012-14 seasons.
He pinch-hit for Yan Gomes in the eighth inning of the Indians' 17-4 rout of the Twins on Saturday, flying out to right.
"I've just got to keep working on the things I was working on in 2013," said Johnson, referring to the season he hit .321 for the Braves. "[There are] some things I've been trying to focus on over the past month, and I feel like it's really coming around. I'm just going to keep working on it, that's my goal, and I'm not going to stop until I get that back."
Jordan Bastian is a reporter for MLB.com. Read his blog, Major League Bastian, follow him on Twitter @MLBastian and listen to his podcast. This story was not subject to the approval of Major League Baseball or its clubs.