Eaton in the lineup with sore left shoulder
Center fielder jammed shoulder on tumbling catch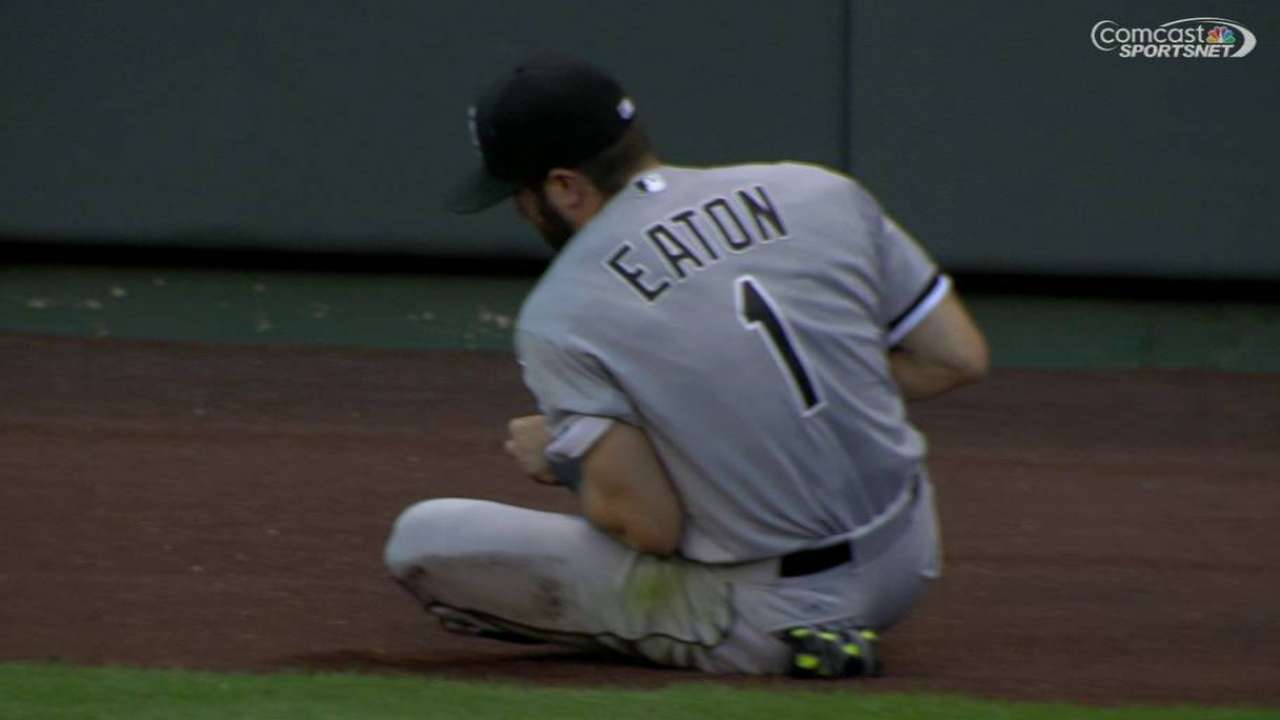 KANSAS CITY -- One day after leaving a game with a jammed left shoulder, White Sox center fielder Adam Eaton was right back in the lineup on Saturday night against the Royals.
Eaton, who injured the shoulder Friday night while making a fully extended catch and tumbling to the ground in the fourth inning, received good news from an MRI and X-ray, and got the green light Saturday from the medical staff and manager Robin Ventura.
Eaton, who went 1-for-4 with two RBIs in the 7-6 loss, said he originally felt some shoulder discomfort in a recent game against Cleveland and has been battling to stay in the lineup.
"It's something we're going to continue to deal with," Eaton said. "I'm glad Skip put me back in the lineup because I want to be in there."
Eager to help the White Sox make a push for a Wild Card, Eaton said he would deal with the throws from the outfield as best he can. He remains an offensive catalyst at the top of the lineup.
"For the last two weeks, what I've had out there is what I've had," Eaton said. "We're getting to the days when we need to make a push and I want to be part of that. These guys have put in hard hours all year. We're getting down to the nitty-gritty now. I don't need to take a day off."
Ventura made the decision to put Eaton in the lineup Saturday based largely on information he received from head trainer Herm Schneider.
"It's not a structural thing," Ventura said. "It's more of a nerve thing that isn't going to get better in one or two days. He feels good enough to go out there and we're going by that. If it was something where I felt he was being compromised in going out there to play, he wouldn't be in there."
Robert Falkoff is a contributor to MLB.com. This story was not subject to the approval of Major League Baseball or its clubs.