Girardi and Co. not worried about surging Jays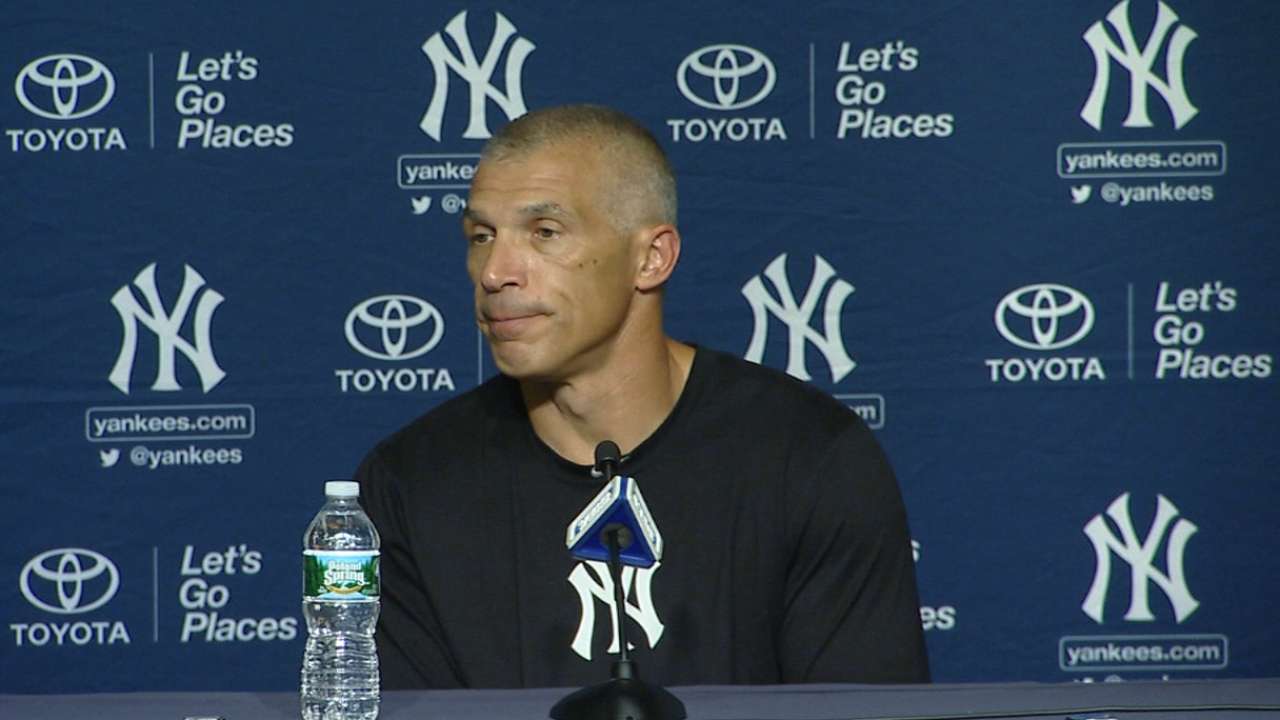 NEW YORK -- When the Blue Jays arrived in New York for the series opener of a three-game set on Friday, the Yankees were holding onto the American League East's top spot by 4 1/2 games.
One day later, after the Yanks' 6-0 loss on Saturday gave the Blue Jays the first two games of the series, that lead is quickly dwindling. Toronto is within 2 1/2 games and has been firing on all cylinders since the July 31 non-waiver Trade Deadline. It has won seven straight and 10 of its last 11.
For 36 straight days, the Yanks have had sole control of first place. But the race is quickly proving to be a wide open one. Trailing the Blue Jays are, in order, the O's, Rays and Red Sox.
Skipper Joe Girardi isn't concerned yet.
"There's a long way to go. You can make a lot of these two games and, obviously, I said this was an important series coming in. But really what's going to determine the division is you've got two months to go and how you play in the next two months, not two games," said Girardi. "Obviously, we lose a tough one last night -- pretty good pitchers' duel for a long time today, we lose today. This is the one thing I know about this group is they've been very resilient and they've bounced back very well -- and we'll be back tomorrow."
Girardi's players in the clubhouse echoed that same sentiment. But the Blue Jays' hot streak is coming at the same time the Yankees dropped their first series since June 29-July 1 against the Angels. The Yankees had won eight of the nine series they had played since then, with the other one ending in a tie.
"They're a good team no doubt about that," outfielder Carlos Beltran said. "Before [the Deadline] they were good. Now, adding [Troy] Tulowitzki, who is one of the best shortstops in the game, and [David] Price, one of the best pitchers in the game, of course made things better for them."
Chris Young said nothing changes from a mental standpoint for the Yanks.
"I don't think it changes if you're three up or three down. Or if you're in third place by seven games," said Young. "I don't think it changes too much mentally at this point in the season. You're trying to win every game, you're trying to win every series -- and that's the only focus. If you start getting too wrapped up in it, I think you lose focus on what you need to be doing as a team and start worrying about other guys too much."
Grace Raynor is an associate reporter for MLB.com. This story was not subject to the approval of Major League Baseball or its clubs.