Marlins send Jose to have shoulder evaluated
A day after enduring 38-pitch fourth in five-inning outing, ace experiences discomfort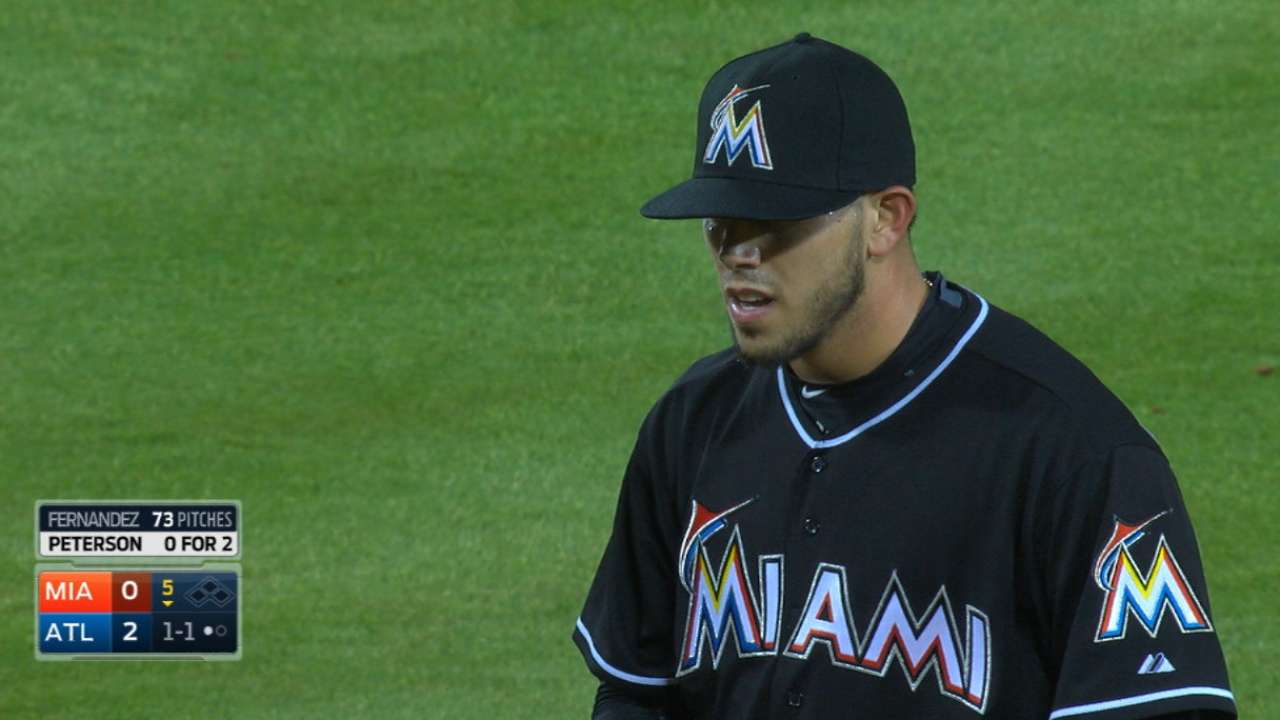 ATLANTA -- Marlins ace Jose Fernandez, who was lifted after five innings and 76 pitches in Friday's 6-3 loss to the Braves, is dealing with right shoulder stiffness. After expressing discomfort, the decision was made to return the 23-year-old to Miami, where he will be further evaluated by team physician Dr. Lee Kaplan.
Fernandez labored through 38 pitches in the fourth inning on Friday, the most he's thrown in one inning in his career. He came back out for the fifth and retired the side in order on nine pitches -- finishing the night at 76 pitches.
"He has flown back to Miami to see Dr. Kaplan," manager Dan Jennings said. "He has right shoulder stiffness. After Dr. Kaplan assesses that, we'll know from there what we're talking about."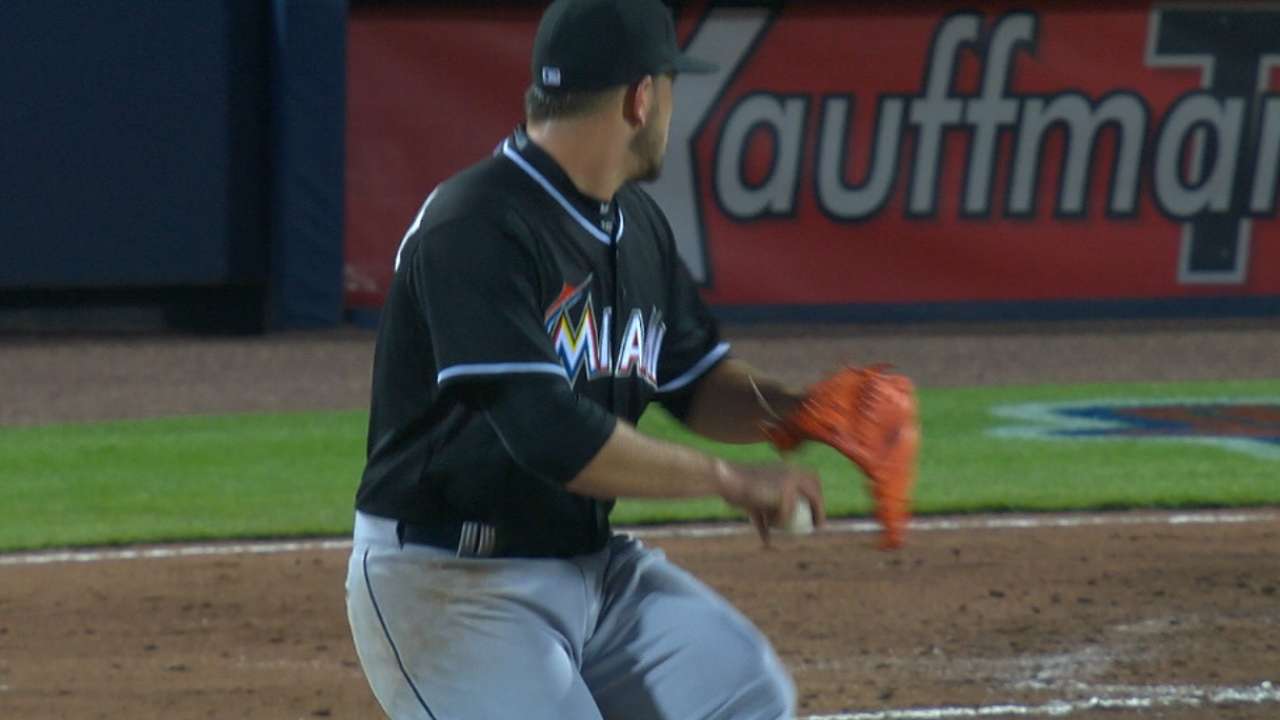 Fernandez, the 2013 National League Rookie of the Year, has made seven starts since returning from Tommy John surgery on July 2. The hard-throwing right-hander is 4-0 with a 2.30 ERA. He's struck out 53 in 43 innings.
Before facing the Braves, Fernandez threw 112 pitches in a no-decision against the Padres at Marlins Park on Sunday. His career high is 114 pitches.
A few days after that game, Fernandez said: "I don't think this year that's going to happen much. Everything depends on how I look on the mound, but I don't think that will happen a lot."
The Marlins aren't speculating on how much time Fernandez may miss. He is lined up to start again on Thursday at St. Louis. But the team has two off-days next week, and the club already was considering pushing him back a day or two.
"Again, we want to get him seen," Jennings said. "There was a little discomfort there. Here's a guy who is coming off a 14-month rehab from Tommy John. As we would do with any pitcher, we're going to make sure before we run him out there.
"When he had the shoulder stiffness, the decision was made to get him to Miami and have a look."
Fernandez, one of the elite young pitchers in the game, missed nearly 14 months after undergoing Tommy John surgery on May 16, 2014, to repair an elbow ligament.
Since he's returned, he's been dominant. His velocity was up to 98 mph on Friday night. But in the fifth inning it topped at 94 mph.
If Fernandez has to miss a start, the team has a number of internal candidates, such as prospect Kendry Flores. Left-hander Justin Nicolino, who is at Triple-A New Orleans, is another option.
The Marlins have received some good news with Jarred Cosart, who was optioned to Triple-A New Orleans on July 4. Cosart is currently on the Minor League disabled list with vertigo. Recently, he was examined by a specialist, who determined the righty is dealing with an inner left ear disorder. Cosart threw a 30-pitch bullpen on Friday, and he may return to game action around Aug. 17. There is a chance Cosart could return before Sept. 1.
Fernandez made a strong recovery from Tommy John surgery, building up to go more than 100 pitches. Now, the hope is he is dealing with "tenderness" or just going through a "dead arm" period.
"Essentially he built up to the 100-pitch limit there," Jennings said. "All pitchers experience that at some time [dead arm]. Again, I'll go back to, 'I don't want to borrow trouble.' Let's see what it is before we speculate on something and it is nothing more than normal stiffness a lot of guys have postgame."
Joe Frisaro is a reporter for MLB.com. He writes a blog, called The Fish Pond. Follow him on Twitter @JoeFrisaro and listen to his podcast. This story was not subject to the approval of Major League Baseball or its clubs.