Royals rattle Samardzija, outslug White Sox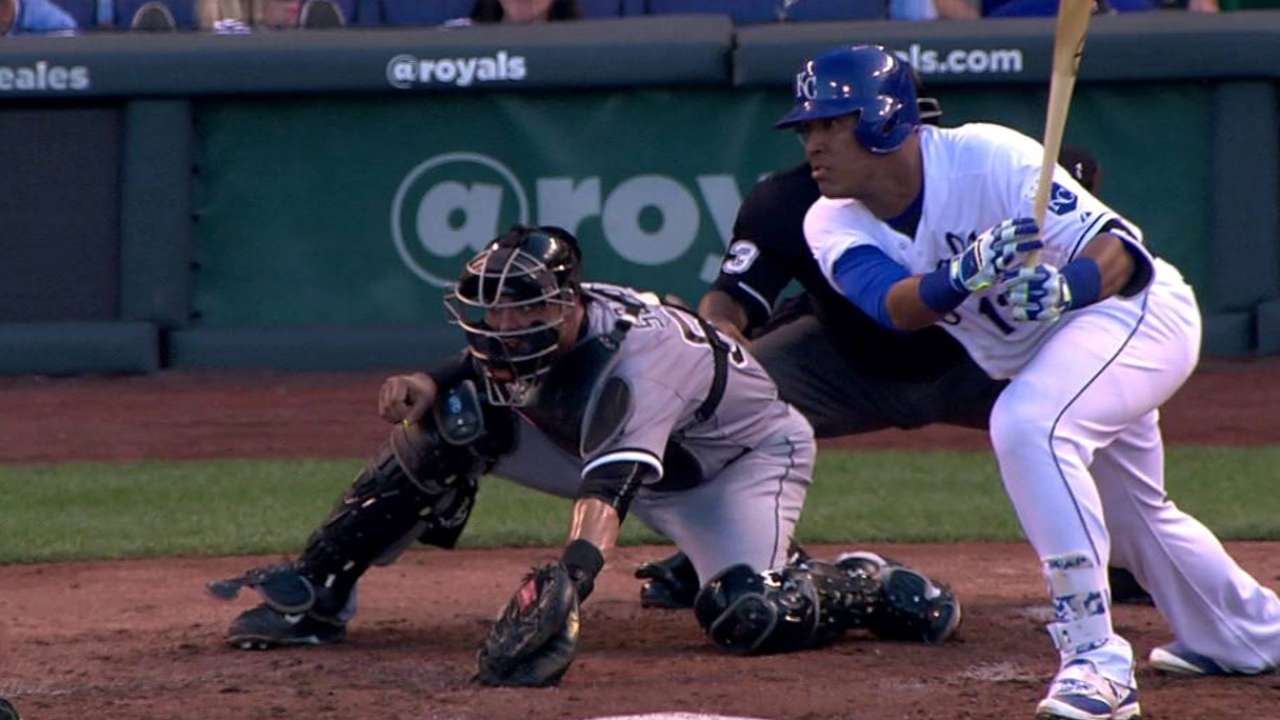 KANSAS CITY -- Salvador Perez and Kendrys Morales each drove in two runs and the Royals survived another shaky outing from starter Jeremy Guthrie in a 7-6 victory over the White Sox in front of 39,302 fans at Kauffman Stadium on Saturday night.
Guthrie was staked to a 7-2 lead after five. But after giving up 10 hits and eight runs in his last outing, Guthrie wound up giving up 10 hits and six runs in 5 2/3 innings. After Luke Hochevar gave up two inherited runners, the Royals' bullpen shut down the White Sox on no runs over the final three innings to secure the win. Jose Abreu hit two home runs for the White Sox.
White Sox starter Jeff Samardzija has back-to-back starts in which he has worked only 4 2/3 innings, a season low. He is 0-5 in his career against the Royals.
"They are tough all the way through," Samardzija said. "Good pitching, good bullpen. We put up six runs and you've got to win those games. That's where it falls on the pitching."
MOMENTS THAT MATTERED
Sal goes oppo: Perez, who has been struggling mightily lately, tried something different Saturday: He went the other way, not once but twice. In the fourth inning, Perez reached out and poked a line-drive single to right, scoring Eric Hosmer and giving the Royals a 3-2 lead. In the fifth, Perez capped a four-run inning by driving a ball deep into the right-field corner for an RBI double that put the Royals up 7-2. More >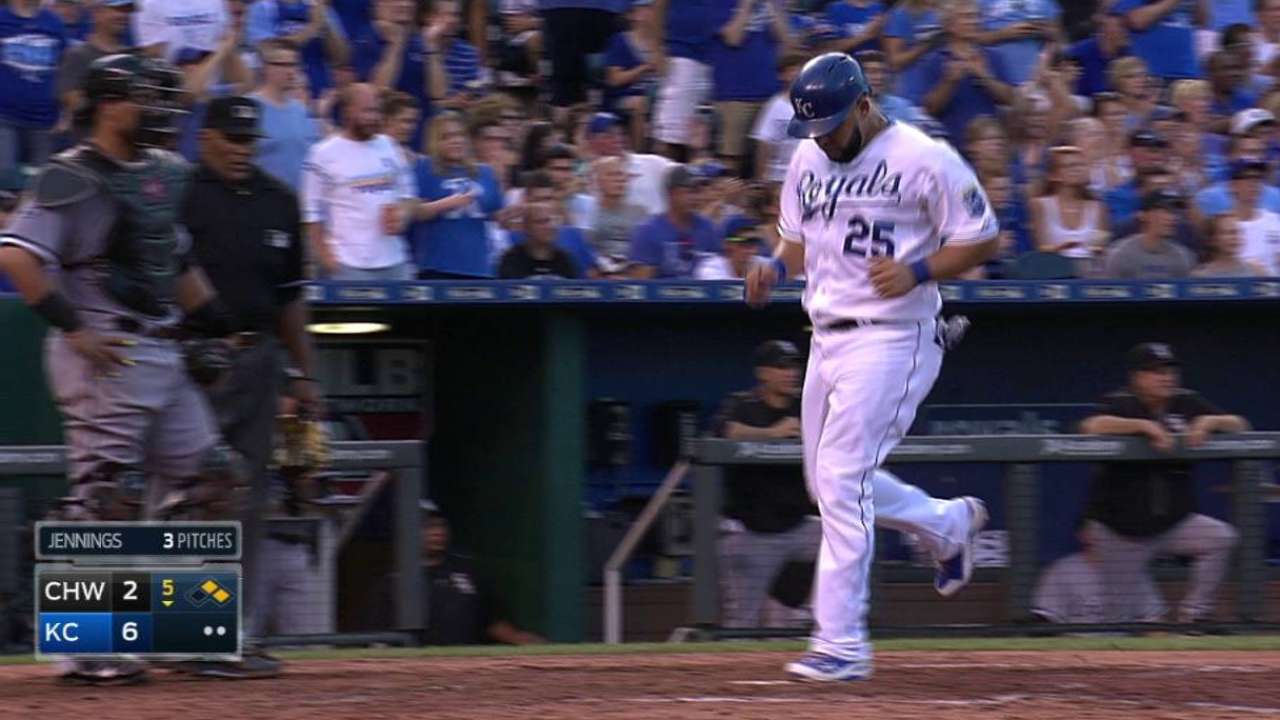 Morales drives in two more: Morales came into the game with a team-leading 76 RBIs. He added to that in the fourth inning when, with runners on first and third, he ripped a shot toward left that White Sox third baseman Tyler Saladino snared on one hop. But Saladino couldn't get the handle in time to start a double play, so he took the out at first, allowing a run to score. In the fifth, Morales boomed an RBI double off the right-field wall.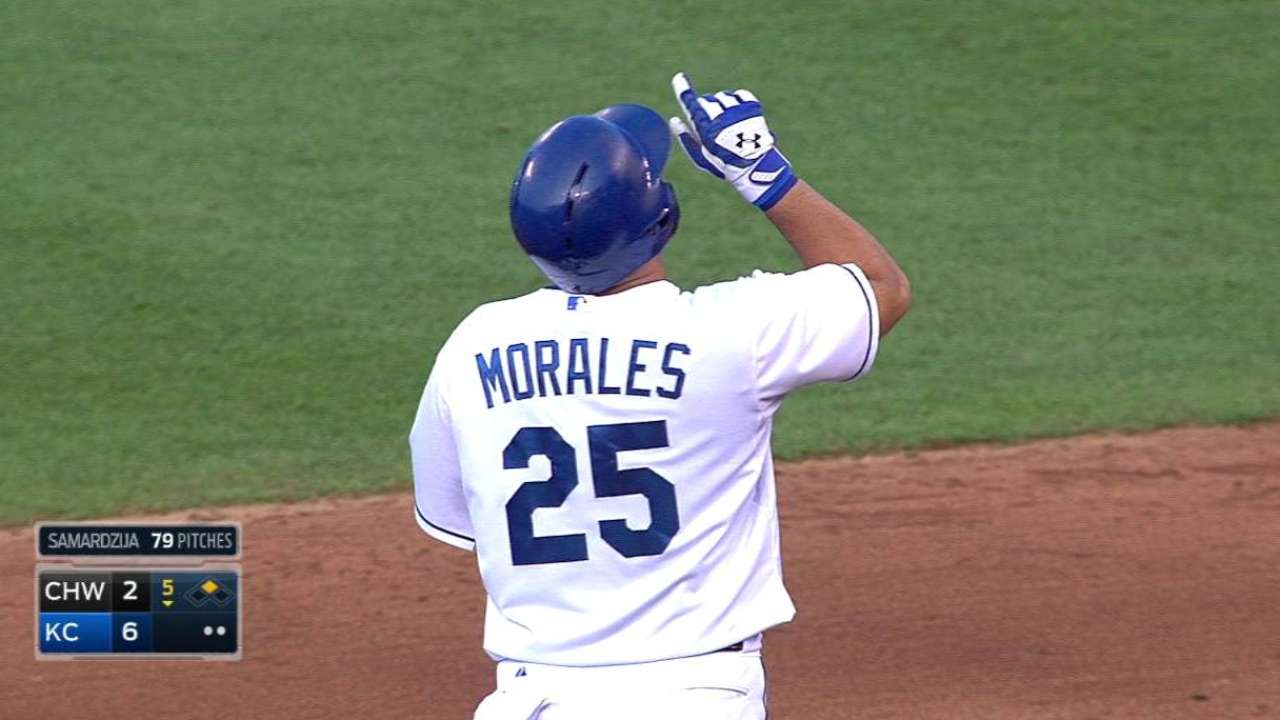 Starting early: With men at first and second and two outs in the fifth, Abreu -- who had already homered off Guthrie -- had a 3-2 count. But Abreu never got the chance to finish his at-bat because Geovany Soto broke prematurely off second and was caught in a rundown and tagged out to end the inning with the Royals up by a run. Abreu then led off the sixth with a homer -- his second of the game -- but by then the White Sox had started the inning down by five.
"Especially with Jose at the plate, you've got to make sure [Guthrie] goes home," White Sox manager Robin Ventura said. "I'm sure [Soto] is kicking himself."
Perez gave Guthrie the sign for the inside move.
"Great call by Salvy. He picked it up the pitch before [that Soto was straying]," Guthrie said.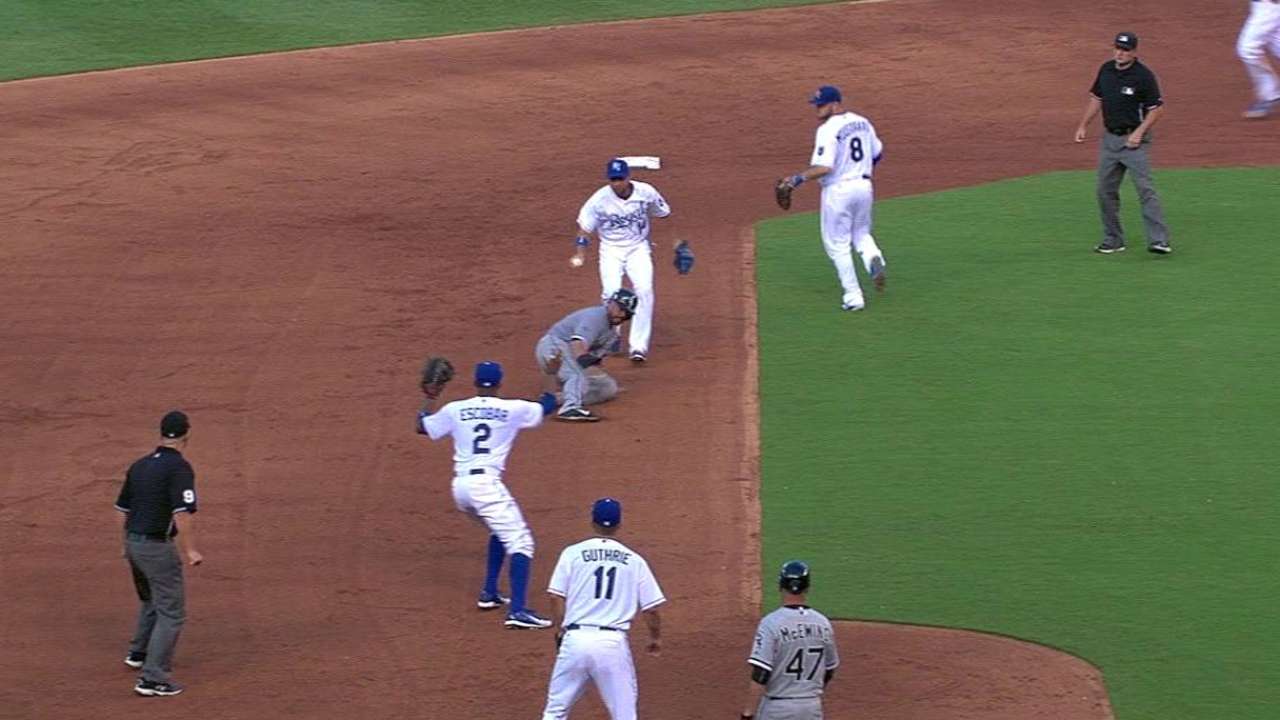 Power stroke: Abreu collected his fifth career multi-homer game and first since June 27, 2014, at Toronto.
"I've been feeling very good since the All-Star Game," Abreu said through a translator. "The power has been there, the homers have been there. But the most important thing is to get wins. It doesn't matter what you do individually. It's what you can do as a team."
Said Guthrie, "We've pitched him very well in the past. But I didn't execute pitches to him tonight and he can hurt you. He's been a hot hitter the last two weeks. I paid the price for making mistakes."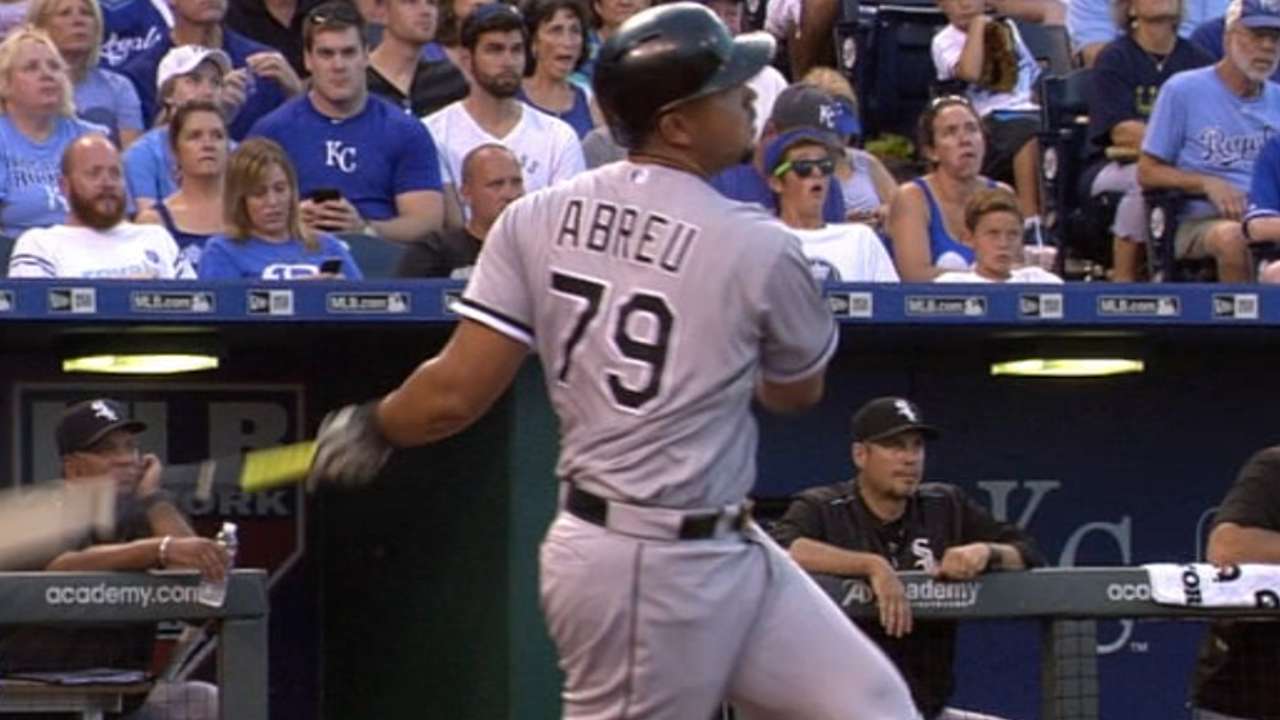 QUOTABLE
"Big walks, nice walks. I don't see the panic at-bats that we had probably a year and a half ago or even a year ago at this time. And I haven't seen them all year long. It just shows their growth and their maturity and their experience as Major League players." -- Royals manager Ned Yost, encouraged by two walks the Royals drew in the fourth inning after falling behind in the count 0-2
WHAT'S NEXT
White Sox: Left-hander Jose Quintana (6-9, 3.50 ERA) will try to keep his road show in fine form as the White Sox conclude their brief three-game road trip against the Royals on Sunday at 1:10 CT. Quintana has made nine straight quality starts on the road, the longest streak by a White Sox pitcher since Jake Peavy in 2011 through 2012.
Royals: The Royals will wrap up the three-game set on Sunday with left-hander Danny Duffy taking the mound. Duffy (5-5, 4.04 ERA) gave up just one run and five hits over seven innings last Tuesday in a win over Detroit.
Watch every out-of-market regular-season game live on MLB.TV.
Jeffrey Flanagan is a reporter for MLB.com. Follow him on Twitter at @FlannyMLB. Robert Falkoff is a contributor to MLB.com. This story was not subject to the approval of Major League Baseball or its clubs.