Moyer forever a Mariner with HOF induction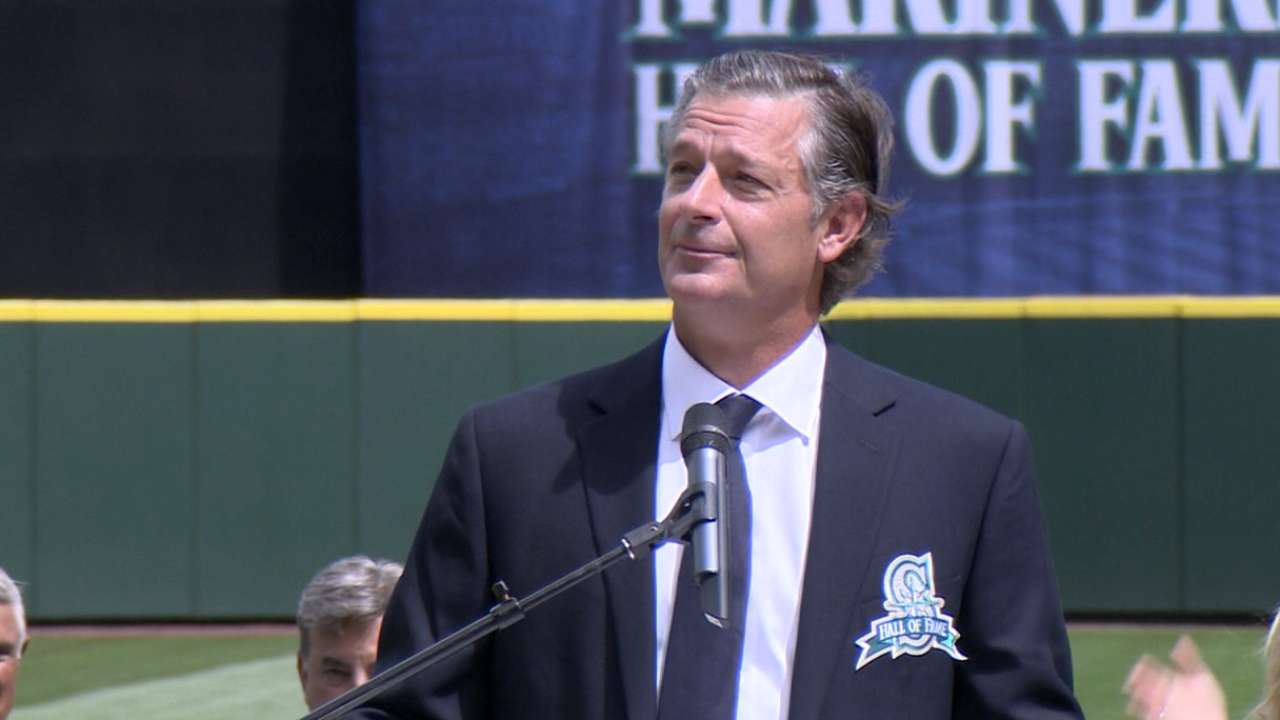 SEATTLE -- When Jamie Moyer was traded by the Red Sox to the Mariners in 1996 at age 33 for outfielder Darren Bragg, he'd already been traded once, released by three teams, granted free agency by two others and told by the Cubs organization he might want to consider going into coaching.
"Never, not in my wildest dreams, did I imagine I'd be standing here today being inducted into the Mariners Hall of Fame," said the crafty left-hander, who became the ninth member of that select group Saturday during a ceremony prior to the team's game against the Rangers.
Now 52, Moyer joins Alvin Davis, Jay Buhner, Edgar Martinez, Dan Wilson, Randy Johnson, Ken Griffey Jr., Lou Piniella and Dave Niehaus in the Mariners Hall.
Say hello to the newest member of the #Mariners Hall of Fame, @jmo50Moyer! #ThanksJamie pic.twitter.com/2ze96YwawK

— Seattle Mariners (@Mariners) August 8, 2015
During 11 seasons with Seattle from 1996-2006, Moyer compiled a record of 145-87. He leads the franchise in wins and ranks second in innings pitched (2,093), starts (323) and quality starts (188) and third in strikeouts (1,239). Moyer was the Mariners' Opening Day starter four times and he also started the first game in Safeco Field history on July 15, 1999.
Moyer is the only pitcher to have won at least 20 games for Seattle more than once, going 20-6 in 2001 and 21-7 in '03 at the age of 40.
Photos: Moyer inducted into Mariners Hall of Fame
Moyer played with eight teams and won 269 games over his 25-year Major League career before retiring with the Rockies in 2012 at the age of 49. But that career didn't take off until he joined the Mariners. He credited Piniella for believing in him and telling him early in his Seattle stint that he needed to rely more on his nasty changeup.
He learned to trust that throwing soft -- and then even softer -- was an effective way to pitch against big league hitters for a guy whose fastball topped out in the low 80s.
"He threw changeups off his changeup," said Wilson, who caught Moyer for his first nine seasons with the Mariners.
"My career is about three things," Moyer said. "Making the most of whatever talents you have, ignoring skeptics and finding the right people in your life. I never had Randy's 100 mph fastball. Heck, I barely had an 80 mph fastball. I had to learn other ways to compete. I had to find other ways to win. It made me a better pitcher and in the end, it made me the person that I am."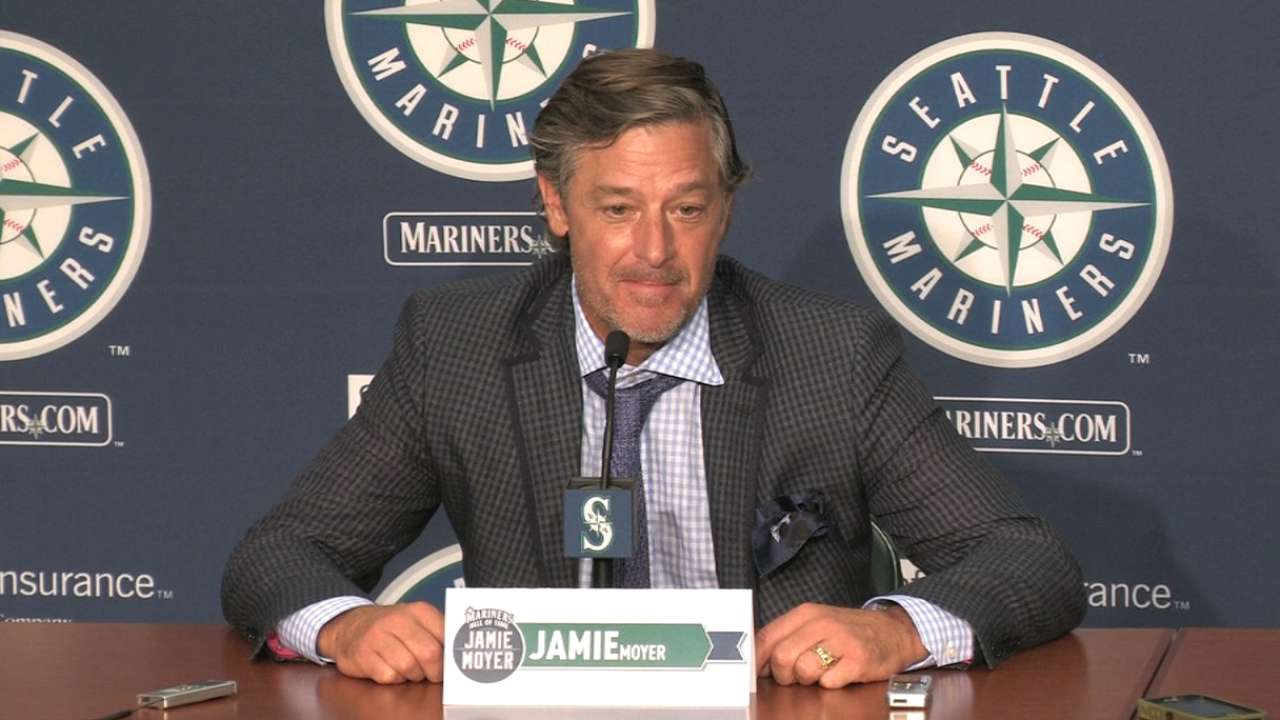 Moyer was the ultimate competitor and student of the art of pitching and he loved proving skeptics wrong.
"I didn't just fold the tent and say it's time to go home because somebody said I couldn't do it," Moyer said. "As you get older, you learn it's just somebody's opinion. It all comes down to what you believe and who you are. You have to have opportunity, but you also have to be prepared for that opportunity."
Moyer made the most of his opportunities, on and off the field. He and his wife, Karen, have made a huge impact in communities across the country with the Moyer Foundation and the creation of Camp Erin, a network of bereavement camps for kids dealing with the loss of a family member, which all started during his time in the Northwest.
"Seattle is a huge part of who I am," Moyer said. "It's a big part of my baseball journey that has brought me to this moment. And it's at the heart of the Moyer Foundation's work. That's why today means so much to me. Today means that forever I am a Seattle Mariner."
Greg Johns is a reporter for MLB.com. Follow him on Twitter @GregJohnsMLB, read his Mariners Musings blog, and listen to his podcast. This story was not subject to the approval of Major League Baseball or its clubs.