Syndergaard unable to halt struggles on road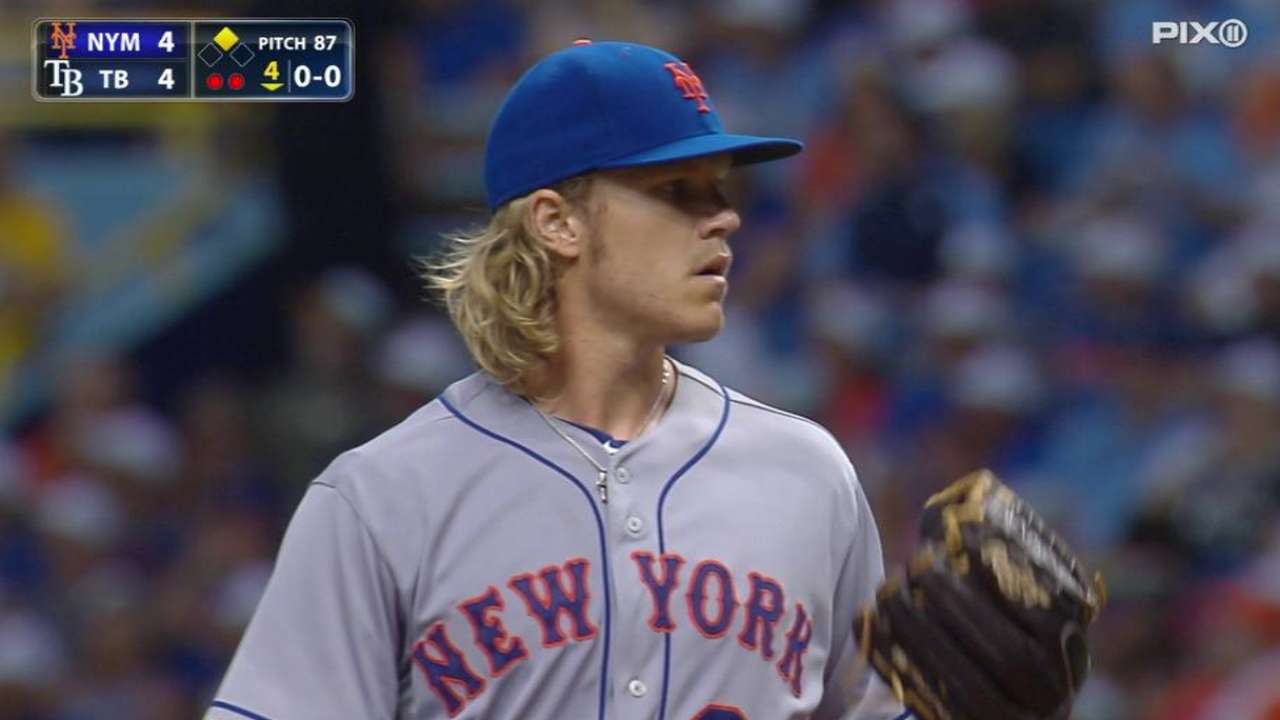 ST. PETERSBURG -- If Mets starter Noah Syndergaard is the first to board the team flight to New York on Sunday evening, it should come as no surprise.
Despite boasting impressive overall numbers that have placed him in the thick of the National League Rookie of the Year Award race, the 22-year-old right-hander has struggled mightily in opposing ballparks in eight career starts, with an early exit in Saturday night's 5-4 loss to the Rays at Tropicana Field the latest case in point.
Syndergaard, who surrendered all five runs on eight hits in four innings after being staked to a 3-0 first-inning lead, is now 0-5 with a 5.01 ERA on the road. In eight starts at Citi Field, the hard-throwing righty is 6-1 with a 1.57 ERA.
"That's a good question," said Syndergaard, when asked about the disparity in his home/road numbers.
"I feel just as comfortable as when I'm home. You've got the home crowd there so it makes it a little bit easier to pitch, but I don't feel any different between home and road. Preparation's a little different because you're home and you're used to certain things.
"It's just something that I'm going to have to learn to deal with."
Manager Terry Collins conceded that Syndergaard may have experienced a let-down from his previous outing -- an eight-inning gem against the Nationals last Sunday that saw the young fireballer pitch the Mets into a first-place tie in the NL East.
"Absolutely. It's all possible," Collins said after his club's win streak was snapped at seven on Saturday. "I don't want to make an excuse, but we've seen it in the past where you've got some guys that have to pitch a big game and they do and it's a huge series, and I'll tell you, five days later they're just beat.
"They have to push themselves a little harder and today he just didn't have it."
Syndergaard's performance against the Rays broke a stretch of seven consecutive starts in which he had allowed two runs or fewer. It had been the longest active streak in the NL.
"After warming up in the bullpen, I thought I was going to go nine scoreless, but you can't really always plan that," said Syndergaard, who allowed a two-run homer to Grady Sizemore in the first that brought the Rays within one.
"Disappointing outing. Offense did their part. I just wasn't able to hold up my end of the bargain."
Michael Kolligian is a contributor to MLB.com. This story was not subject to the approval of Major League Baseball or its clubs.