Seattle 'pen eyes reinforcement in Furbush
Lefty reliever, out since July 9, set to begin Minor League rehab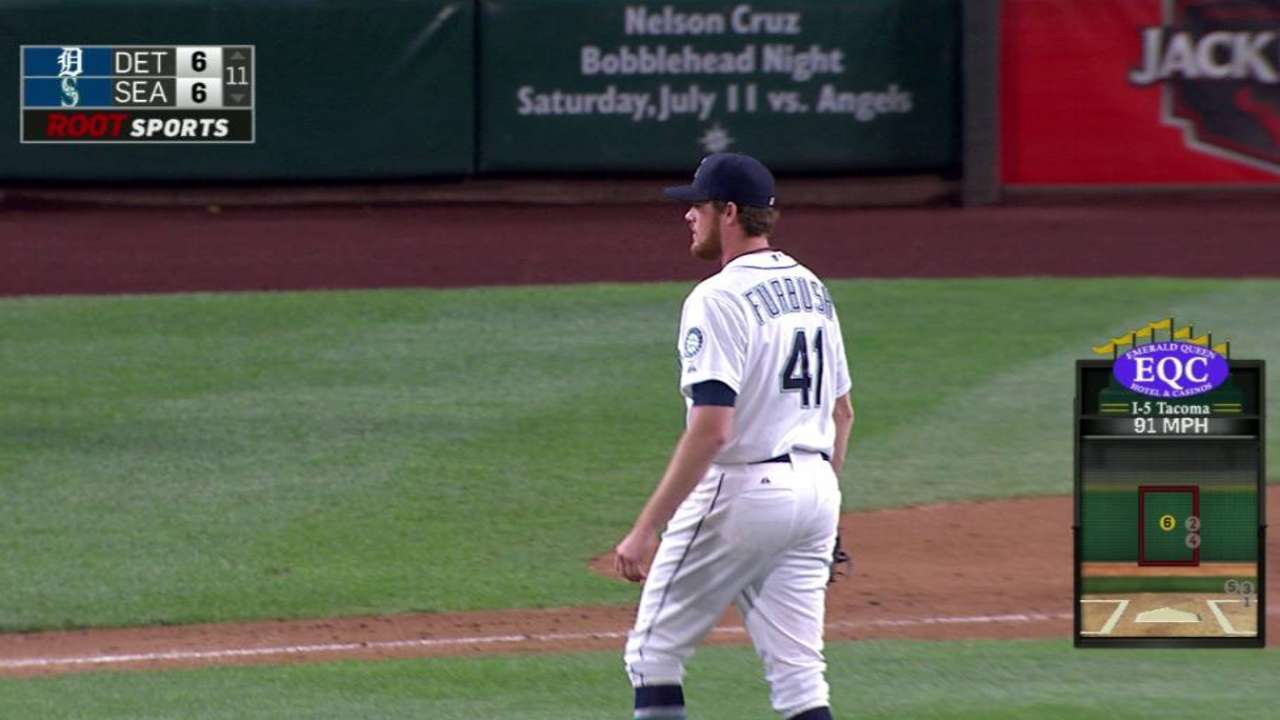 SEATTLE -- Charlie Furbush hasn't pitched in a Major League game in a little over a month, but on Saturday the lefty reliever said he's another step closer to returning.
After throwing a 41-pitch bullpen in Denver on Wednesday, Furbush threw a 40-pitch bullpen on Saturday without any setbacks. He said he would likely throw another bullpen or a simulated game on Monday before starting a Minor League rehab assignment.
Furbush, who was placed on the disabled list July 9 with left biceps tendinitis, said he threw a mix of pitches on Saturday and that after throwing two bullpen sessions in the last four days, he felt confident in his arm's ability to recover.
"I feel like there's nothing that has popped up in my arm or anything like that. I'm feeling pretty good about how I'm feeling after the next day," Furbush said. "Still taking it a day at a time and that's pretty much what we're doing."
The 29-year-old lefty said he flashed good pop and velocity throughout his bullpen session, but the key to a full recovery is being able to sustain it.
The recovery process for Furbush has been lengthier than what was expected, as he experienced some discomfort in his biceps on July 18, briefly shutting him down and extending his stint on the disabled list.
Furbush has been strong out of the bullpen for the Mariners this season, posting a 2.08 ERA in 33 games. He is holding opponents to a .122 batting average this season and stranded all 16 runners he inherited prior to going on the disabled list.
Seattle's bullpen entered Saturday's game ranked 21st in the Major Leagues in bullpen ERA and could use another consistent arm.
"He's almost there, but he's not quite there. I don't think you can send him out saying, 'Oh, well he's almost there. Go pitch,'" Mariners manager Lloyd McClendon said. "That makes no sense. In my mind he needs to be 100 percent ready to go. We'll re-evaluate on Monday and see where we're at."
Worth noting
• Outfielder Franklin Gutierrez was out of the lineup for the second straight day Saturday with what McClendon said was the flu.
Andrew Erickson is an associate reporter for MLB.com. This story was not subject to the approval of Major League Baseball or its clubs.