Castro staying positive despite benching
Cubs shortstop sitting indefinitely to keep hot-hitting Schwarber in lineup
CHICAGO -- Starlin Castro admitted he took it personally when manager Joe Maddon told the Cubs shortstop that he would not be playing but Saturday, he said he understood the move.
"I felt a little frustrated, especialy [Friday] when they told me I'm not going to play for I don't know when," Castro said. "In the beginning, I took it really personal. After that, I thought about it. You can't put those guys on the bench. They're really hot right now and I understand. I thought about it last night. I'll do whatever I can do for the team."
With the Cubs trying to secure a playoff spot, Maddon wanted to get red-hot rookie catcher Kyle Schwarber's bat in the lineup against right-handed pitchers. On Friday, Schwarber started in left field, outfielder Chris Coghlan moved to second and Addison Russell switched to shortstop. Maddon employed the same lineup Saturday.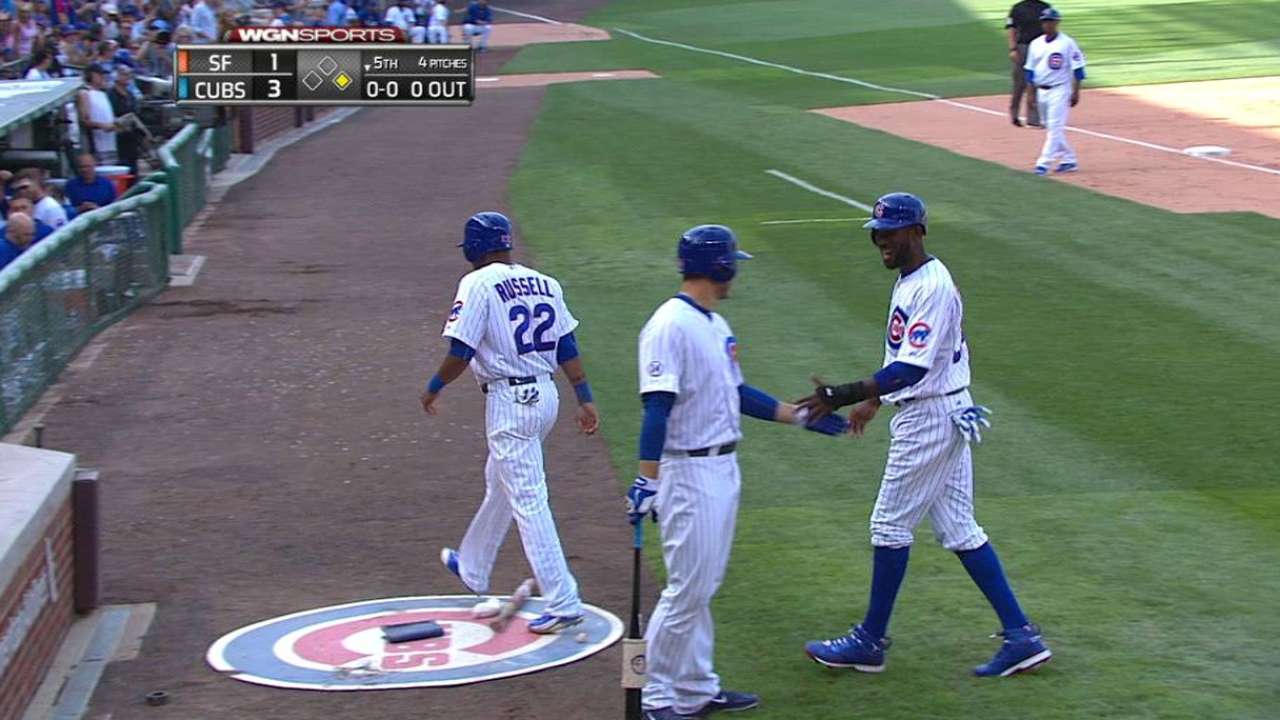 How long Castro, 25, will be benched has not been determined.
"Maybe a little break, a little rebooting, something like that, will help," Maddon said. "I really like [Castro]. I want to see it work out for him."
Castro has not been approached about changing positions, but Maddon said he and the Cubs front office are considering all options.
"Whatever you can do for the team, you have to do," Castro said. "We're here to win. If that helps the team right now, you have to take it. I'll keep doing my [preparations] every day and given the chance, I'll do my job to help the team."
Castro's goal in Spring Training is to play all 162 games, but he has scuffled at the plate, batting .236 entering Saturday. Being told he was sitting for an indefinite period of time was a first.
"I never put my head down," Castro said. "I know the player I am. I'll just keep working, keep doing my routine. I'll get back on track."
A three-time All-Star, Castro was a .300 hitter his first two seasons in the big leagues and hit .292 last year before he was sidelined in September with an ankle injury. He's trying to stay positive.
"The most important thing is try to be consistent in the field and confident," Castro said. "The most important thing is confidence. If you have confidence at the plate, anything can happen."
Carrie Muskat is a reporter for MLB.com. She writes a blog, Muskat Ramblings. You can follow her on Twitter @CarrieMuskat and listen to her podcast. This story was not subject to the approval of Major League Baseball or its clubs.