Confident Polanco overcomes mental hurdle
Pirates leadoff hitter has flourished since Harrison's injury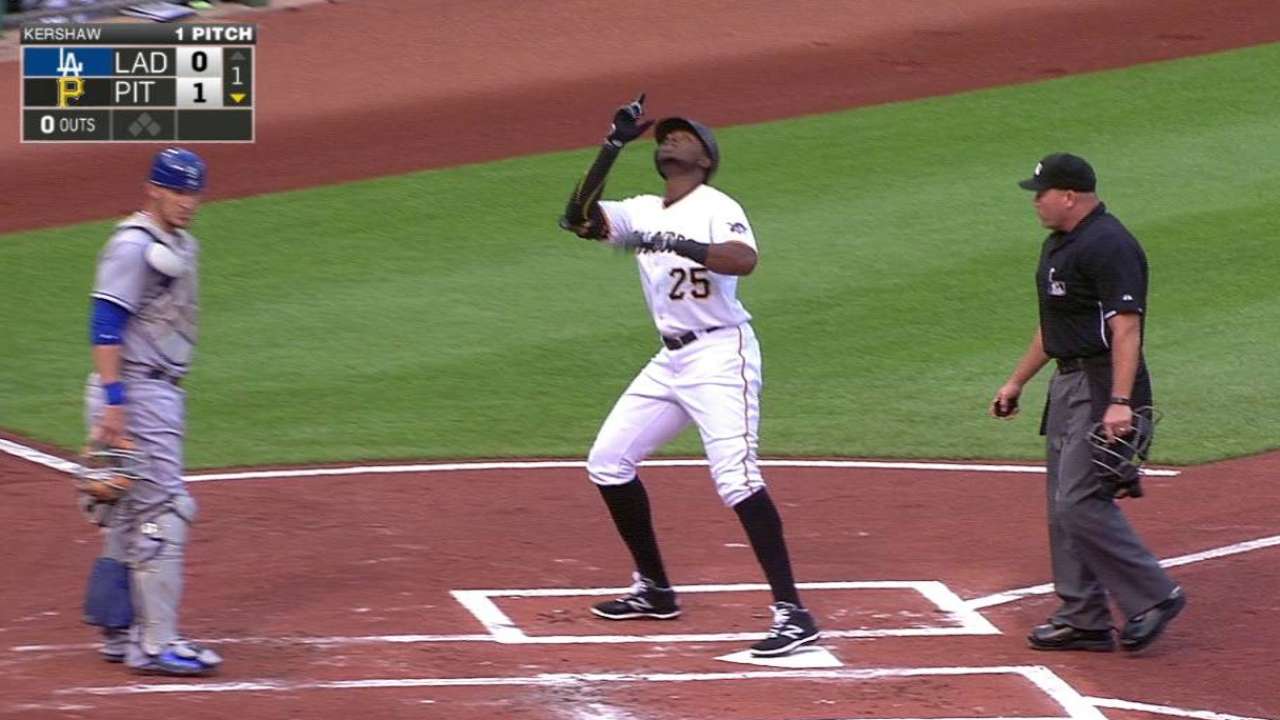 PITTSBURGH -- Talking about feeling confident and comfortable is one thing. But Gregory Polanco has shown both at the plate over the last month, with no better example than his leadoff homer Friday night.
Polanco led off the Pirates' 5-4 win by swinging at the first pitch he saw from reigning National League Most Valuable Player and three-time NL Cy Young Award winner Clayton Kershaw. He launched the pitch deep into the right-center-field seats, his second straight game with a leadoff homer.
It was the kind of swing that takes a certain level of confidence, the kind Polanco might not have had a few months ago.
"He's gotten to the point now where he's not afraid of failure. He's going to go ahead, see what he sees, believe what he believes and get his swing off," Pirates manager Clint Hurdle said. "It's just fun to watch him play with confidence."
The fact that Polanco was even in that spot, batting leadoff against a left-hander, was a display of Hurdle's belief in Polanco. Hurdle said as much before Friday's game, but Polanco has earned his manager's trust.
Polanco entered Saturday's game against the Dodgers having hit .288/.368/.481 with 13 extra-base hits, 14 RBIs, 13 walks and only 18 strikeouts in his past 26 games. That's no arbitrary endpoint, either, as it coincides with Josh Harrison heading to the disabled list and Polanco taking over as the Bucs' regular leadoff hitter.
It was also when Hurdle began to see Polanco's swing come together. He took two big swings in San Diego, one of them a triple to left-center field off Joaquin Benoit and the other a go-ahead single off Andrew Cashner.
Around that time, Polanco met with Hurdle in his office at PNC Park. Hurdle asked the 23-year-old outfielder what was bothering him.
"He wasn't hitting. He'd always hit," Hurdle said. "There was some of this last year, and it was spilling over. I just shared with him the fact that I believe you're going to get through it. We believe you're going to get through it."
Hurdle asked Polanco if he was afraid of being sent back to Triple-A Indianapolis. Polanco sheepishly replied that he was.
"Well, you're not. We're not going to send you down," Hurdle responded. "We're going to stick with you and figure this out together. I do think that was an empowering moment."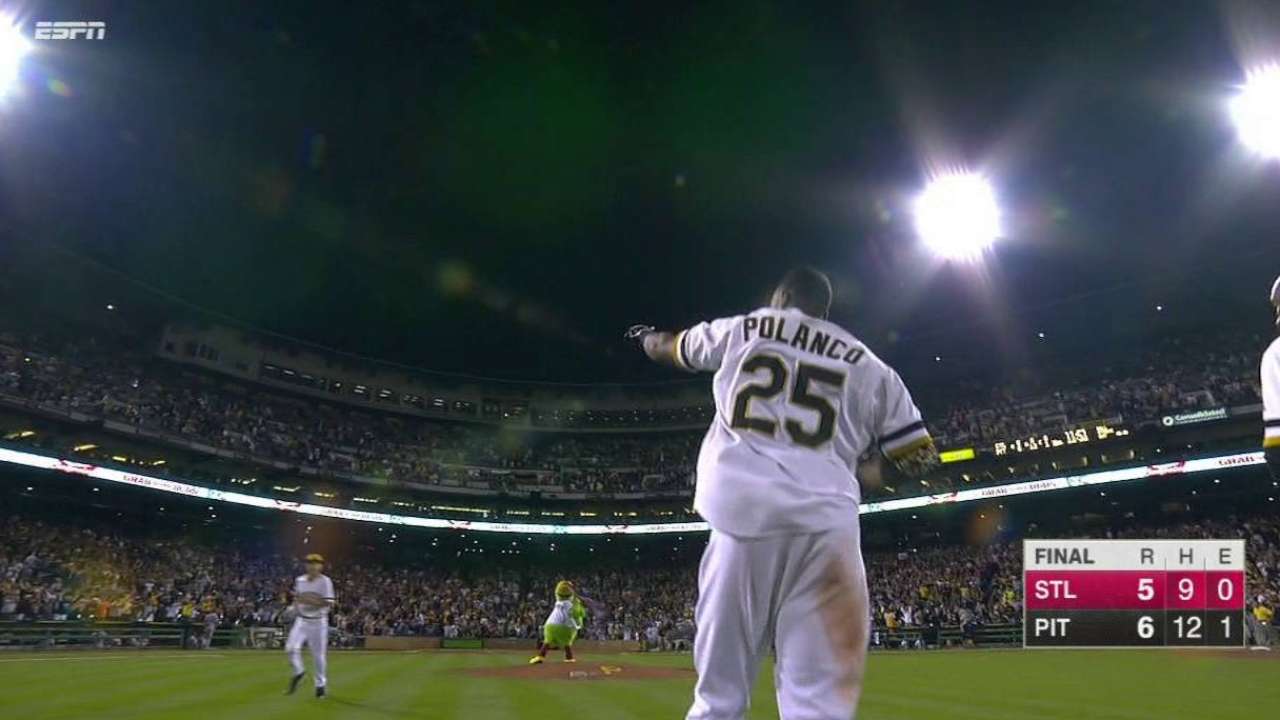 Since then, Polanco has flourished. He further boosted his confidence with a nationally televised walk-off single against the Cardinals on July 12, a 12-pitch at-bat that ended with a homer off Max Scherzer on July 24 and Friday's solo shot against Kershaw.
"I just like the fact that he's hunting pitches," Hurdle said. "When he sees something he likes, he's getting after it good and aggressively and lives with the consequences."
Adam Berry is a reporter for MLB.com. Follow him on Twitter at @adamdberry. This story was not subject to the approval of Major League Baseball or its clubs.