MLB.com Columnist
Hal Bodley
'Ya Gotta Believe' in the new-look Mets
With the best young rotation in MLB and a bolstered offense, New York is Amazin' again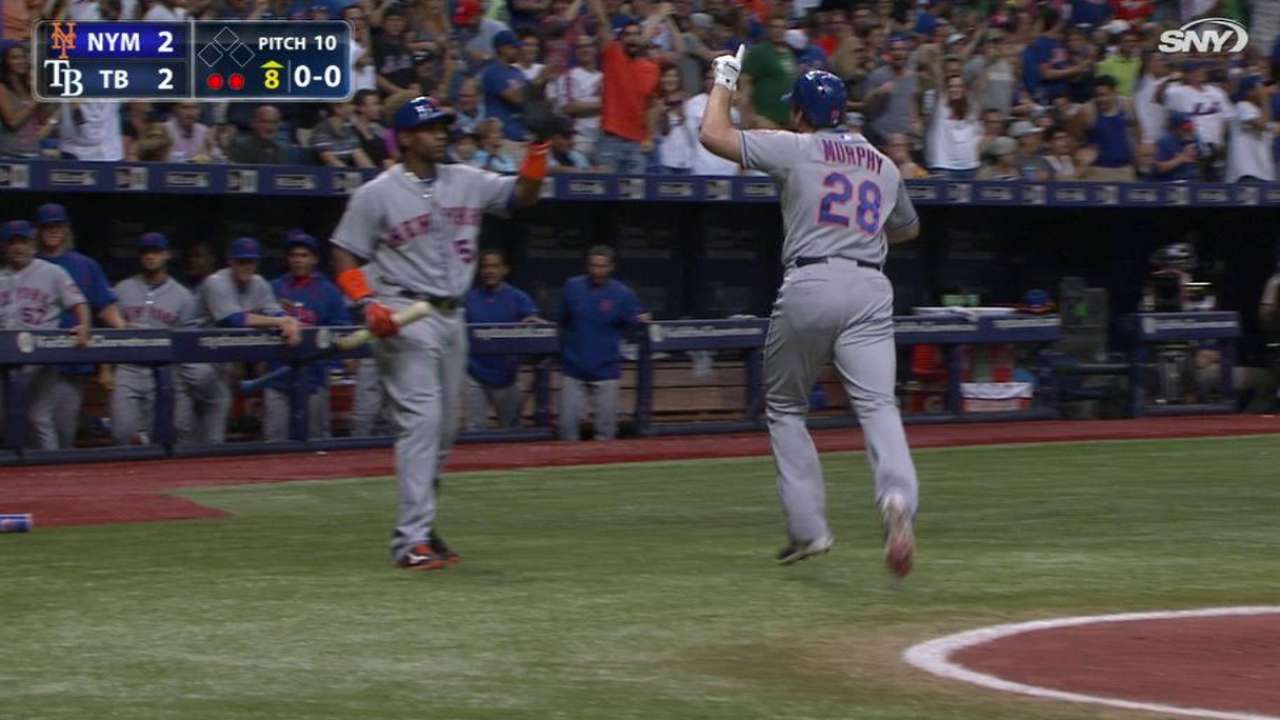 ST. PETERSBURG -- Eons ago, Tug McGraw coined "Ya Gotta Believe," which became the rallying cry for his New York Mets.
After watching this summer's retooled, rejuvenated Mets rebuild their season and take over first place in National League East, no catchphrase fits them better. They should adopt it. Immediately.
It was in 1973, when the Mets entered the Fourth of July in last place with a 33-42 record, that the zany McGraw plastered the clubhouse with the "Ya Gotta Believe" saying. It not only overtook the Mets, but also New York and much of the nation. The Mets, managed by Yogi "it ain't over till it's over" Berra, caught fire, won their division and the NL pennant before losing the World Series to Oakland in seven games.
"Yeah, I agree, you gotta believe in this team," current manager Terry Collins gushed on Friday night after the Mets stunned Tampa Bay, 4-3, for their seventh straight victory. It was the first time in the team's storied history it had overcome deficits in the seventh, eighth and ninth innings to win.
No number better describes what today's Mets are about than this: It was only their second victory in 48 tries when trailing after the eighth inning, and their first since April 27.
There's electricity and a new spirit in the clubhouse. Much of it is because general manager Sandy Alderson has filled in the team's obvious weaknesses with astute moves that have arguably made the Mets the team to beat in the division.
The rotation -- with youngsters Matt Harvey, Jacob deGrom, Jon Niese and Noah Syndergaard and veteran Bartolo Colon -- was already one of the best -- if not the best -- in the NL. You have to go back to 2011 -- when the Phillies had Roy Halladay, Cliff Lee, Cole Hamels and Roy Oswalt -- to find a comparable rotation.
Or the 1969 Miracle Mets, with the vaunted starting crew of Tom Seaver, Jerry Koosman, Gary Gentry and young Nolan Ryan.
But the 2015 offense had been putrid, the worst in the division. Before Alderson pulled the trigger on his Trade Deadine moves, it was depressing watching the Mets try to score runs. They were averaging just a tad over three per game.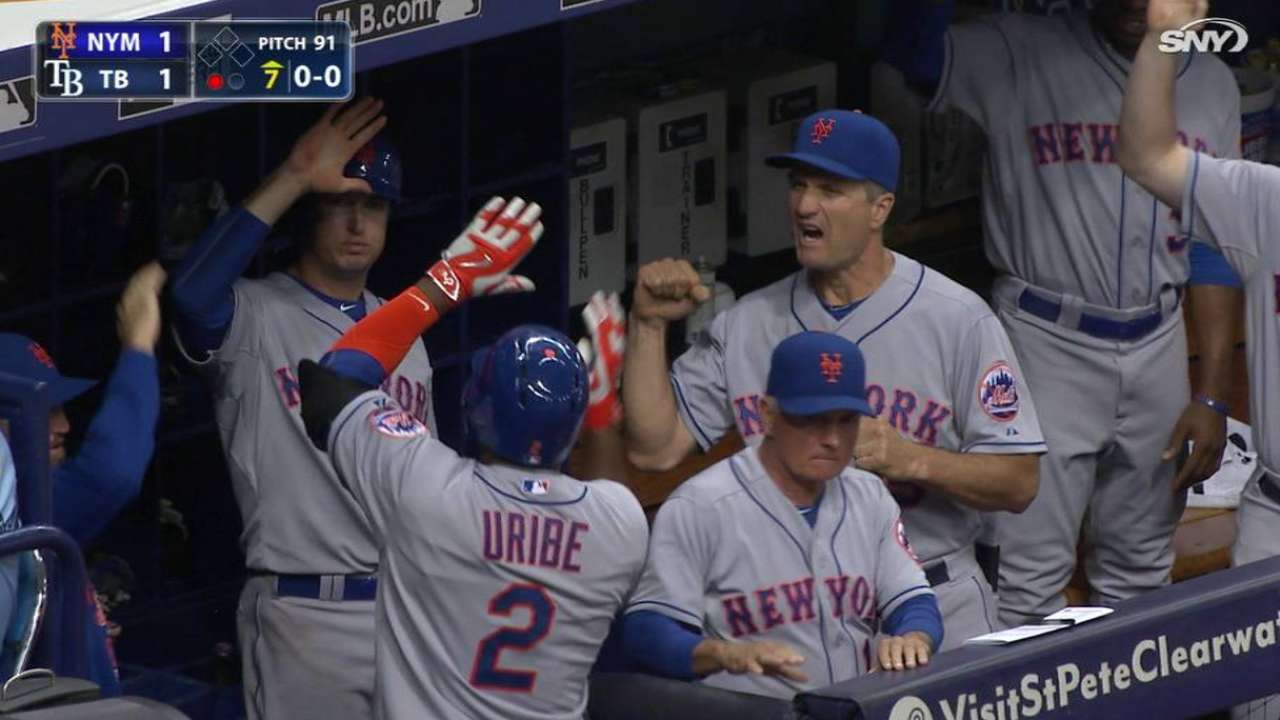 Alderson has added firepower to the lineup and help in the bullpen with the additions of slugger Yoenis Cespedes, Kelly Johnson and Juan Uribe, and relievers Eric O'Flaherty and Tyler Clippard.
"I cannot believe how hard Cespedes hits the ball," said former Mets pitcher Ron Darling, now a broadcaster.
"The additions are making a big change in our clubhouse," offered Collins. "It's just a different sense when you're sitting in the dugout now. The other team jumps out [to a lead] and you don't feel any panic at all. Juan Uribe's been there, Kelly Johnson's been there, and Cespedes. What can I say? These guys are great leaders, they handle themselves well and work with the young guys -- a calming influence. It's very cool to see."
In Friday night's game at Tropicana Field, where the crowd was made up largely of boisterous Mets fans, deGrom wasn't as sharp as he had been in his past few starts. He fell behind, 1-0, when Grady Sizemore homered in the fourth inning. And after Uribe's seventh-inning blast pulled the Mets even, deGrom gave up another homer, this one to James Loney in the bottom of the seventh inning. Even with that, deGrom has made 16 starts in which he's allowed two runs or fewer.
In most games this season, falling behind and needing two runs to win would have seemed too big of an obstacle for the Mets. Their offense was anemic.
Against the Rays, the Mets kept coming back. And with two runs in the ninth, New York sealed the win.
Wilmer Flores, the shortstop who was involved in a trade for Milwaukee's Carlos Gomez 10 days ago that never happened, drove in the winning run during the ninth-inning rally. Earlier, he was robbed of a homer to left field when Sizemore dove over the low fence for the catch.
The 24-year-old Venezuelan, who has been in the Mets organization since 2008, has become a folk hero of sorts because he made national headlines when he cried after thinking he was leaving. But in the past six games, Flores has had two go-ahead hits in the ninth inning or later.
"We were down three times and never gave up," Flores said. "That's what good teams do. We're taking a good approach now, because we have other guys who can homer or drive in a run."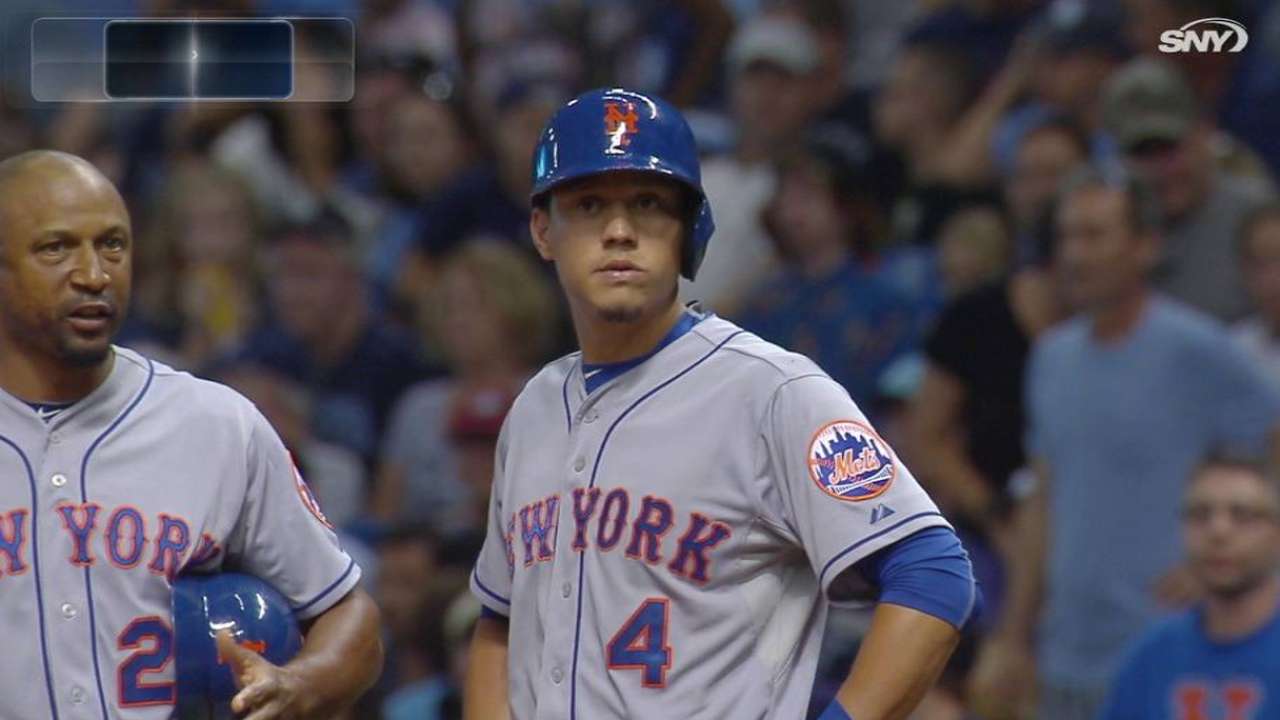 "This was pure character," said Collins. "They kept coming at us with big hits, but I cannot say enough about our approach. We know these games are big."
The schedule for the Mets' remaining 53 games favors them. They do not face the second-place Nationals until a three-game series starting Sept. 7, and then have a season-ending weekend series with the Nats at Citi Field. Most of their remaining games are against teams with losing records.
Washington, on the other hand, has a draining trip to Los Angeles, San Francisco and Colorado next week.
"It's been great to see all this come together," added Collins. "We told our fan base for four years to have some patience, that it's coming. You keep running our pitching out there and it has to get your attention.
"We were hoping we could get some offense going, that [injured star] David Wright would get back, or Travis d'Arnaud [activated July 31] would be back and help us get some offense. Sandy went out and got us some pieces that have made a big difference."
Collins believes "with the pitching, this team's got a chance to be good for a long time. These are the best young guys I've ever seen. They're 110 pitches into the game and they're still throwing 96-97-98 [mph]. Fastballs, hard sliders and changeups -- they throw strikes, and they have great stuff and are tough to hit. That's a pretty good combination. They've very, very talented and we're lucky to have them."
And just as fortunate to have the roster additions and the born-again Met, Flores, who's making a huge difference, despite his modesty.
"There's no difference," Flores said. "I'm the same guy, playing baseball."
Ya gotta believe.
Hal Bodley is the senior correspondent for MLB.com. Follow him @halbodley on Twitter. This story was not subject to the approval of Major League Baseball or its clubs.