Gibbons ejected from win over Yanks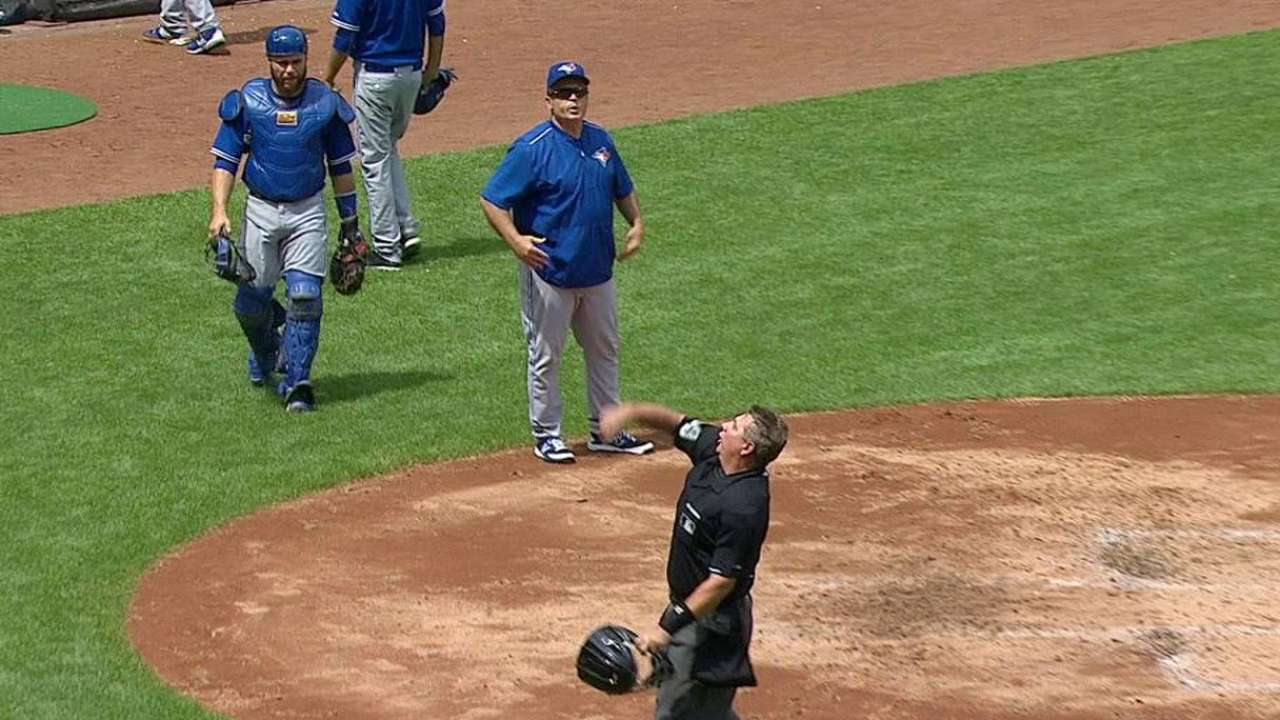 NEW YORK -- Blue Jays manager John Gibbons was ejected from Saturday's 6-0 win over the Yankees for arguing with home-plate umpire Greg Gibson.
Gibbons went onto the field after the top of the third inning to talk with Gibson. The conversation was brief, as Gibson quickly tossed Toronto's manager for apparently arguing balls and strikes.
The ejection came a few seconds after Toronto third baseman Josh Donaldson struck out to end the third. Donaldson tried to check his swing on back-to-back pitches but, in both cases, Gibson called the strike without asking for help from first-base umpire Mike Winters.
"I was just walking out there because I wanted to discuss something with him," said Gibbons, who added his initial goal was to play the role of peacemaker. "All I said was, 'Hey, can I talk to you for a minute?' He might have misinterpreted that, but he threw me out.
"The old fall back, I get it, you can't argue balls and strikes, I've heard that before. But really all I was going to do was going to temper some things down a little bit, say 'Hey, he's a very intense guy.' Gibson is one of your more intense umpires, too."
It marked the fifth time this season Gibbons was ejected from a game, but this one might have been the most surprising one yet. What was supposed to start off as a cordial conversation quickly escalated -- with both men screaming at each other on the field.
"I'm not always the clearest guy to understand, but that is what I did say," Gibbons said, when asked to clarify if all he did was ask to talk prior to the ejection. "Basically, I told him, 'This isn't about me and it isn't about you. Get some help because I don't think he went on that second one.'
"That's a tough call, I get it. There were some calls later in the game that got appealed. I thought it was rinky dink myself, but you always have that fall back plan with you can't argue balls and strikes. But it wasn't balls and strikes, it was a checked swing."
Gregor Chisholm is a reporter for MLB.com. Read his blog, North of the Border, follow him on Twitter @gregorMLB and Facebook, and listen to his podcast. This story was not subject to the approval of Major League Baseball or its clubs.