Bucs 'pen takes over early, shuts down Dodgers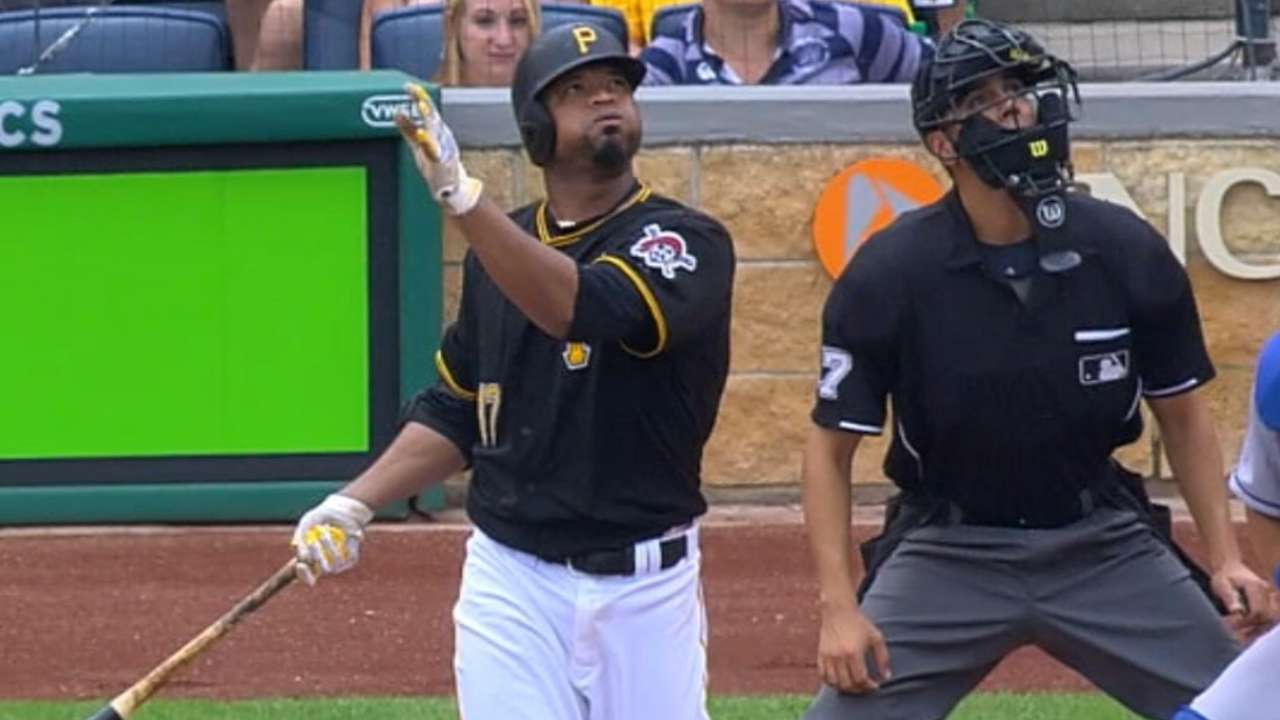 PITTSBURGH -- Backed by a pair of home runs, including an unlikely three-run shot from starter Francisco Liriano, the Pirates' bullpen fired five straight scoreless innings and Mark Melancon held on for his 35th save as the Bucs beat the Dodgers, 6-5, on Saturday at PNC Park.
Liriano launched his first career home run into the left-field seats in the second inning off Dodgers starter Mat Latos. Neil Walker's third-inning solo shot off Latos put the Bucs ahead by two runs, and Pittsburgh's bullpen made sure that lead held up.
"The first three innings, you're looking at this game and you figure, 'Well, we're going to be here for a while,'" Pirates manager Clint Hurdle said. "It all settled down and only one more run was put on from the fourth inning to the end. A lot of excitement. A lot went on out there."
While Liriano went deep with his bat, he couldn't do so on the mound, exiting after only three rocky innings. In his final inning, Liriano served up a game-tying two-run homer to Dodgers center fielder Enrique Hernandez, who crushed a 3-1 fastball to center field. Latos, meanwhile, gave up six runs on seven hits and a walk over four innings in his second start since joining the Dodgers before last week's non-waiver Trade Deadline.
"Whatever he was doing, it wasn't working today," manager Don Mattingly said of Latos. "We'll look at it overnight."
MOMENTS THAT MATTERED
Showing off: Dodgers right fielder Yasiel Puig unleashed his cannon right arm to save a run in the first inning, fielding Starling Marte's line drive on one hop barehanded and gunning to shortstop Jimmy Rollins at second base to force out Gregory Polanco, who held up between first and second to see if Puig would catch the ball. Puig's throw was clocked by Statcast™ at 91.8 mph.
More >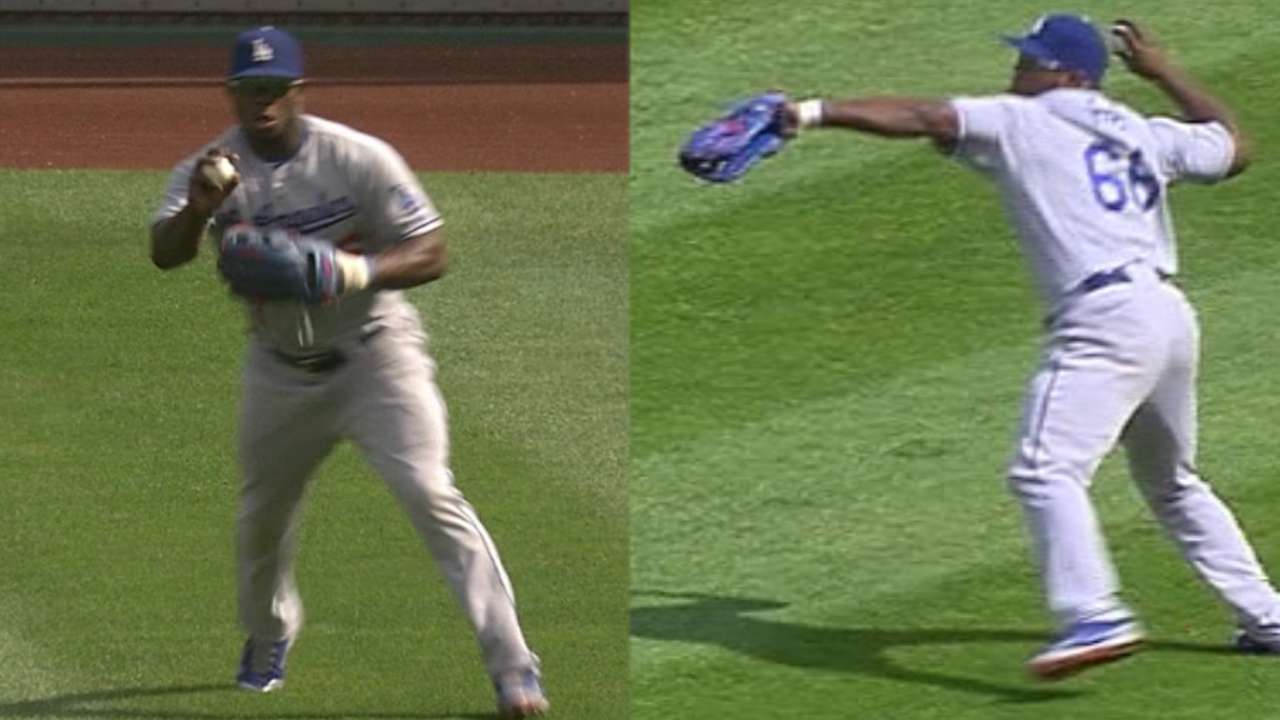 Calming effect: The Pirates and Dodgers went back and forth for three innings, putting up at least one run in each of the first six half-innings. But the bullpens began working in the fourth, and Pittsburgh right-hander Joe Blanton helped slow things down with three scoreless innings to set up the Bucs' late-inning trio of Joakim Soria, Tony Watson and Melancon.
"One of the reasons we got him was his ability to get through a lineup," Hurdle said of Blanton. "He locked in, settled in. ... It was a really clean outing for him." More >
Double (play) trouble: The Dodgers had baserunners every inning. But after scoring four runs in the first three frames, they didn't score again until the ninth off Melancon. They hit into three double plays over the final five innings, two of them by pinch-hitters Yasmani Grandal and Alberto Callaspo. Alex Guerrero had the other, but he also had two singles.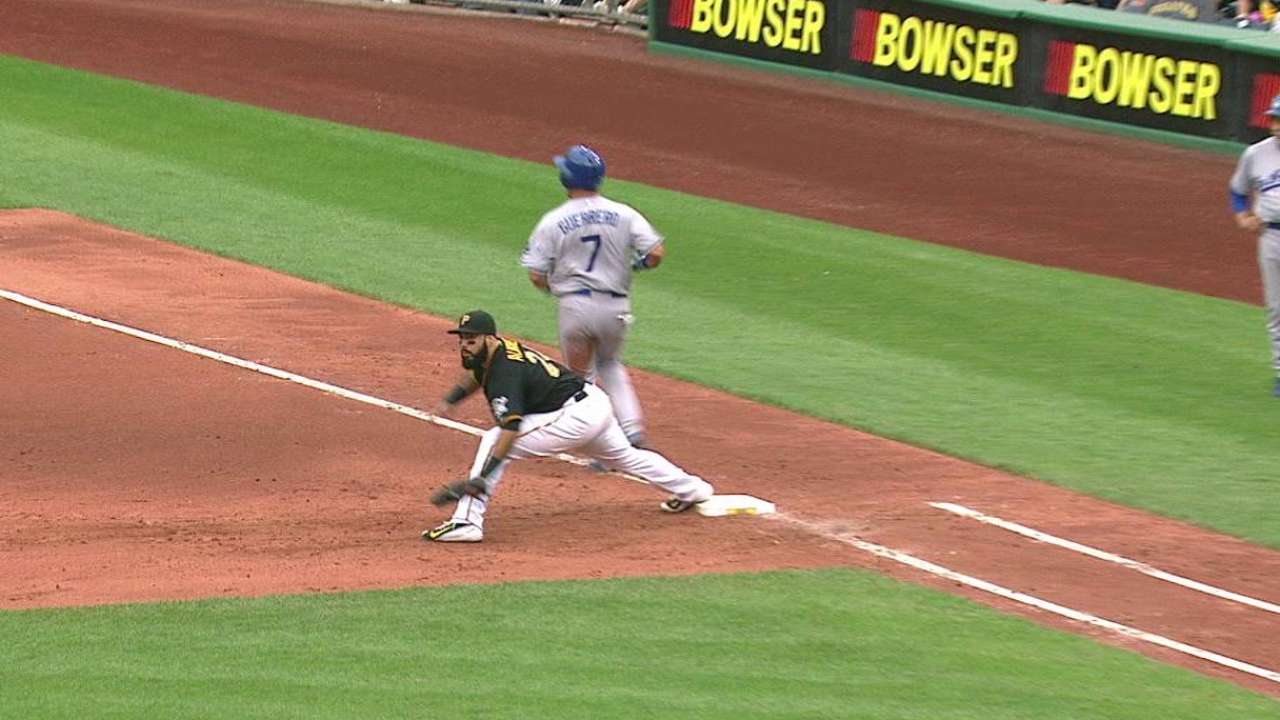 Going deep: It may be hard to imagine given his offensive numbers, but Liriano frequently blasts batting-practice homers out of PNC Park. The 10-year veteran had never turned that power into an extra-base hit, however, until the second inning, when he sent a three-run homer to left field to tie the game at 4.
"Before I signed, I used to hit them a lot," Liriano said. "Just got lucky right there." More >
QUOTABLE
"22's doing what 22 does. It's fun to watch." -- Hurdle, on Andrew McCutchen's hot streak at the plate, which included three hits Saturday
SOUND SMART WITH YOUR FRIENDS
Liriano joined A.J. Burnett as the only Pirates pitchers to go deep this season. It's the first time Pittsburgh has seen two pitchers hit a home run in the same year since 2003, when Kip Wells and Jeff D'Amico did it.
McCutchen's fifth-inning single was the 1,100th hit of his Major League career. He is the 29th player in Pirates history to reach 1,100 hits and the first since Jack Wilson in 2007.
REPLAY REVIEW
It was a busy afternoon for the replay official in New York, as the Pirates and Dodgers combined to challenge three calls within the first five innings. The Pirates asked for a review two batters into the game, attempting to overturn the safe call at second base on a grounder hit by Howie Kendrick.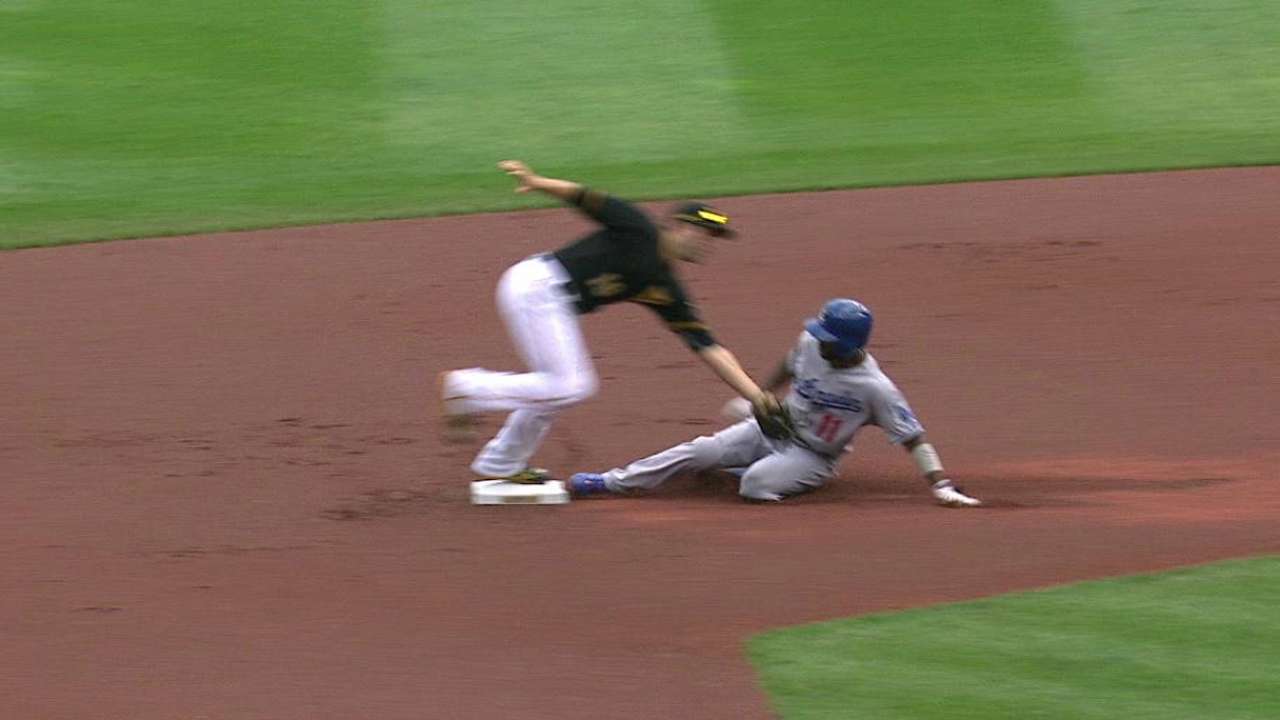 Both runners -- Rollins at second, Kendrick at first -- were initially ruled safe. After a three-minute, 54-second review, the replay official determined that Rollins was out at second. But the review could not definitively determine whether Kendrick beat the throw to first, so that part of the call stood. The Pirates did not lose their challenge, however.
In the third inning, Mattingly challenged an out call at second base following a sacrifice bunt attempt by Latos. After a one-minute, 57-second review, the replay official ruled that Guerrero was out and the call stood. The Dodgers lost their challenge as a result of that decision.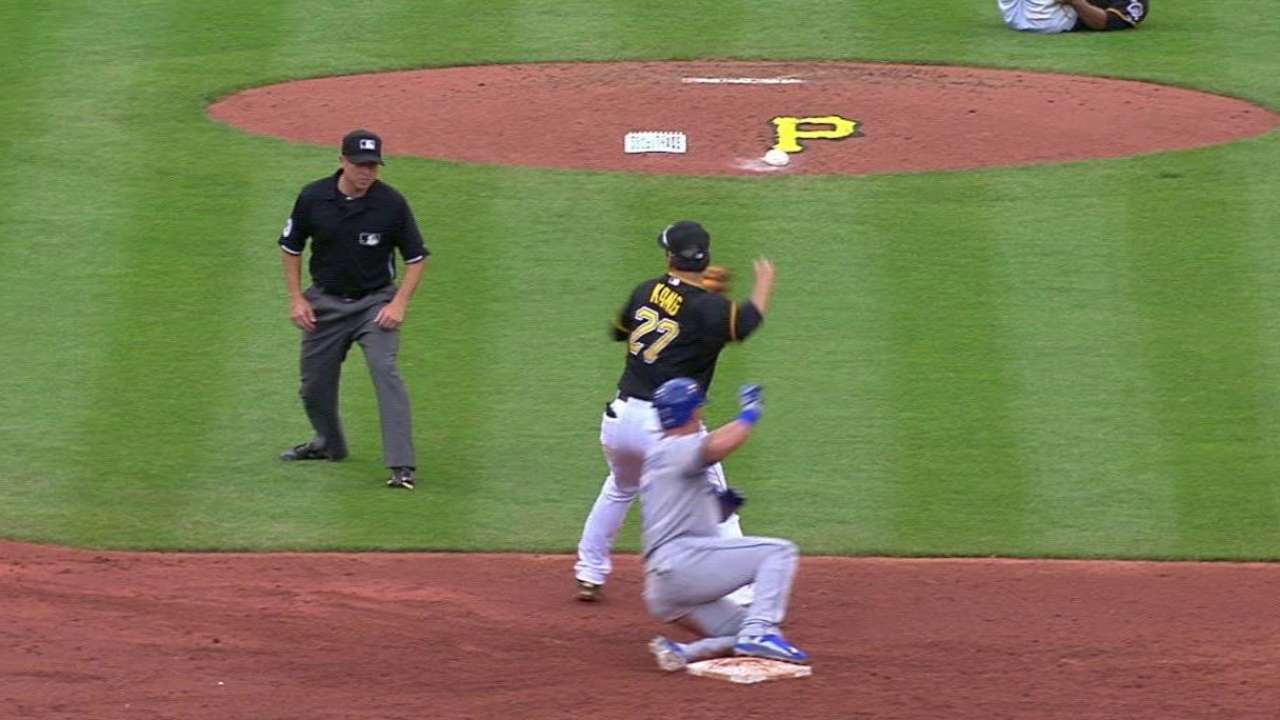 The Pirates won another challenge in the fifth, turning a fielder's choice into a 5-4-3 double play as Guerrero was initially ruled safe at first, but eventually called out after a one-minute, 23-second review.
But the Pirates' biggest challenge came in the ninth, when Puig was initially called safe on a grounder to third base. Jung Ho Kang's throw appeared to pull first baseman Sean Rodriguez off the bag, but the call was overturned and Puig was ruled out after a two-minute, 50-second review.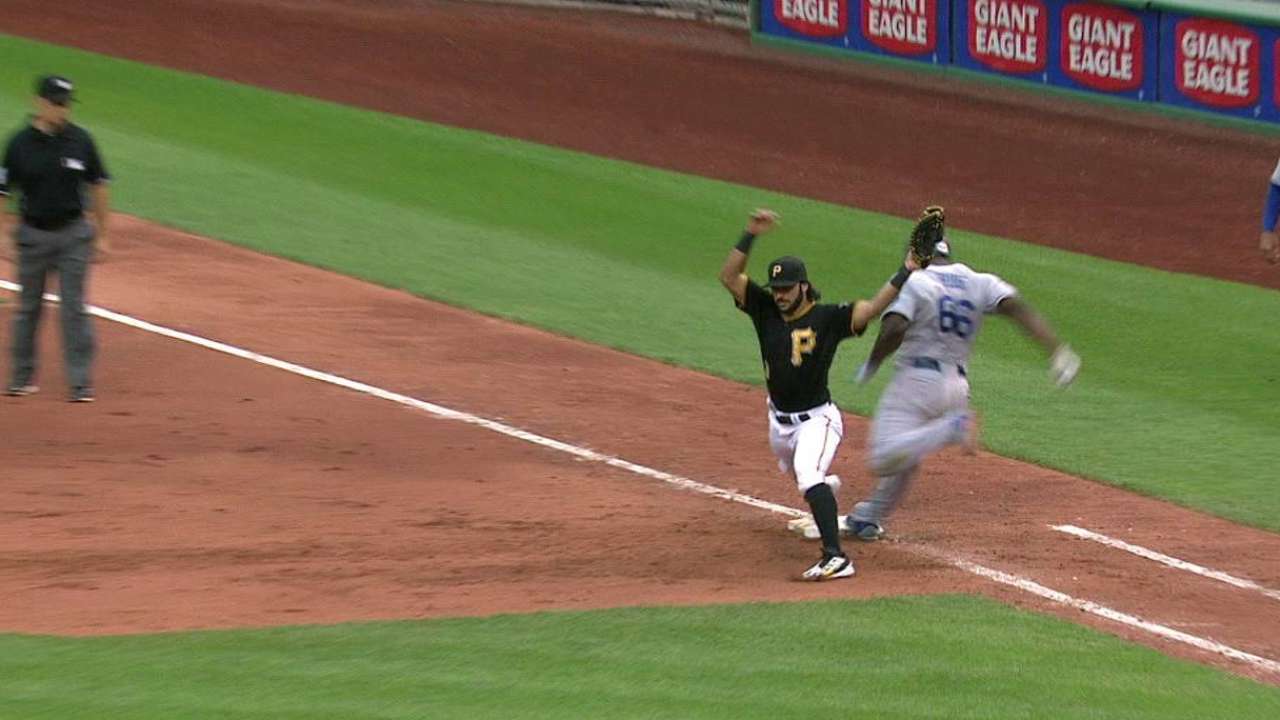 "It speaks to the importance of it, why we have it," Hurdle said. "Every one of the calls was against us. It could've changed the dynamic of the game dramatically as it went on." More >
WHAT'S NEXT
Dodgers: Alex Wood makes his second start for the Dodgers on Sunday at 5:05 p.m. PT after allowing four runs in 6 1/3 innings in his debut against the Phillies. He is 1-2 with a 2.57 ERA in five career games against Pittsburgh (1-0 at PNC Park), and he beat the Bucs on June 28 while with the Braves.
Pirates: Charlie Morton will wrap up the Bucs' three-game series against the Dodgers on Sunday night at 8:05 p.m. ET. Morton is coming off one of his best outings of the year, having thrown seven scoreless innings with seven strikeouts against the Reds on Aug. 2.
Watch every out-of-market regular-season game live on MLB.TV.
Adam Berry is a reporter for MLB.com. Follow him on Twitter at @adamdberry. Ken Gurnick is a reporter for MLB.com. This story was not subject to the approval of Major League Baseball or its clubs.