ICYMI: Padres pound out 11 in 12, fall in opener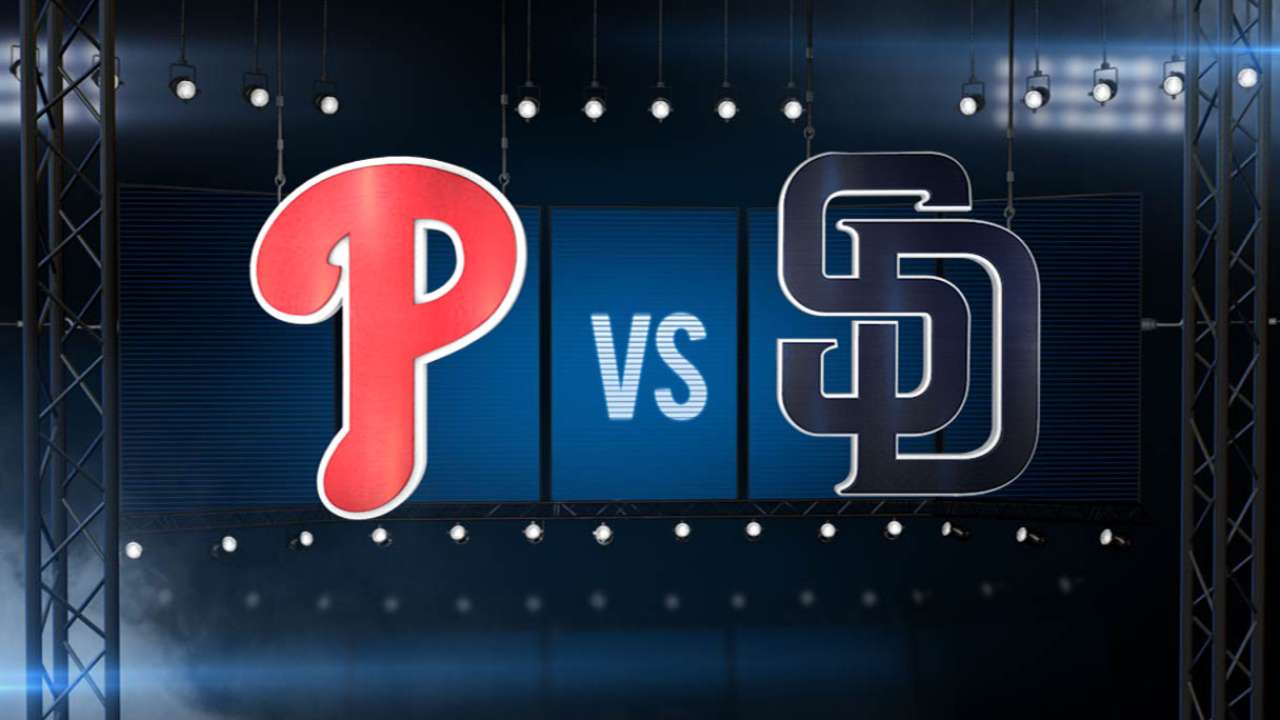 Friday night's series opener between the Padres and Phillies incorporated a lot of offense and a lot of pitching as both teams combined for 19 hits and required the services of 13-combined pitchers in a 12-inning affair at Petco Park. The Phillies used the longball to their advantage while the Padres pounded out 11 hits on the day, but in the end it was a 12th inning Philadelphia home run that served as the deciding factor. What had started out as a veritable pitching duel developed into a war of attrition between competing bullpens, resulting in a 4-3 loss for San Diego after a four-hour and 13-minute marathon contest between the Phillies and Friars.
Starting pitcher James Shields put in an earnest effort, surrendering only three earned runs on six hits and eight strikeouts over six and two-thirds innings pitched. Shields was able to take a 3-2 Padres lead into the seventh inning, but he surrendered a game-tying home run to Cody Asche with one out in the top half of that frame. Shields' solid performance of six-plus innings culminated in a quality start and a no-decision for the Padres' ace pitcher.
Pat Murphy would make a call to the bullpen in the seventh as Marc Rzepczynski, Joaquin Benoit, Craig Kimbrel, Brandon Maurer and Shawn Kelley combined for four and one-thirds innings of shutout baseball to keep San Diego in the mix. Unfortunately, reliever Kevin Quackenbush would surrender a home run in the 12th inning to the first Phillies batter he saw and the lone hit he surrendered would prove to be the difference maker on Friday night.
The Padres offense had a number of opportunities but was unable to capitalize and produce "the big inning" as the team left 12 runners on base and went 3-for-13 with runners in scoring position. Additionally, a baserunning gaffe in the seventh inning caused further headaches for the Swinging Friars as Yangervis Solarte attempted to score from second base on a Justin Upton single, ultimately being thrown out 10 feet ahead of home plate and quelling a potential rally in the home half.
On the bright side for the offense, Upton had an excellent day at the plate as he went 2-for-4 with two RBI and a triple while also reaching base four times on Friday with a walk and a hit-by-pitch. Solarte also enjoyed a multi-hit game and scored a run while Derek Norris also went 2-for-4 with an RBI. Finally, the team's newest member - Alex Dickerson - collected his first Major League hit of his career as a pinch hitter in the 11th inning, hitting a line drive into right field for a single.
Despite the team's 11 hits on the day, the Padres offense was only able to produce three runs and dropped the first of a three-game set against the Phillies. Fortunately, the team will have another chance tomorrow as Tyson Ross will take the hill opposite of Phillies rookie Adam Morgan at 5:40pm for game two at Petco Park. In case you missed it, here are some highlights and stories you may not have seen from Friday:
Padres post-game recap and highlights: Padres fall to homer-happy Phillies in 12
Norris delivers with an RBI single to score Justin Upton in the 2nd inning:
Justin Upton plates two with a 2-RBI triple in the 3rd inning: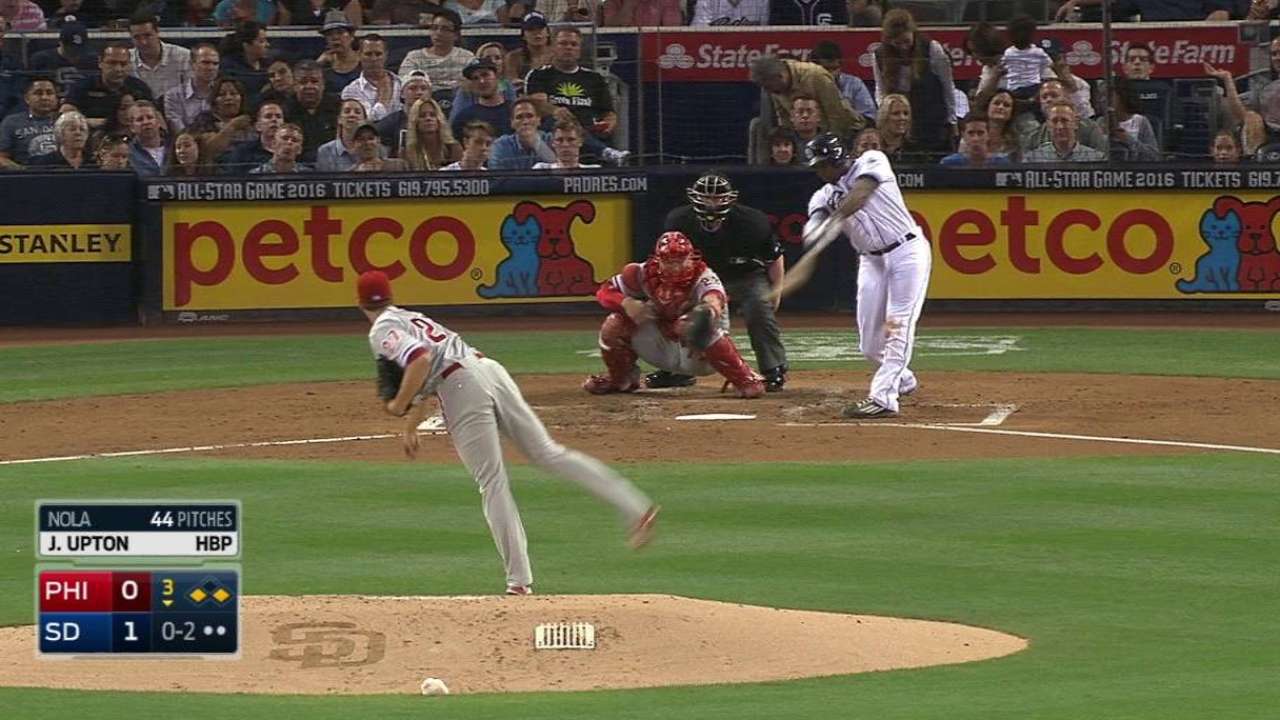 Alonso makes a nice diving stop in the 6th and then flips to Shields for the out: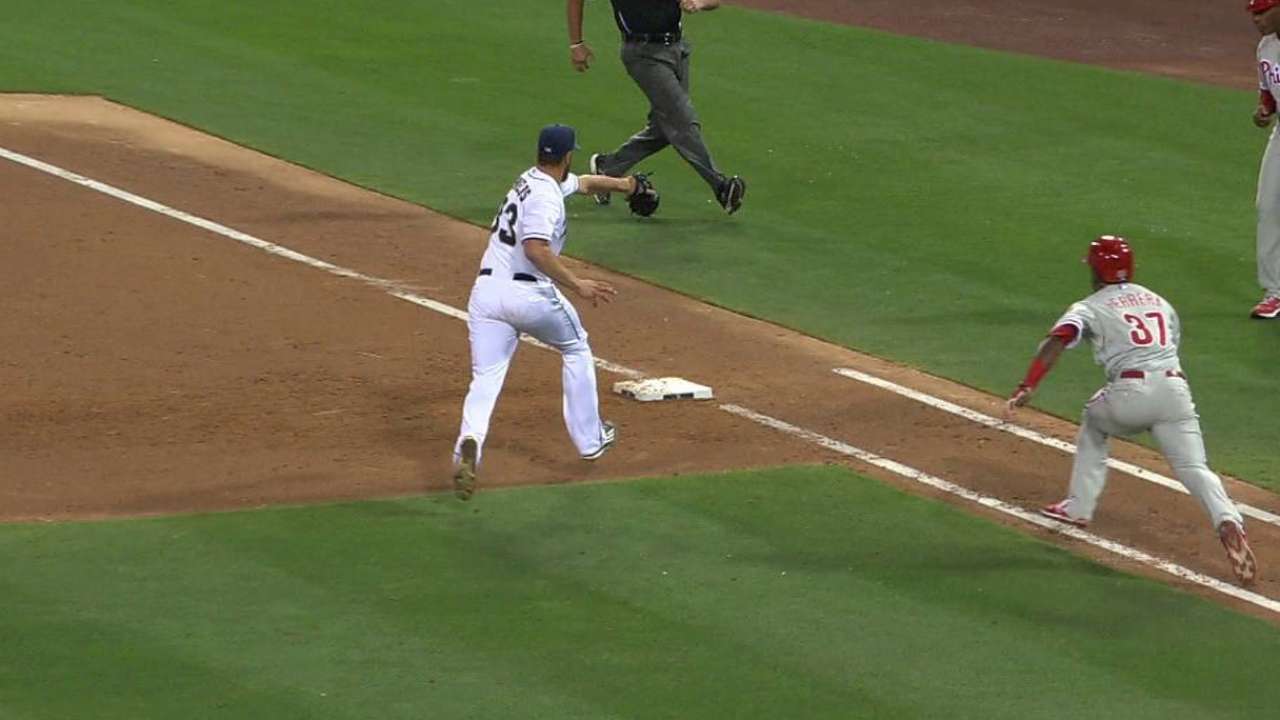 Dickerson collects his first Major League hit in the bottom of the 11th inning:
The day's top stories:
The "Pride of Poway" performs in a pinch: Dickerson singles for first big league hit
Reliever mulling over options: Morrow leaning toward surgery on shoulder
Newest Padre happy to be home: Dickerson excited to play for hometown team
Weekly fan forum keeps friar faithful engaged: Padres Fan Chat with Bill Center: August 7th, 2015
Padres return for eighth homestand of season: Happening Homestand Report: Aug. 7th - Aug. 12th
Down on the Farm: Van Gansen gives Northwest League All-Star Game Win
Murph's Musings: El Paso, Lake Elsinore score wild wins
Notable Notes: Game Notes vs. PHI (08.07) Friars Set for First of Three against Phillies at Petco Park
Looking forward to the next game:
Friar Forecast: Ross squares off with rookie Morgan
Saturday's pitching matchup: Tyson Ross (8-8, 3.37 ERA) vs. Adam Morgan (2-3, 4.46 ERA)