MLB.com Columnist
Tracy Ringolsby
Moyer's career a study in determination
Mariners' winningest pitcher being inducted into team Hall of Fame on Saturday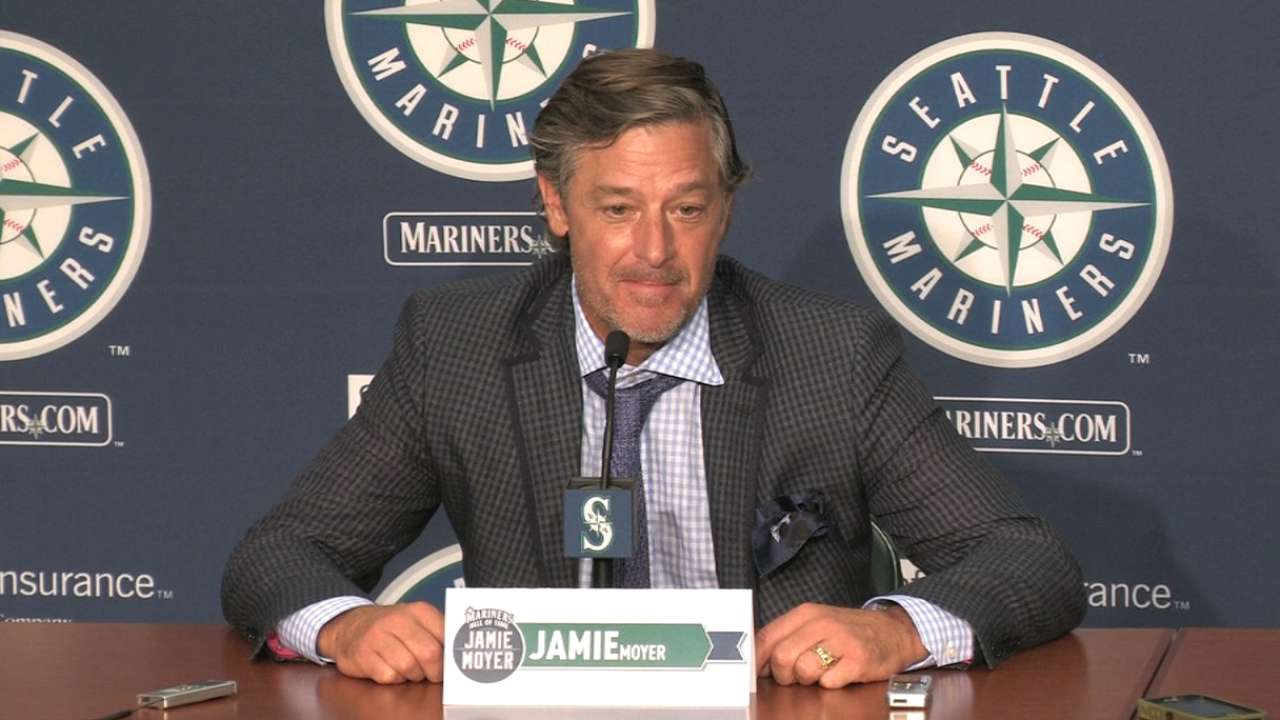 Jamie Moyer's induction into the Mariners Hall of Fame on Saturday is about more than being the winningest pitcher in franchise history.
Moyer's career, which included time with the Mainers, Cubs, Rangers, Orioles, Cardinals, Phillies, Red Sox and Rockies, is a classic study in determination.
At the age of 30, with a 34-54 record in the big leagues and having spent the bulk of the 1991 and '92 seasons in the Minor Leagues, Moyer thought it might be time to get on with life outside of baseball. Digger Phelps, his father-in-law, didn't agree.
When Phelps was the basketball coach at Rider College, he became friends with Tom Petroff, the school's baseball coach. Petroff had moved west, and when he coached at Northern Colorado and Iowa, he had a pitching guru, Bus Campbell, who Phelps suggested Moyer visit.
Moyer agreed. Campbell simplified the game for him.
"He would say, 'Show the hitter your wallet,'" recalled Moyer.
Moyer listened to every word, and it paid off.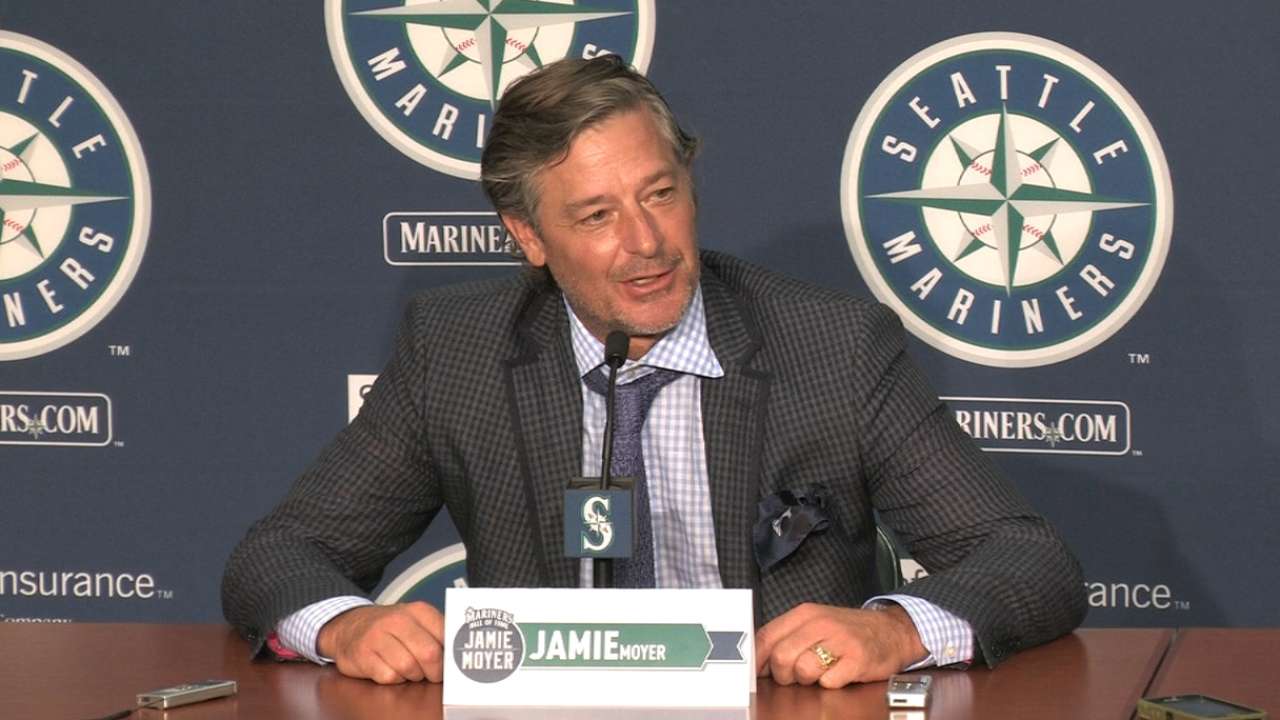 Moyer finished his career with the Rockies in 2012 at the age of 49, and he compiled a 269-209 career record, 35th on the all-time wins list. And he did the heavy lifting after turning 30.
His 235 victories tie him with another former Mariners pitcher, Randy Johnson, for fifth on the all-time list for wins at the age of 30 and older, which is three behind Gaylord Perry, according to Baseball-Reference.com. He's the only member of the Top 10 on that list not enshrined in Cooperstown.
For starters
Johnny Cueto will make his Royals debut at Kauffman Stadium on Monday night against the Tigers. He will be looking for his first victory in his third start since the Royals acquired him from the Reds. The Royals have lost both of Cueto's starts, even though he had quality outings in both, allowing three runs in six innings in a 7-6 loss at Toronto and two runs in a 2-1 loss at Detroit.
Cueto started at Kauffman Stadium twice in his career with the Reds and took the loss in both games; however, he gave up just three runs in 13 innings combined for a 2.08 ERA.
The impact starters that contenders added in the final days of July have not had instant success. The eight pitchers went into Saturday with eight losses combined in the 10 games they've started for their new teams.
David Price, with Toronto, allowed one run in eight innings of a 5-1 victory against the Twins in his debut, and he started again on Saturday against the Yankees at Yankee Stadium.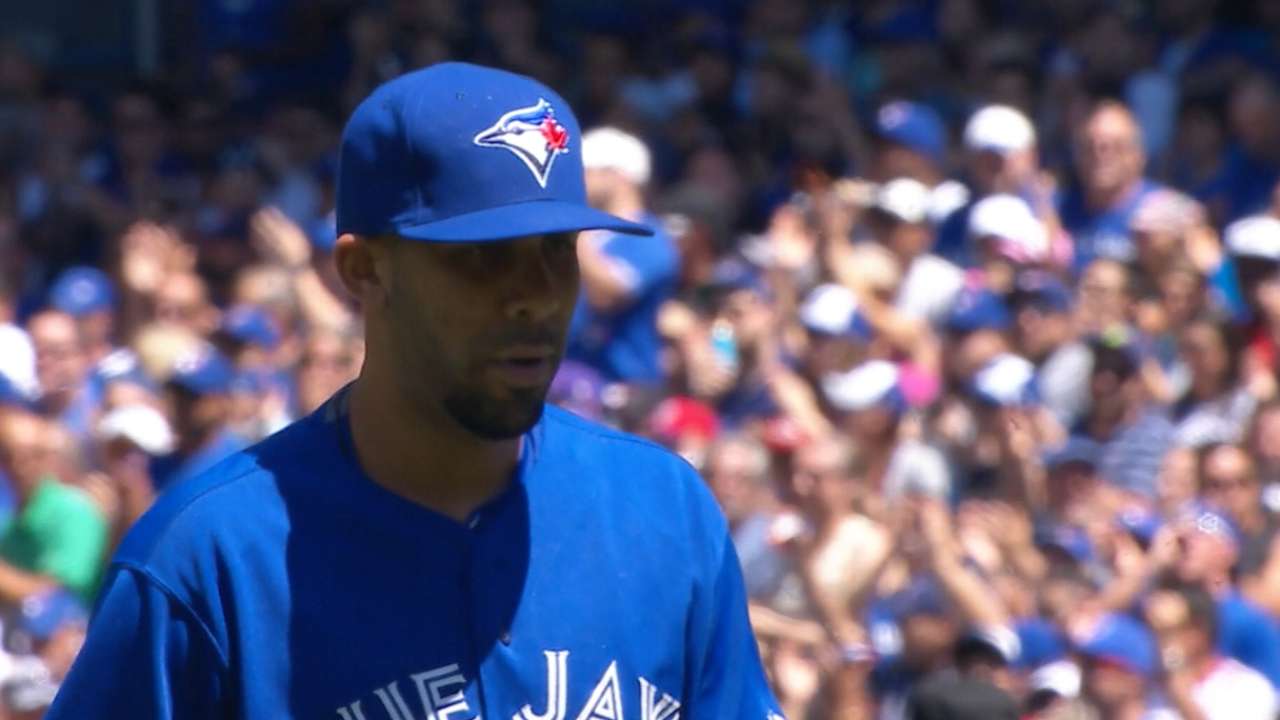 Mat Latos had a no-decision in his Dodgers debut, allowing one run in six innings of L.A.'s 5-3 victory against the Angels. Latos also made his second start Saturday, facing the Pirates in Pittsburgh.
As well as the Royals losing both of Cueto's starts, the Rangers have lost both games started by Cole Hamels, who allowed nine earned runs in 13 2/3 innings. The Giants lost Mike Leake's lone start, 2-1, at Texas, before he was placed on the disabled list with a strained left hamstring. Other traded starters who saw their new teams lose their debuts were J.A. Happ with the Pirates, Dan Haren with the Cubs and Alex Wood with the Dodgers.
Streak ended
Clayton Kershaw's 37 consecutive innings of scoreless baseball ended in a hurry Friday night in Pittsburgh. Gregory Polanco, leading off in the bottom of the first, hit Kershaw's first pitch for a home run.
Kershaw came up three innings shy of joining Luis Tiant as the only pitchers with two scoreless streaks of at least 40 innings. Tiant pitched 41 consecutive scoreless innings for the Indians in 1968 and 40 for the Red Sox in 1972. Kershaw had 41 2/3 scoreless innings with the Dodgers last year.
A Major League pitcher has worked 40 scoreless innings 24 times, including three other Dodgers besides Kershaw. Orel Hershiser set the record in 1988 at 59 innings, one more than Don Drysdale pitched in 1968. Zack Greinke worked 45 2/3 scoreless innings earlier this season.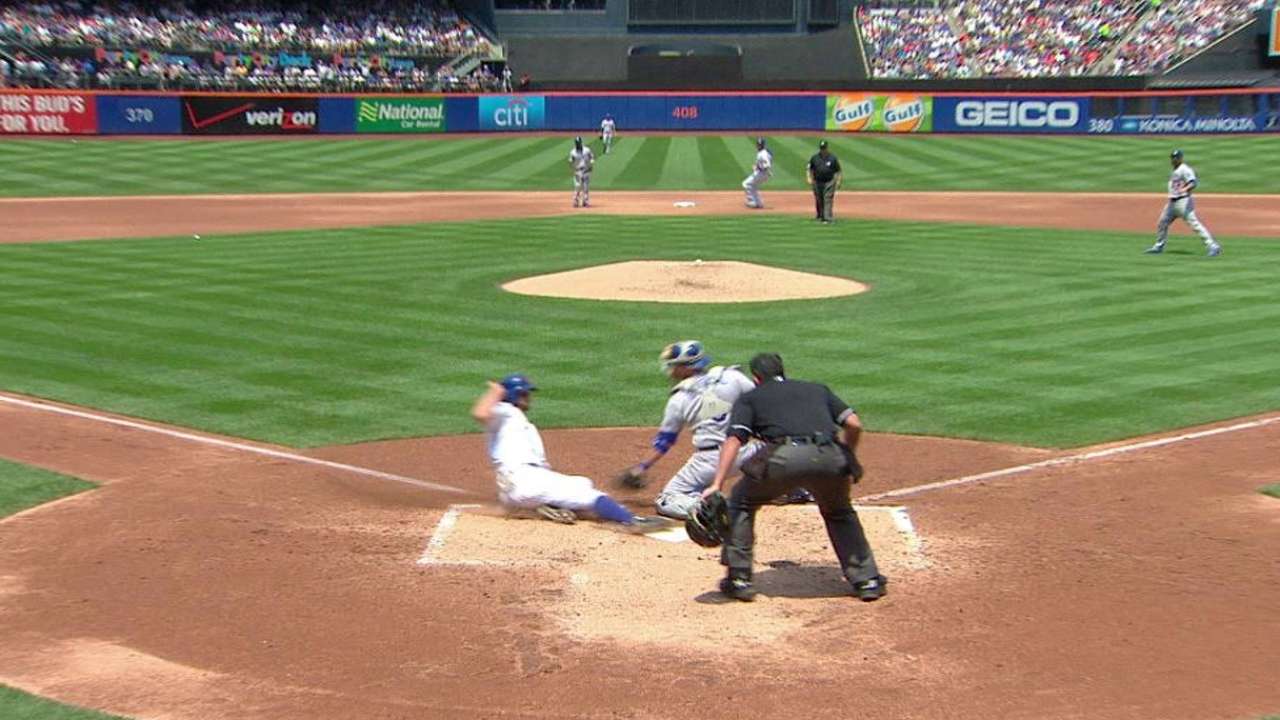 Happy anniversary
• Nine years ago Saturday, Texas outfielder Mark DeRosa made two outs in the same at-bat. He swung and missed on a 3-2 pitch for a strikeout, and his momentum carried him into Oakland catcher Jason Kendall, who was trying to throw out Jerry Hairston Jr., attempting to steal second. Umpire Jim Joyce called DeRosa out for interference.
• Twenty-one years ago Wednesday, baseball players went on a 232-day strike that led to the cancellation of the 1994 postseason and a delayed start to the '95 season.
• One-hundred-and-five years ago on Thursday, the Pittsburgh Pirates and Brooklyn Superbas played to a nine-inning 8-8 tie in which both teams had 38 at-bats, 13 hits, 13 assists, five strikeouts, one hit batter and three walks.
Quickly
• The Pirates went into Saturday 43-17 against teams outside the National League Central (20-27 within its division). The best record for a team outside its division was 76-28 by the 2001 Seattle Mariners.
• Brewers outfielder Ryan Braun went into Saturday's game having gone 119 at-bats -- dating back to May 2, 2013 -- against the Cardinals without hitting a home run, according to baseball-reference.com.
Tracy Ringolsby is a reporter for MLB.com. This story was not subject to the approval of Major League Baseball or its clubs.