Iwakuma grinds early, finds groove in gritty win
SEATTLE -- Hisashi Iwakuma was around the strike zone all game in the Mariners' series opener against the Rangers, throwing 85 of his career-high 118 pitches for strikes and not walking a single hitter.
Over the first two innings of what became a 4-3 win for the Mariners, however, Texas' hitters used that accuracy to their advantage, fouling off pitch after pitch. Doubles by Shin-Soo Choo and Bobby Wilson gave the Rangers a 2-0 lead in the second inning, and a series of lengthy at-bats ballooned the 34-year-old righty's pitch count to 52 pitches after just two innings.
"They were fouling off good pitches, quality pitches, bad pitches, tooth and nail and you have to give them credit for 52 pitches in the first two innings," said Iwakuma through interpreter Antony Suzuki. "I'm very happy that we came back and scored four runs."
The Mariners' offense did indeed come back, launching three home runs to put Iwakuma in line for his third win of the season, but Iwakuma also came back with a more efficient showing to close out his night, retiring nine of the final 10 hitters he faced.
"He started to make more quality pitches. I thought they fouled off some some good pitches that really got his pitch count up," said Mariners manager Lloyd McClendon. "It wasn't that he was erratic or out of the zone, they were just fouling balls off."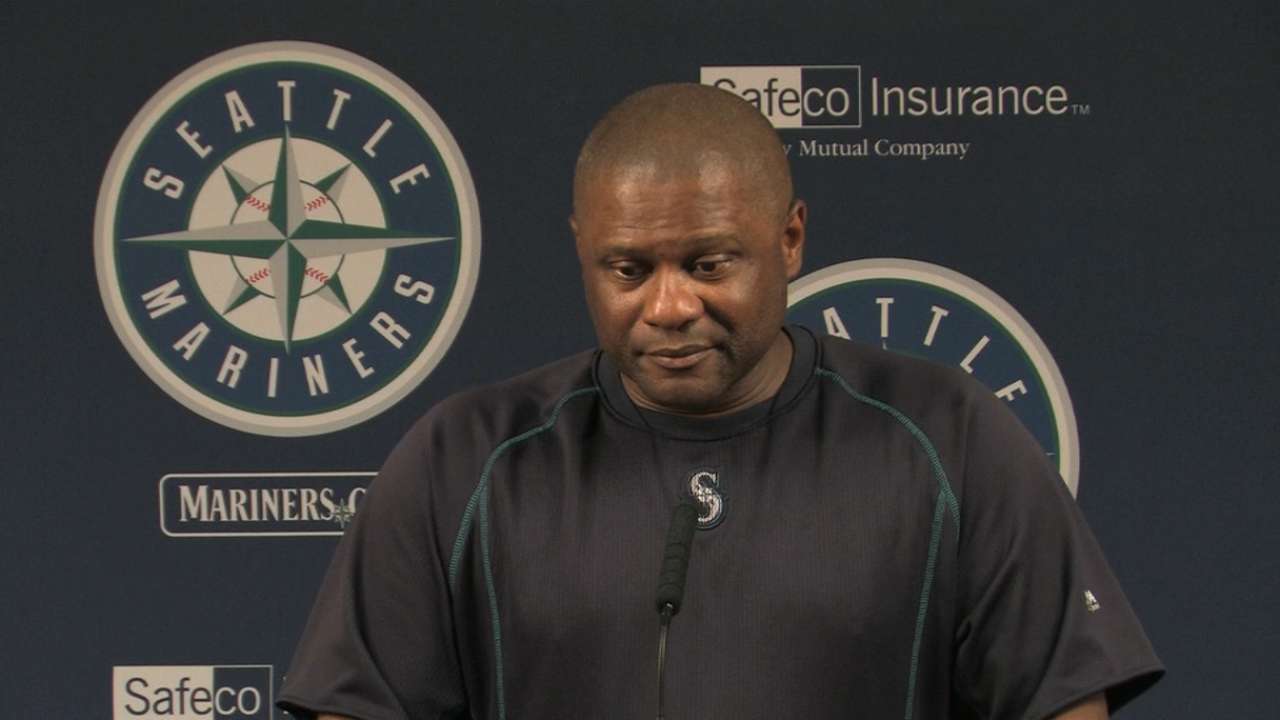 More bite to his splitter and breaking pitches, coupled with what Iwakuma said was a more eager approach from Texas' hitters, led to five straight innings of 16 pitches or fewer for Iwakuma before McClendon went to his bullpen.
"Third inning on I felt they were more aggressive earlier in the count," Iwakuma said. "When I saw that, I wanted to pitch to contact and get early outs and it helped."
Despite an improved efficiency after the second inning, Iwakuma did run into some trouble in the fourth, adding to the Rangers' cushion. After getting Choo to ground into a forceout and getting Elvis Andrus to fly out to right, Iwakuma nearly got himself out of two-out jam with runners on the corners, but missed in the dirt with Wilson batting for a wild pitch, allowing Moreland to score the Rangers' third run of the game.
"It's tough because we have two outs and you don't want to give up another run," Iwakuma said. "It was tough but you just stay patient throughout."
It was McClendon's decision to swap Iwakuma's spot in the rotation with Mike Montgomery's, allowing Iwakuma to throw on a normal four days' rest after an off day, and it was one that paid off.
"A couple things came into play," McClendon said. "But the fact that he was in such a good groove, I didn't want to mess with that right now."
Andrew Erickson is an associate reporter for MLB.com. This story was not subject to the approval of Major League Baseball or its clubs.