Banister riled by 'key play' that couldn't be reviewed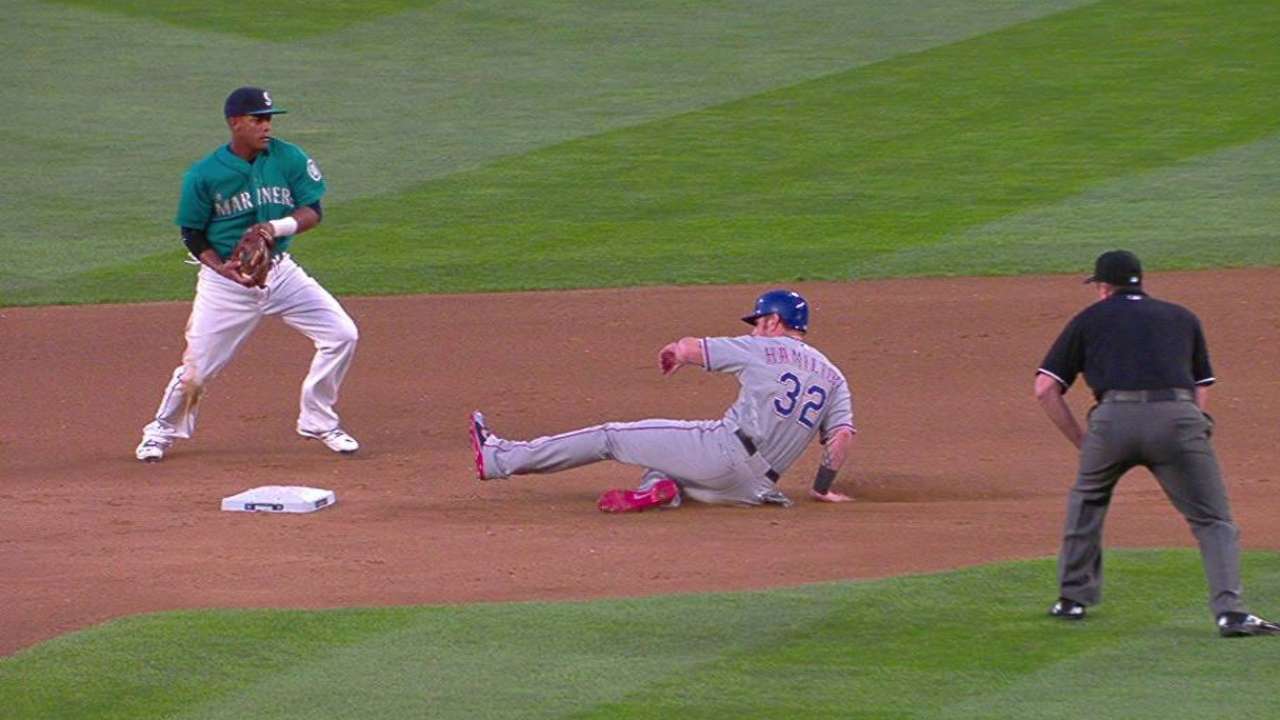 SEATTLE -- Rangers manager Jeff Banister is generally a strong proponent of replay reviews. But he ran into a glitch in the system on Friday night and wasn't happy about it after the Rangers' 4-3 loss to the Mariners.
The crux of the problem was what is known as the "neighborhood" play. That is a play at second base where a middle infielder is trying to turn a double play quickly and may or may not touch the bag.
Under replay review guidelines, neighborhood plays are not reviewable. The issue in the fourth inning on Friday was what constituted a "neighborhood" play and who had the ultimate say in determining it.
"That was a key play in the game," Banister said. "That's one of those we have to make sure we get it right."
The Rangers opened the fourth with singles by Mitch Moreland and Josh Hamilton. Shin-Soo Choo followed with a grounder at first baseman Logan Morrison, who threw to shortstop Ketel Marte covering second base to get the force on Hamilton.
Marte did not attempt a throw to first base. Instead he faked a throw to third base. That was the end of the play but not the discussion. Banister and the Rangers bench felt Marte had come off the bag too soon and Hamilton should have been called safe by second base umpire Lance Barrett.
The question was if it constituted a "neighborhood" play and could not be reviewed. Banister posed the question to the umpires, led by crew chief Dale Scott.
"They said, 'No, it's not a neighborhood play,'" Banister said. "I knew he was off the bag so I said, 'Let's challenge it.'"
After the umpires conferred with the review officials in New York, it was determined that it was in fact a neighborhood play. Hamilton was called out. Instead of bases loaded and nobody out, the Rangers were left with runners at the corners with one out. The Rangers didn't lose their challenge but that didn't console Banister. He wanted the bases loaded with nobody out.
"That changes the whole complexion of the inning," Banister said. "He was not trying to turn a double play. There was no attempt. How can it be a neighborhood play. I don't see how it could be a neighborhood play. There is no way it was a neighborhood play.
"At that point, after they gave me an explanation and the guys in New York overruled it, there is no argument on my part. That's an immediate ejection. I'm sure at some point they'll get together and give us an explanation but right now it's too late for an explanation."
The Rangers ended up getting one run out of the inning but were hoping for bigger things.
T.R. Sullivan is a reporter for MLB.com. Read his blog, Postcards from Elysian Fields, follow him on Twitter @Sullivan_Ranger and listen to his podcast. This story was not subject to the approval of Major League Baseball or its clubs.