Valencia stars with bat, glove in win over Astros
Infielder makes impressive play, hits first homer with A's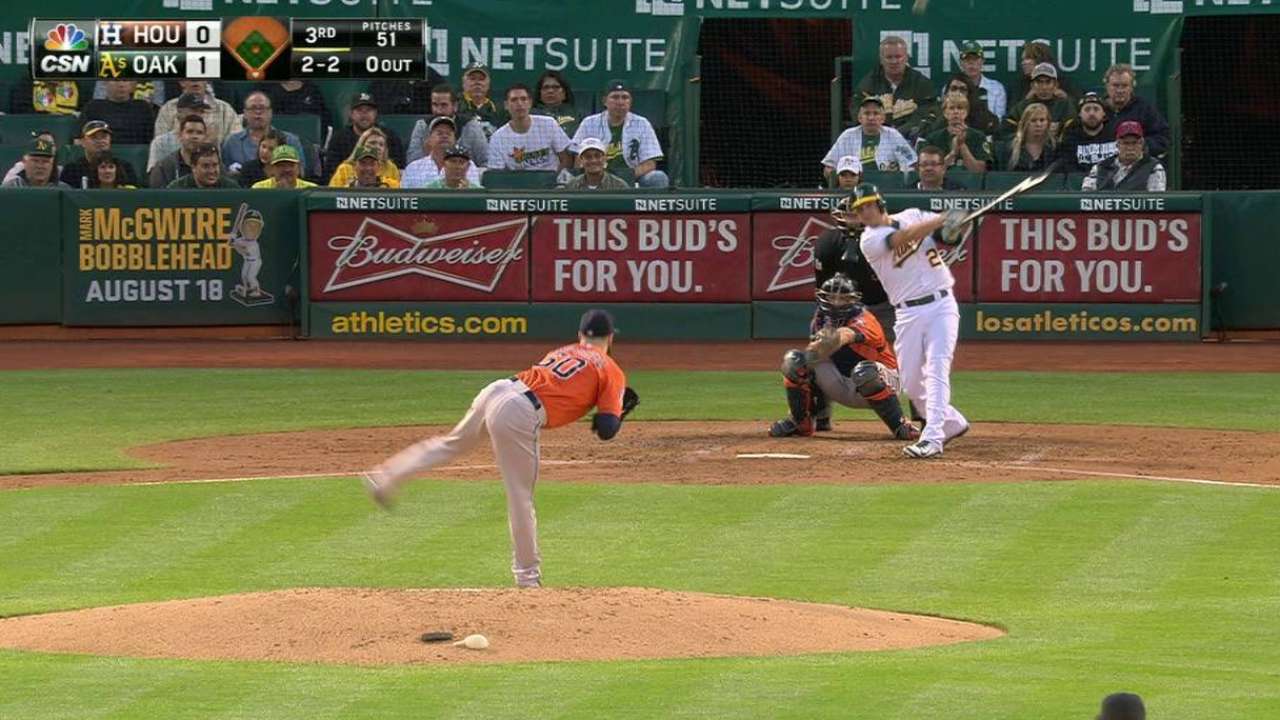 OAKLAND -- Danny Valencia says the success he's had against Dallas Keuchel largely comes down to luck.
But on Friday, in the A's 3-1 win over the Astros, that luck continued to go Valencia's way. He finished 2-for-3 with a solo shot in his second game with the A's, boosting his career numbers against the lefty to 7-for-12 with two home runs.
"He's a tough at-bat every time I'm in there," Valencia said. "I feel like I'm always battling. Fortunately enough, I got some pitches out over the plate and I was able to hit them hard."
The one he hit the hardest came in the third inning, when he tattooed a ball to left to give Oakland a 2-0 lead. Valencia said the ball was middle in -- maybe a little high -- and he made what he called a defensive swing that turned into home run.
The A's claimed Valencia off waivers from the Blue Jays on Monday with the hopes he would be a specialist against lefties, a power bat in the heart of the order and a reliable fielder.
He was all three Friday, batting in the cleanup spot because of his prior success against Keuchel.
"Really glad we got him," said Sonny Gray, who tossed a complete game in the win. "Don't really pick up guys like that out of the blue. He's a really talented player. He adds some pop in the middle of the order, for sure."
Valencia made multiple nice fielding plays, including one in the seventh where he tracked down a Preston Tucker pop up in foul ground.
He casually made the catch, but covered a significant amount of ground in the process.
"By no means did I think that was an easy catch," Valencia said. "It felt a lot tougher for me than maybe it looked."
Trevor Hass is an associate reporter for MLB.com. This story was not subject to the approval of Major League Baseball or its clubs.