Gray continues dominant stretch with gem
Right-hander tosses third complete game in last six starts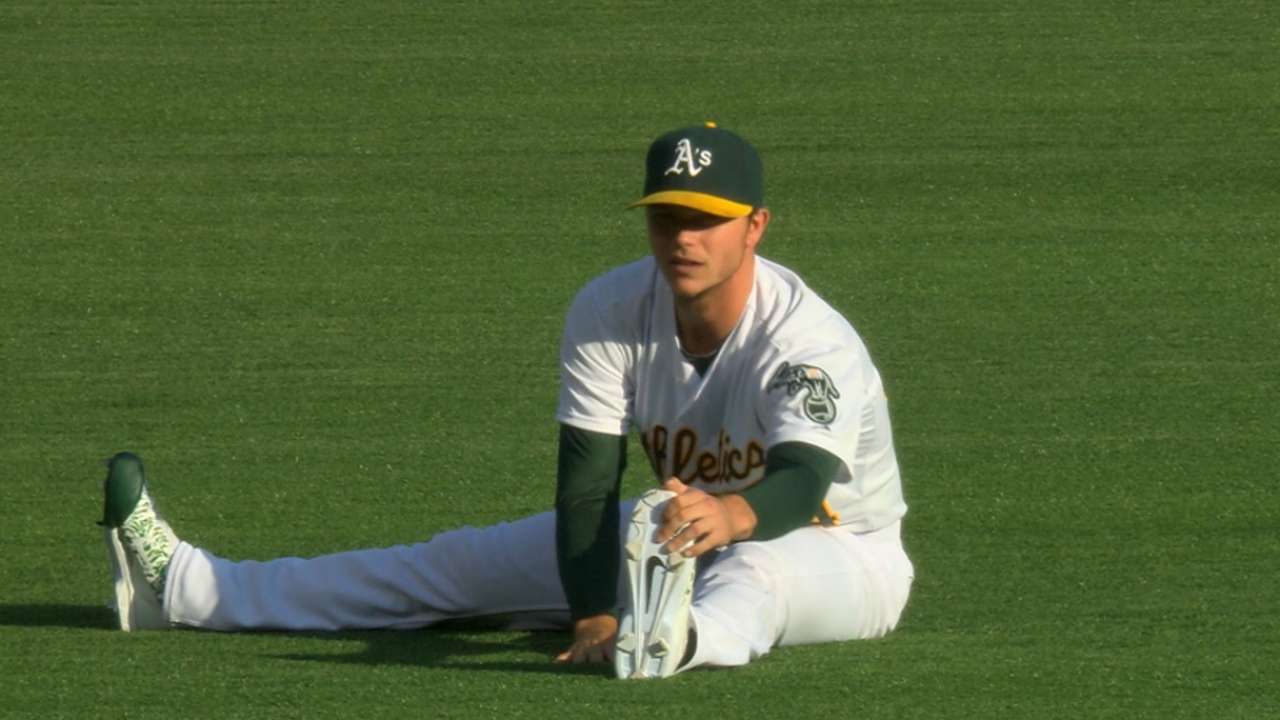 OAKLAND -- Before Thursday's 3-1 win over the Astros, Josh Phegley and a couple A's teammates joked about getting a pool together to see how short the game would be.
Phegley guessed two hours. It ended up lasting two hours, 20 minutes, but he wasn't far off.
In the end, one of the most anticipated pitching matchups in the American League this season lived up to the hype. Sonny Gray bested Dallas Keuchel, tossing his third complete game in six starts.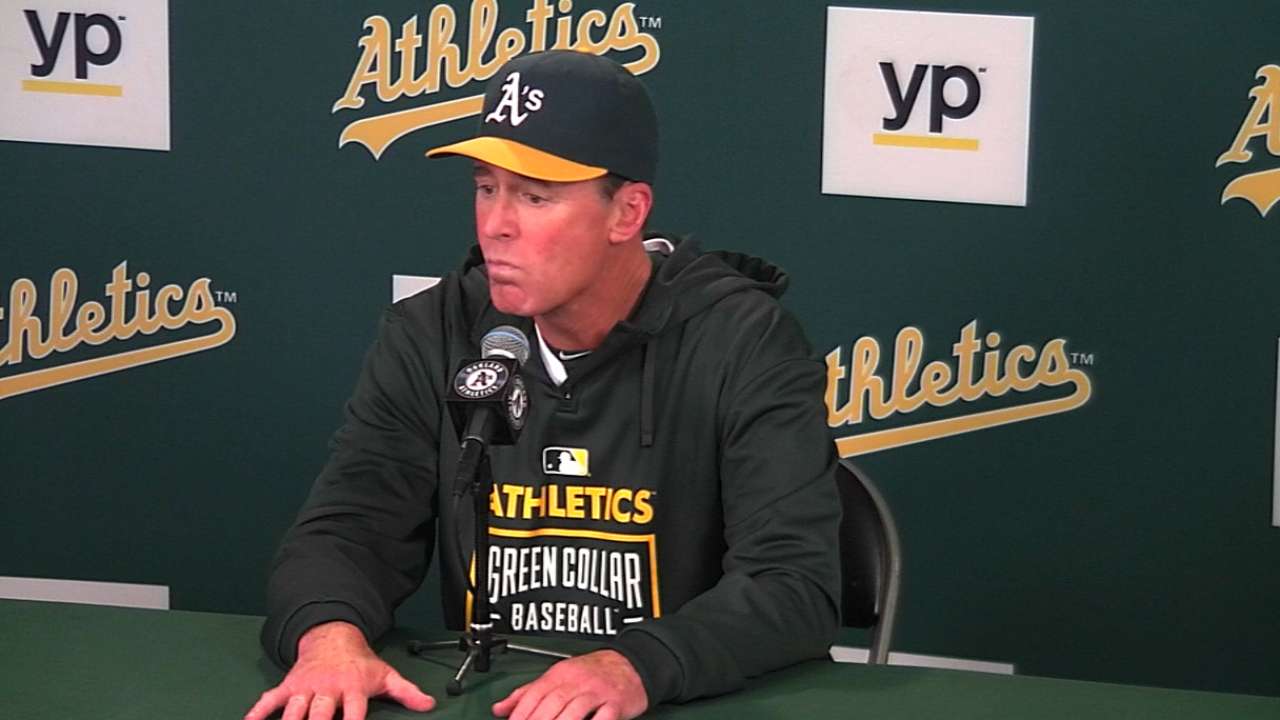 Gray said there wasn't any extra adrenaline going up against the bearded southpaw Keuchel. He tried to block the matchup out, instead placing his focus on shutting down a potent lineup, which is exactly what he did.
"I'm not really pitching against the other pitcher," Gray said. "It's the other team, and their lineup. That's really what my focus is going in."
"I don't think it matters who he goes against," Phegley said. "He's just out to prove he's one of the best pitchers in the American League."
Gray allowed five hits and one run in nine brisk innings, striking out five and needing just 107 pitches to go the distance.
The right-hander has a 1.13 ERA and .193 opponents' batting average over his last four starts, in which he's yielded a combined four runs.
Gray retired the first seven Astros he faced, and 17 of the first 19 before Luis Valbuena accounted for Houston's only run with a solo shot to right.
Then Gray settled back down and cruised into the eighth, where Danny Valencia started a 5-4-3 double play that helped enable Gray to come back out for the ninth.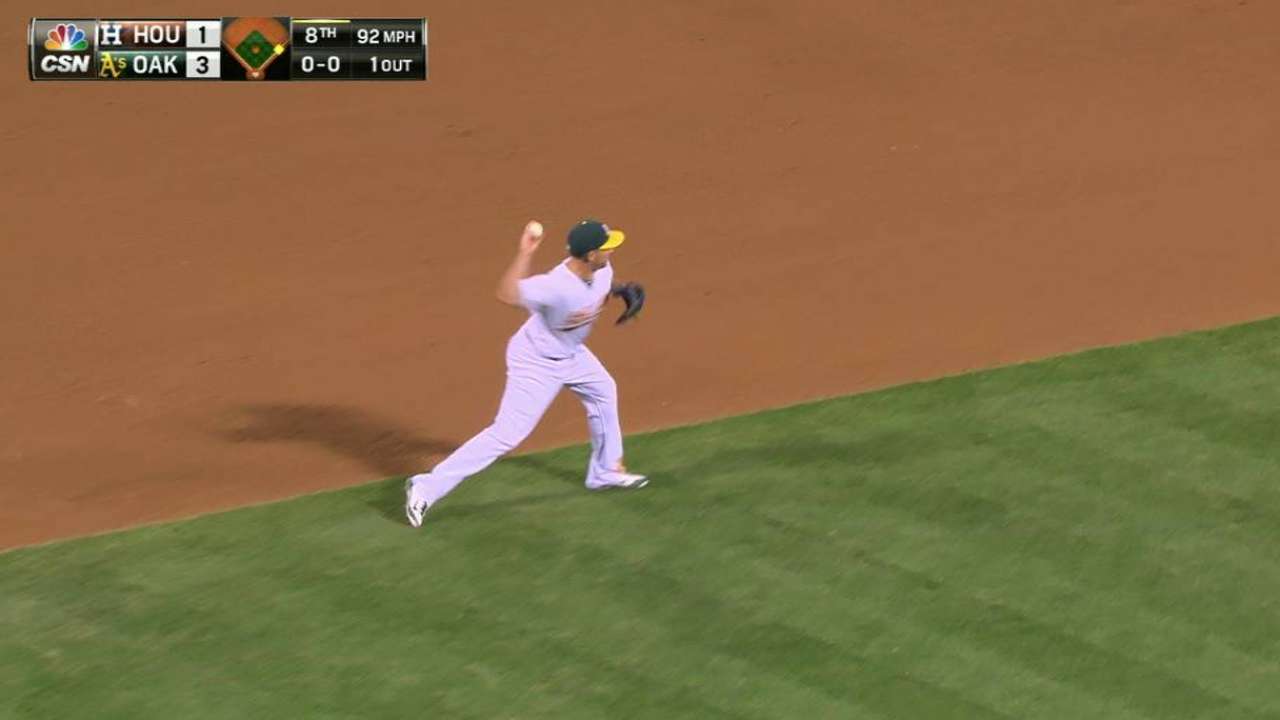 Valencia said playing behind Gray is easy because you're constantly on your toes. Gray pitches so efficiently and induces so many ground balls that you know the ball may come your way the next pitch.
A's manager Bob Melvin and Gray talked before the ninth to make sure Gray was OK to return to the mound, but both were confident he would be fine and finish what he started.
"Pretty much came as advertised as far as the billing went and the pitching performances went," Melvin said. "Sonny was just a little better tonight."
He's been the A's rock during a season where not much has gone according to plan, and his ERA now sits at an American League-best 2.06.
Gray deflects all the credit, but Phegley -- acknowledging it's only August and there's lots of baseball to be played -- said Gray is a top Cy Young candidate to this point.
"I haven't seen anyone better," he said. "The stuff that he's managed to do, with our record, and us losing a lot of games this year has been tough. He goes out there and puts together a performance every time he's on the mound, so he's right up there."
Trevor Hass is an associate reporter for MLB.com. This story was not subject to the approval of Major League Baseball or its clubs.