MLB.com Columnist
Barry M. Bloom
Rookie Iglesias beginning to come of age
Right-hander tosses second straight quality start for Reds in loss to D-backs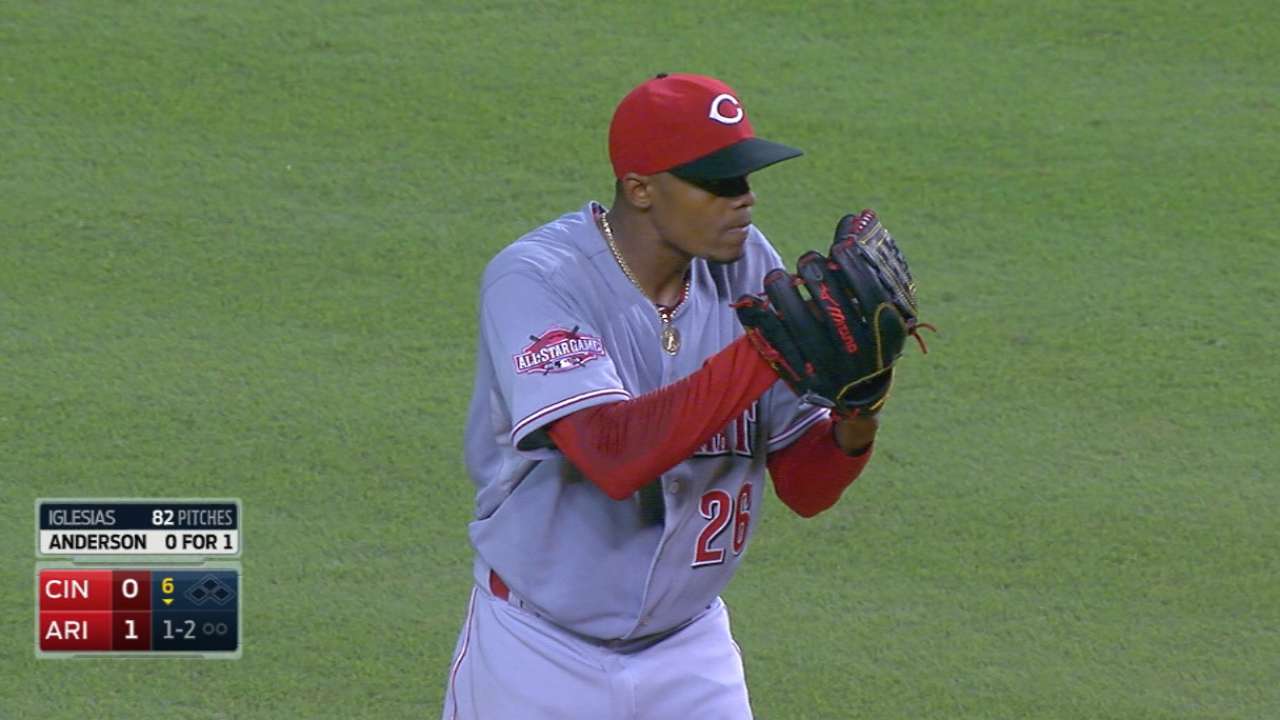 PHOENIX -- It may be a tad unusual, but Brayan Pena, the man who caught Raisel Iglesias on Friday night, was also his interpreter when the rookie Reds right-hander spoke with the media after the game. The two are Cuban natives.
The Reds lost, 2-0, in the opener vs. the D-backs at Chase Field, their second consecutive shutout loss, but Iglesias kept his club in the contest after allowing his only run in the first inning on David Peralta's RBI single.
Otherwise, he gave up only three hits with a walk and six strikeouts before leaving after six innings. It was his second successive quality start.
"I feel pretty good, man. To be honest with you I feel like I threw the ball good," Iglesias said through his interprete, Pena. "That first inning was a little bit tough, but then Brayan got close to me and he said to me, 'Don't let that first inning effect you.' And I didn't. After that I picked my tempo up, and that was very important."
Including a Welington Castillo double-play grounder that ended the first inning, Iglesias retired 15 batters in a row until A.J. Pollock doubled with two outs in the sixth inning.
That brought up Paul Goldschmidt, who was 0-for-3 on the evening and had already struck out to open the fourth inning. Iglesias is 25 years old and playing Major League ball this season for the first time. He remained undaunted as the right-handed slugger with 22 homers and 78 RBIs came to the plate -- and whiffed swinging again.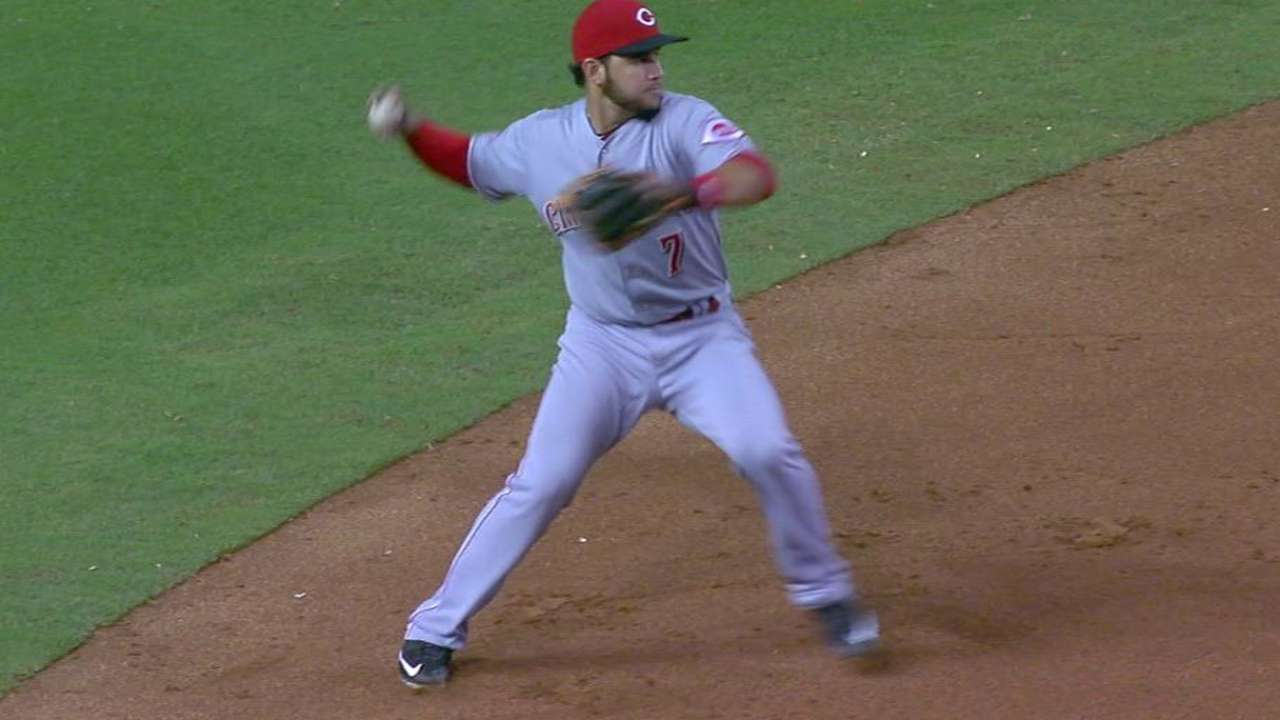 "It was just one of those things that we were trying to keep the ball down because we know how hard it is to get someone like him out," Pena said when asked how they planned to attack Goldschmidt. "At the same time, he was throwing the ball very well today. He was keeping it down. He was mixing it up."
Unlike many Major League managers who have their pitchers work around Goldschmidt, Iglesias went right at him. Perhaps fortunately, Goldschmidt is in a stretch where he's only homered twice and driven in nine runs in his last 22 games. He hasn't homered at home since June 15.
Pena, though, laughed when asked specifically how they pitched to Goldschmidt.
"I'm not going to tell you our game plan," said Pena, the veteran catcher who has been in and around the Major Leagues since 2005 and is in his second season with the Reds. "He doesn't need any help."
The point is, it was Iglesias' ninth Major League start, 14th professionally if you include the six more he started this season for Triple-A Louisville, and he is beginning to come of age.
Only three years ago, the Reds' rotation included Johnny Cueto, Mat Latos, Bronson Arroyo, Mike Leake and Homer Bailey, who is still around but recovering from Tommy John surgery. Now it doesn't. The others are scattered around the Majors.
Thus the burden of the future is now on the youthful arms of rookies like Iglesias. And that's a good thing, said Reds manager Bryan Price.
"He doesn't look at himself as a rookie, who's here to learn," he said. "He sees himself as a rookie who is here to produce."
Barry M. Bloom is a national reporter for MLB.com and writes an MLBlog, Boomskie on Baseball. Follow @boomskie on Twitter. This story was not subject to the approval of Major League Baseball or its clubs.