Bregman, Davis among 10 top prospect performers Friday
Astros No. 1 hits his first jack for JetHawks, No. 13 homers for the fourth consecutive game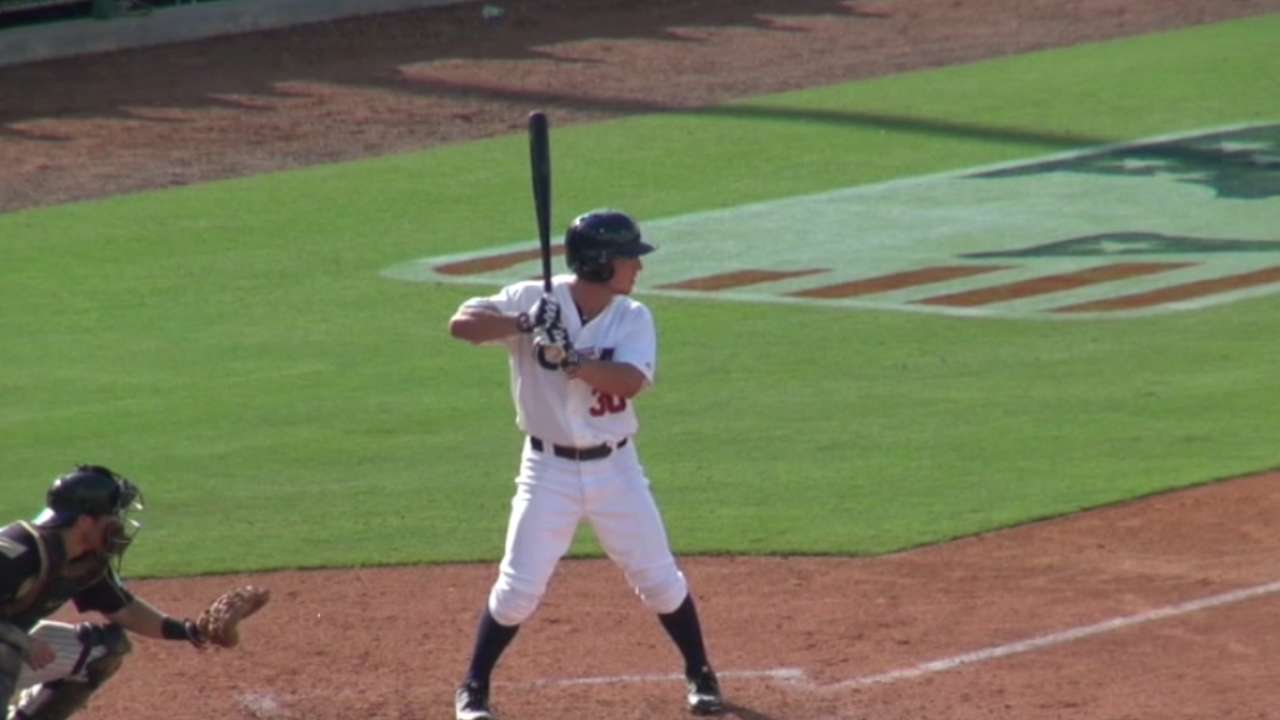 The Astros organization was homer happy on Friday night, as three prominent prospects went yard.
No. 13 prospect J.D. Davis roped a roundtripper for the fourth straight game, finishing 1-for-5 with two RBIs in Class A Advanced Lancaster's 8-5 win over High Desert. The third baseman has 20 homers and 81 RBIs on the year and has hit .474 (9-for-19) during his four-game hot streak.
He got some help from No. 1 prospect Alex Bregman, the No. 2 overall pick in the 2015 Draft. Bregman went 2-for-4 and hit his first Lancaster homer since he was promoted on July 27. He's hitting .255/.286/.383 with three extra-base hits and three steals in 11 games.
Over in Double-A Corpus Christi, No. 6 prospect A.J. Reed continued a season-long trend of smashing baseballs. The slugger rocked his 29th homer of the year, putting him back in a tie for first in the Minors with Triple-A Louisville's Adam Duvall.
Reed has been raking since a July 12 promotion. On Friday, he picked up his sixth homer and 22nd RBI since joining the Hooks, and his OPS is .933. His impressive power numbers helped him move up from his preseason ranking as Houston's No. 12 prospect.
The rest of the 10 best performances from top Minor Leaguers
• Angels No. 1 prospect (No. 24 overall) Sean Newcomb was excellent in his second start for Double-A Arkansas. The 6-foot-5 southpaw gave up just two hits while striking out four batters in six scoreless innings. He made his Travelers debut on Aug. 2, allowing two runs in five innings, and did not earn a decision in either of his first two outings. His ERA sits at 1.64, though, and he appears to be picking up where he left off at Class A Advanced Inland Empire (6-1, 2.47 ERA in 13 starts). Drafted No. 15 overall last summer, he's piled up 152 strikeouts against 63 walks in his pro career.
• Blue Jays No. 4 prospect Sean Reid-Foley struck out six batters in 5 1/3 no-hit innings for Class A Advanced Dunedin, but was pulled after issuing two walks in the top of the sixth inning. Reid-Foley was one of the organization's top-ranked hurlers who survived the team's Deadline deals and he earned his first win in seven starts at the Class A Advanced level. After Reid-Foley was yanked Friday, Dunedin held off Brevard County for a 4-1 victory. He stands at 1-5 with a 4.66 ERA. "I didn't know it was a no-hitter until after the game, when Dickie [second baseman Joe Thon] told me," Reid-Foley told MiLB.com. "I was like, 'Oh, yeah, I had a no-hitter?' And Dickie was like, 'Yeah, how did you not know?'"
• Mariners No. 26 prospect Ramon Flores was fantastic Friday night, going 5-for-5 with a walk in a dramatic comeback win for Triple-A Tacoma. While he did not drive in any runs and scored only once, he made that trip around the bases count. The Rainiers were down, 6-1, entering the ninth, when Flores and several other Tacoma hitters rallied to tie the game. Then, Flores walked in the 10th to help push in the winning run in a 7-6 victory. He's hitting .483 in nine games since the Yankees traded him to the Mariners in the Dustin Ackley Deadline deal.
• Rockies No. 4 prospect (No. 58 overall) Jeff Hoffman made a strong second impression for Class A Advanced Dunedin. His debut outing on Aug. 1 -- three runs on six hits in 4 2/3 innings -- ended prematurely, but the Hoffman bounced back Friday. He tossed five scoreless innings of one-hit ball, striking out five while walking three on the night. The Rock Cats fell to Reading, 4-3, in 10 innings, so the 22-year-old remains 0-0 with an improved 2.11 ERA for New Britain.
• Twins No. 1 prospect (No. 1 overall) Byron Buxton returned from a thumb injury to make his first appearance since June 24, when the speedy center fielder injured himself while sliding into second for the big league club. He didn't show any rust in his rehab start with Triple-A Rochester, going 3-for-5 with a run and an RBI. Buxton made his Major League debut on June 14 and proceeded to hit .189/.231/.270 with two extra-base knocks in 11 games for the Twins.
• Twins No. 6 prospect (No. 91 overall) Nick Gordon swatted his first homer of the year for Class A Cedar Rapids. While the feat took 96 games to accomplish, Gordon has been providing big hits for the Kernels all season. After Friday's 3-for-5 performance, the younger brother of MLB All-Star Dee Gordon is hitting .277/.341/.354 with 16 doubles, five triples and 48 RBIs. Gordon, 19, has also stolen 23 bases in 29 attempts.
• White Sox farmhand Matt Tuiasosopo has had four different Major League stints in his 12-year career, but he hasn't played in the big leagues since 2013. Friday night, he made an excellent case for another callup, going 3-for-4 with three home runs and seven RBIs, both career highs. Tuiasosopo -- the younger brother of former Oakland Raiders quarterback Marques and Philadelphia Eagles fullback Zach -- helped Triple-A Charlotte to a 9-5 win over Rochester, and has hit in five of his past six contests.
The outfielder spent time with the Mariners, Mets, Blue Jays and Tigers organizations before landing with the White Sox in a trade last summer. This season, he's hitting .247/.354/.488 with 19 doubles, 16 homers (a new career high) and 46 RBIs for the Knights.
Alex M. Smith is a reporter for MLB.com. This story was not subject to the approval of Major League Baseball or its clubs.