Lohse makes first relief appearance since '09
Brewers righty faces Cards, the team he played for the last time he pitched as a reliever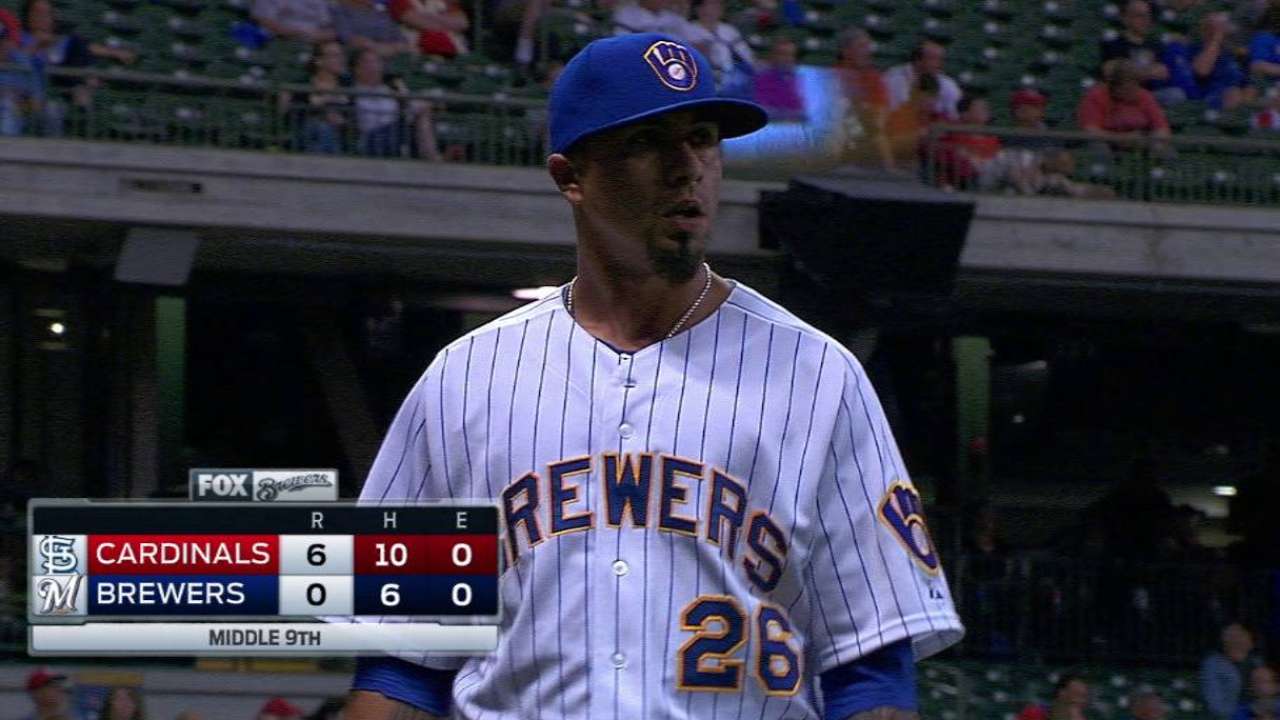 MILWAUKEE -- The venue was the same but the circumstances have changed dramatically for Kyle Lohse, who pitched two scoreless innings Friday for the Brewers in his first relief appearance in six years.
Lohse, originally scheduled to start Friday before the Brewers bumped him in favor of 26-year-old Tyler Cravy, pitched the final two innings of the Brewers' 6-0 loss to the Cardinals. It marked his first appearance out of the bullpen since Sept. 8, 2009, when he pitched for the Cardinals against the Brewers in this same stadium. At that time, Lohse was easing back into action from a two-week stint on the disabled list.
Now he's less than two months from the end of his three-year contract and enduring a dreadful season.
"It's obviously not the situation you want to be in," Lohse said. "But I felt good for myself to get on a mound and get out of there without giving any more runs up."
Lohse, Milwaukee's Opening Day starter, sits at 5-13 with a 6.21 ERA. The Brewers are trying to trade him to a team willing to take a flier on Lohse as a bounce-back candidate, and if that effort does not bear fruit, there is the possibility he'll be released.
For now, though, Lohse is Milwaukee's long man.
"He knows what he's doing," manager Craig Counsell said. "You always know going in that Kyle's going to know what he's doing. You're not going to surprise Kyle, and I expected him to go out and do well."
Said Lohse: "I'll just keep doing my job here until I'm told otherwise. It's obviously different warming up, sitting down there trying to figure out how to get loose and all that stuff again. But once you get out there in the game, it's the same thing."
Adam McCalvy is a reporter for MLB.com. Follow him on Twitter @AdamMcCalvy, like him on Facebook and listen to his podcast. This story was not subject to the approval of Major League Baseball or its clubs.