Grand exit: CarGo bests tough Nats reliever
Rox slugger changes game on 1-0 fastball from Storen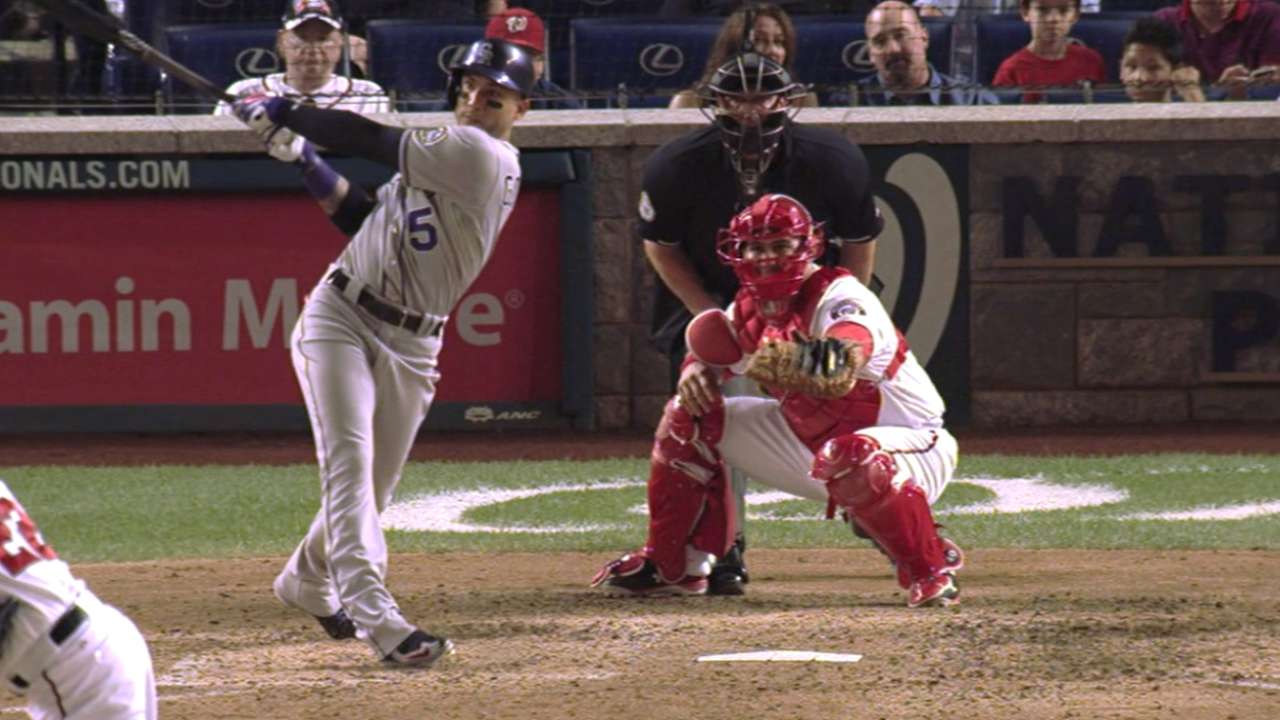 WASHINGTON -- With a three-run lead and the bases loaded in the eighth inning, Drew Storen's first pitch to Carlos Gonzalez missed inside. That 96-mph sinker a few inches off the plate told Gonzalez what to do next.
"I think that pitch set the table," Gonzalez said of the pitch that preceded his go-ahead grand slam in Colorado's 5-4 win over Washington on Friday night. "He came in with a fastball and it [was off] the plate. And I said, 'OK, he might try to do the same thing not to let me extend my arms.' I was just ready."
The grand slam, which exploded off his bat at 114 mph according to Statcast™, was the third of Gonzalez's career and the first Rockies go-ahead slam since Melvin Mora knocked one out of Citi Field in 2009.
"CarGo is one of those elite players that can win a game a number of ways, and with the bat obviously is one of them," Rockies manager Walt Weiss said. "He got the barrel to the ball. He's got tremendous power, and when he gets the barrel to the ball, it usually goes."
Early in the contest, the Rockies were unable to touch Jordan Zimmermann, notching only two hits off the Nationals right-hander through six innings.
Third baseman Nolan Arenado doubled and scored on Ben Paulsen's single in the seventh to cut the deficit to 4-1 and chase Zimmermann.
"[Zimmermann] was keeping everybody out of balance today with a powerful fastball, and he's got really good stuff," Gonzalez said. "When he came out of the game, we knew that it was going to be a battle because they have a really good bullpen, too."
Storen took over in the eighth, having not allowed a hit since July 20 and run since June 24.
Daniel Descalso started the rally with what seemed at the time like an inconsequential one-out walk. With two away, Jose Reyes singled to right and Arenado legged out an infield hit, bringing Gonzalez to the plate.
"That's why we're here," Gonzalez said. "I know that's my moment. It's important for me to step up for my guys and for the team. I'm hitting in the cleanup spot and that's what we get paid to do. "
After taking ball one, he obliterated Storen's next offering off the back of the wall in the Nationals' right-field bullpen for the game-winner.
"We fight, man," Weiss said. "The last road trip we got walked off on three times, but our guys continue to fight. I told them that's the trade-off for competing well and playing in tough close games. Every once in a while, you win games like this, too."
Jacob Emert is an associate reporter for MLB.com. This story was not subject to the approval of Major League Baseball or its clubs.