Alvarez's walk-off helps Bucs avoid frustrating finish
Pittsburgh leaves bases loaded twice before game-winner in 10th vs. Dodgers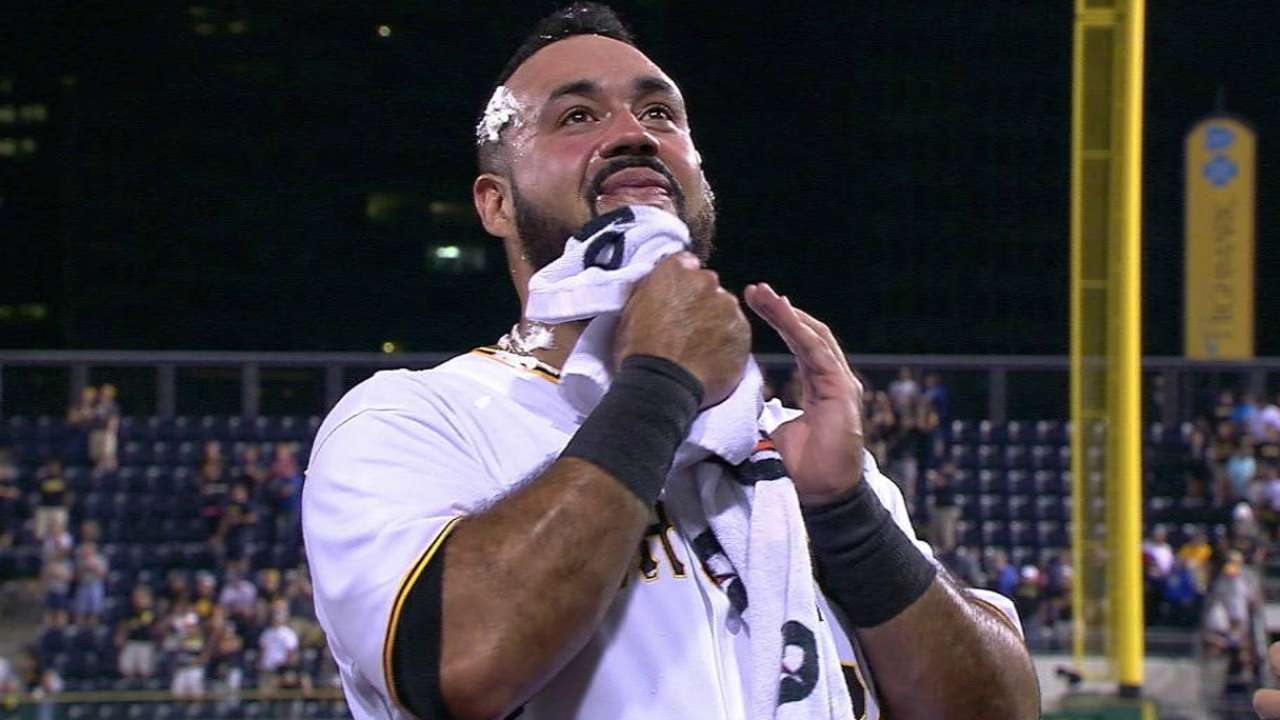 PITTSBURGH -- Twice on Friday night the Pirates loaded the bases with no outs, and twice they came away all but empty-handed. They managed only one run in the fourth, on a two-out walk by Chris Stewart, and left a zero on the board in the eighth.
But that wouldn't be the case in the 10th inning, when Pedro Alvarez came off the bench and pulled a 2-2 changeup down the right-field line for a walk-off single in the Pirates' 5-4 win over the Dodgers.
"Big swing. Very timely," Pirates manager Clint Hurdle said of Alvarez's second walk-off hit of the year. "Good for him and good for us. Fun to watch."
The same couldn't necessarily be said for the Pirates' results with the bases loaded earlier in the game, however. They pieced together three straight hits off Clayton Kershaw to begin the fourth inning, but the only run they scored was on Stewart's game-tying walk.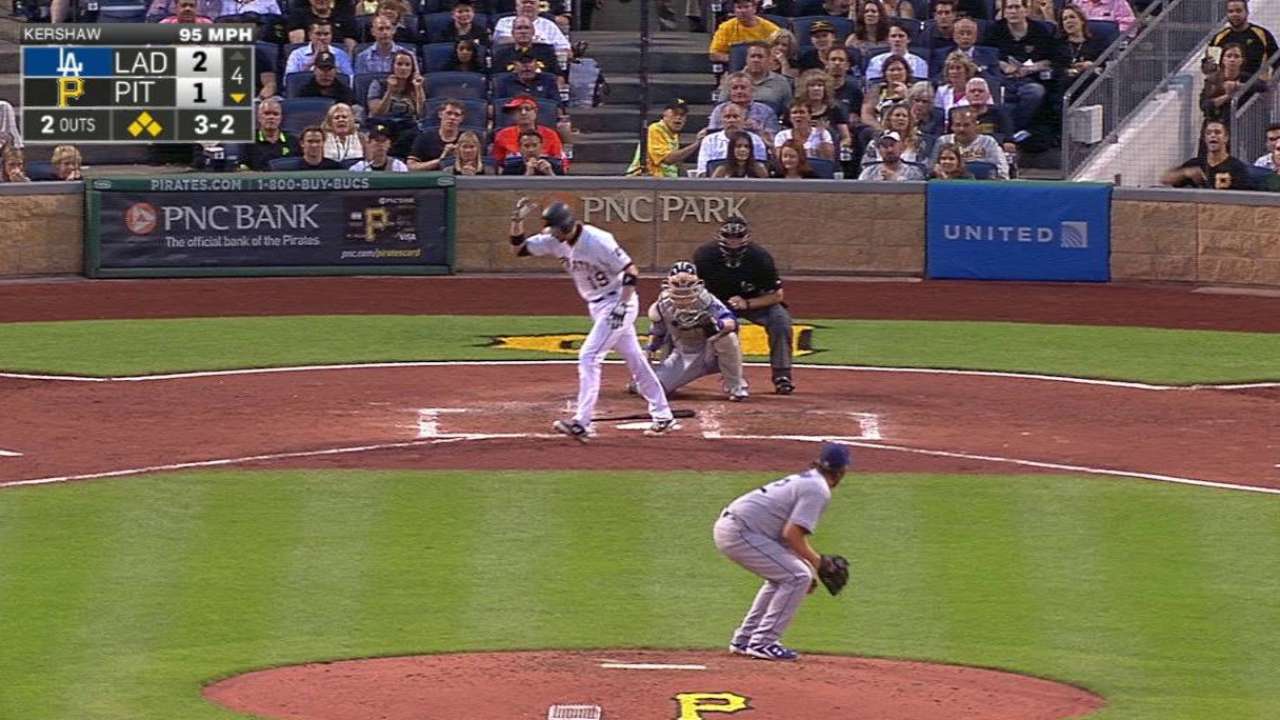 It happened again in the eighth, when they had three chances with the bases loaded to plate the go-ahead run. Instead, they hit into three consecutive outs.
"Our guys continue to play and push and try to create situations," Hurdle said. "And when we don't come through, try to create another one."
That was the case in the 10th inning, when Jung Ho Kang led off with a walk and Francisco Cervelli followed with a single to left. Sean Rodriguez tried to bunt the runners over and wound up with a base hit.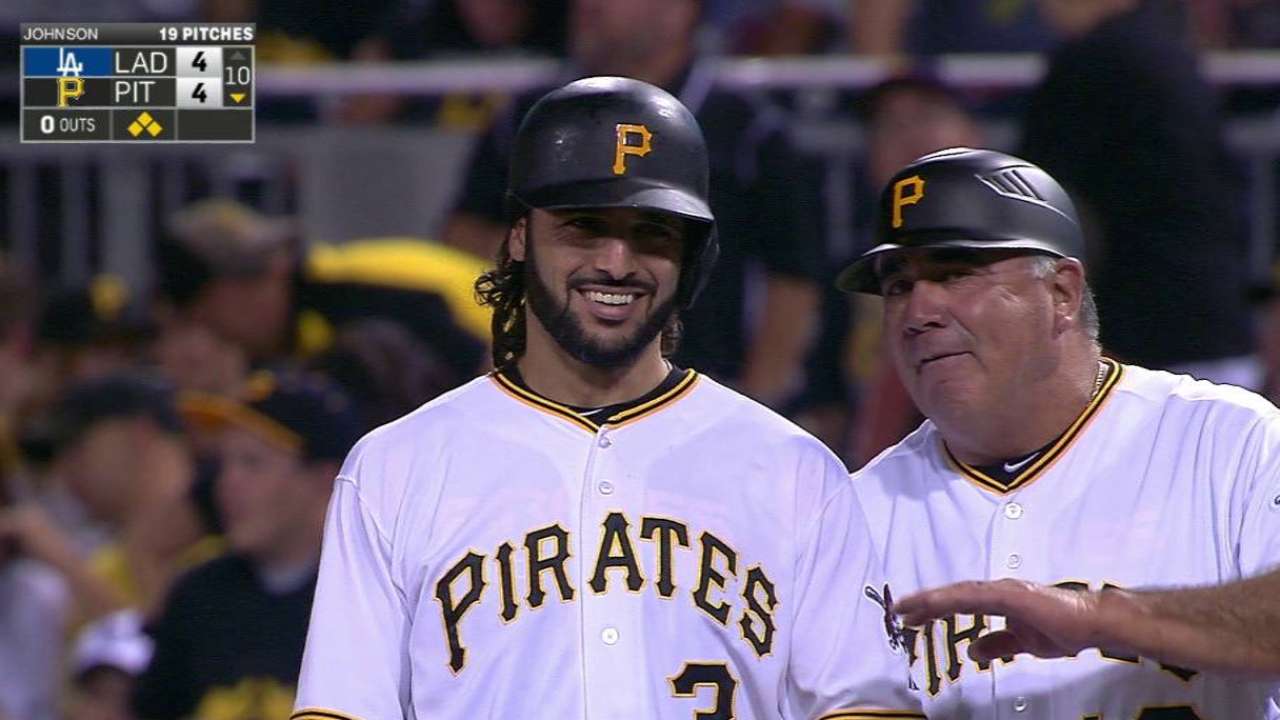 "That's baseball," Rodriguez said. "It's a beast, huh?"
So there they were once again: bases loaded, nobody out. That's when Hurdle turned to Alvarez, who'd been watching from the dugout for three hours and 40 minutes.
"Just because you don't start a game, it doesn't mean you might not play a pivotal part," Alvarez said. "I can speak for everyone here, when they're in the same situation, they want to come up big."
The Dodgers brought in an extra infielder and shifted their remaining outfielders into left and center field. Alvarez said he wasn't paying any attention to the Dodgers' defensive alignment, but if he was going to find grass against Dodgers lefty J.P. Howell, it'd have to be in right field.
Alvarez fouled off a sinker, took two more for balls and another for a strike. Finally, Howell came in with a changeup, and Alvarez laced it down the right-field line.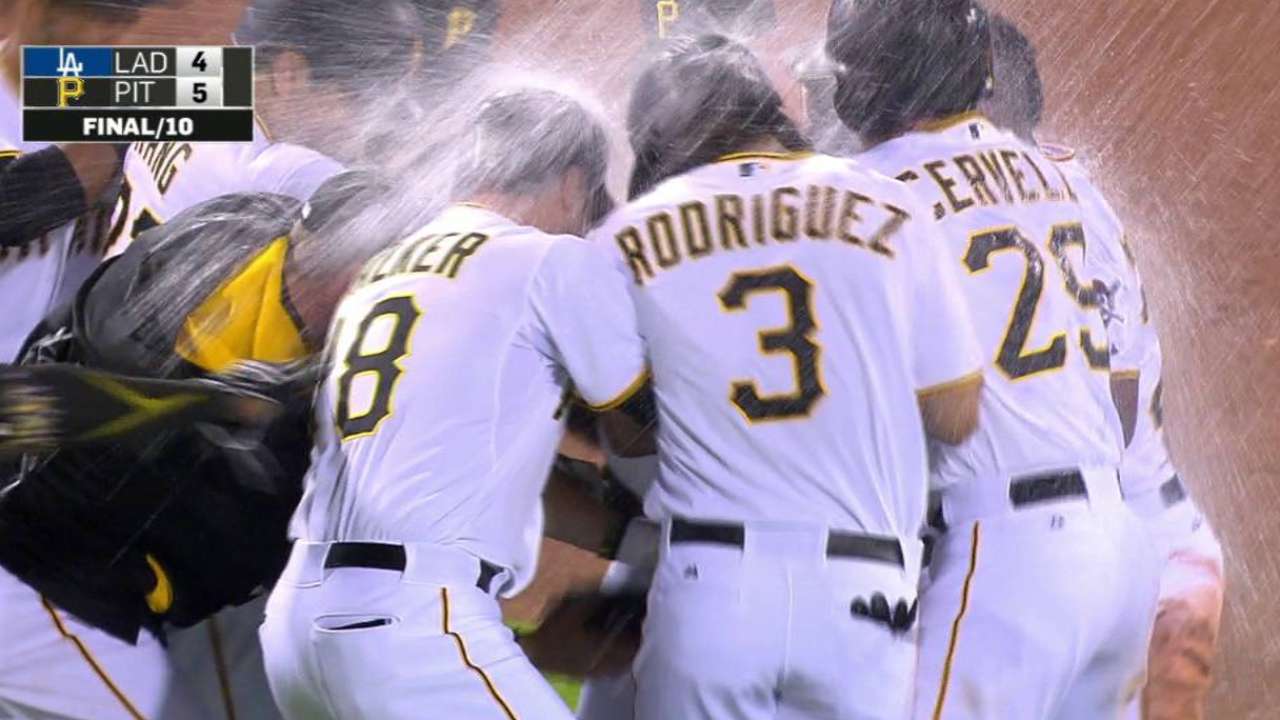 As Kang jogged across home plate, Alvarez ran past first base and into right field, smiling as his teammates raced out to celebrate.
"It's a huge at-bat. There were plenty of us in that position tonight, and we only got one run across," starter Gerrit Cole said. "It looks like Pedro was the magic key. He did a great job."
Adam Berry is a reporter for MLB.com. Follow him on Twitter at @adamdberry. This story was not subject to the approval of Major League Baseball or its clubs.