Pinder finds tough 1st decision hard to swallow
Having earned Girardi's confidence, rookie misses location on 10th-inning homer to Bautista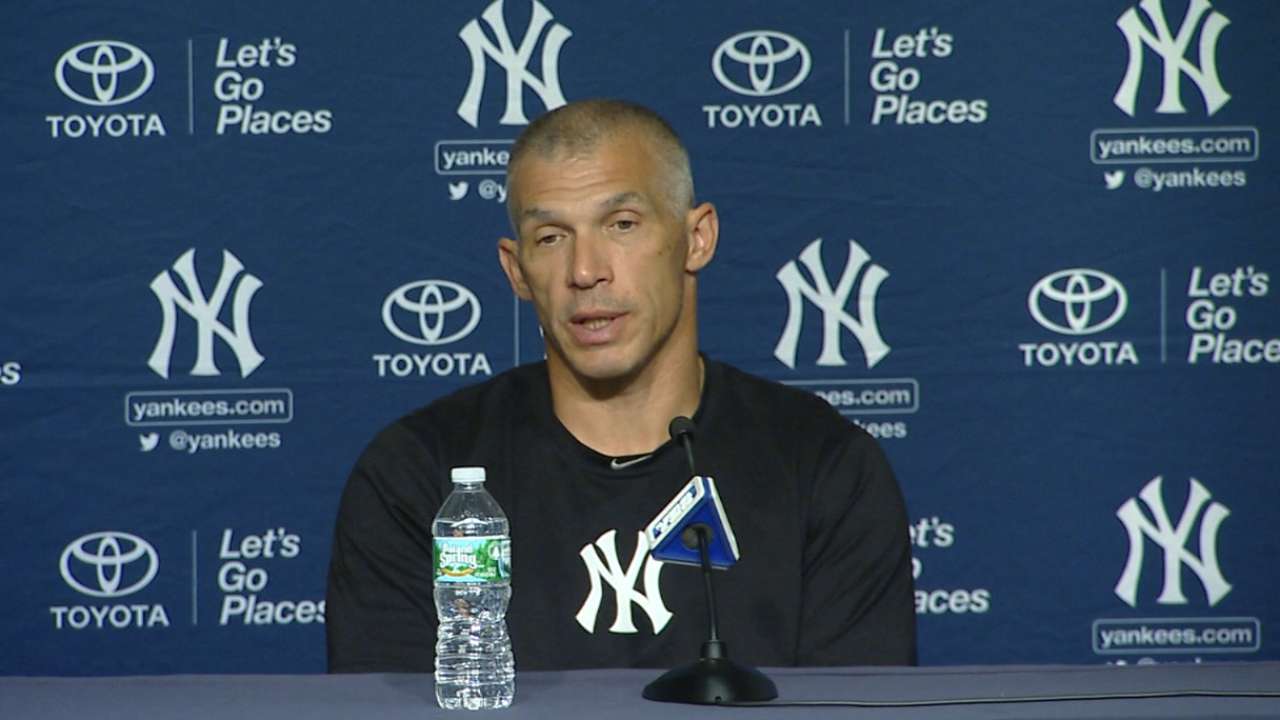 NEW YORK -- There was a grimace on Branden Pinder's face Friday night, moments removed from the decisive home run he gave up to Jose Bautista in the 10th inning of the Yankees' 2-1 loss to the Blue Jays.
It said everything, so he kept his responses to postgame questions brief.
"I would have liked to have gotten it more inside, but I didn't."
"I'm not gonna change my approach, they're all just hitters in the box."
"I don't know. It went over [the fence]."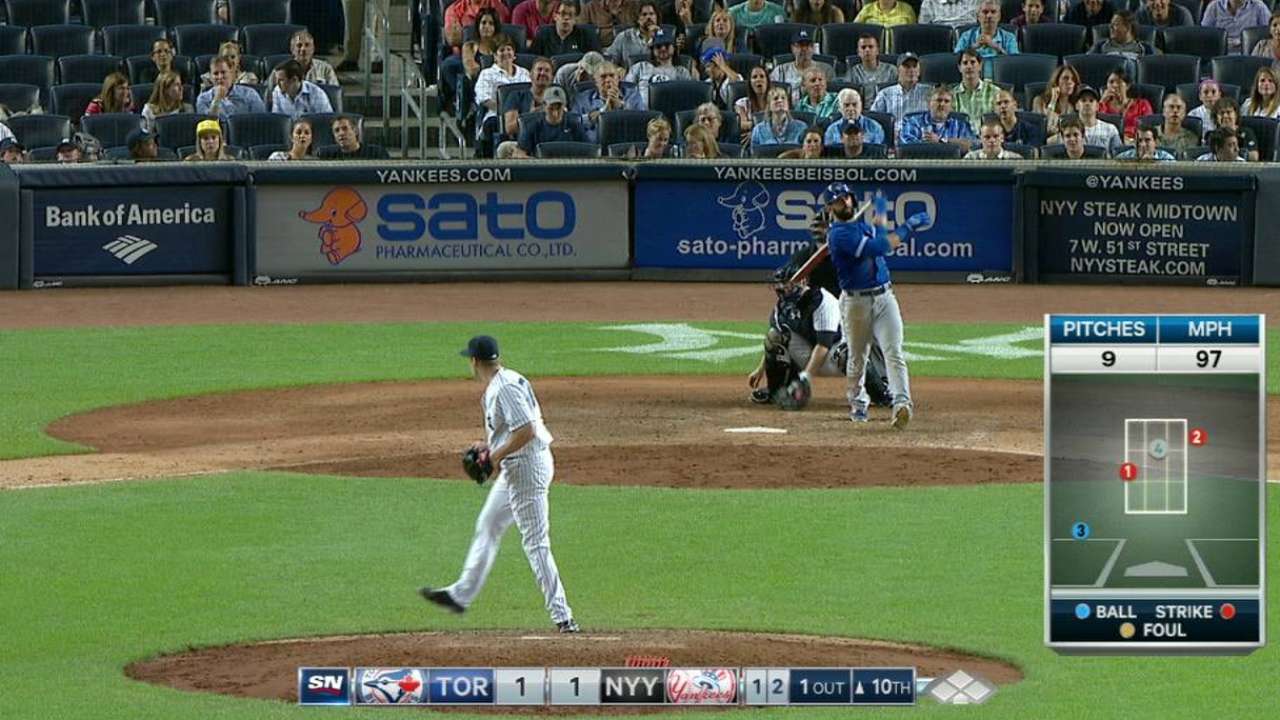 Pinder was visibly frustrated, lamenting the one pitch gone wrong that handed the Blue Jays the opener of a series that could hold serious implications moving forward. It was Pinder's first decision in 14 career games, and it trimmed the Yankees' American League East lead to 3 1/2 games over the second-place Jays.
Yankees manager Joe Girardi had a calculated reason for bringing Pinder in for the 10th inning as opposed to a more experienced pitcher -- Justin Wilson, Dellin Betances and Andrew Miller had come in earlier and gotten big outs.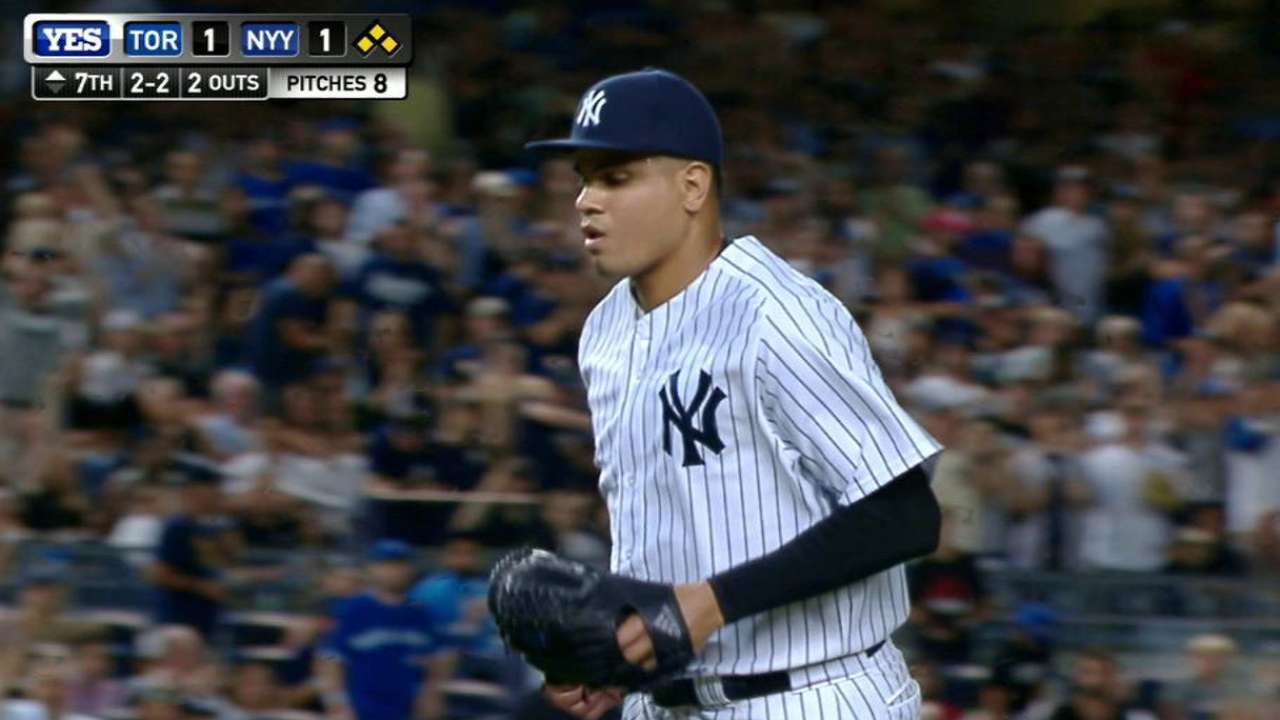 Girardi had confidence in the 26-year-old.
"He's been throwing the ball extremely well. Good slider against the right-handed hitters," Girardi said. "You look at the success that that part of the order has had against left-handers, I felt I'd go right-hander there."
Bautista's homer to left field came on a 1-2 pitch, a 97-mph four-seam fastball. It was Bautista's third career extra-inning homer and his 24th homer against the Yanks since the beginning of the 2010 season, a Major League best in that span.
"He just made a mistake with the fastball," Bautista said. "I felt like it was right down the middle in a 1-2 count. I'm looking for an extra-base hit, I'm not trying to poke a single to the right side in that situation. I need to get on second, there's already one out, trying to get in scoring position as soon as possible."
While Pinder took the loss hard, his veteran teammate, Brett Gardner, isn't concerned about him.
"He obviously didn't have a lot of experience up here, but he's here for a reason. He's capable of getting big league hitters out," Gardner said. "I think he's done a real good job for us all year. I think he's a big part of things going forward. He's got a really, really good arm, and hopefully he's able to turn the page. Forget about it."
Grace Raynor is an associate reporter for MLB.com. This story was not subject to the approval of Major League Baseball or its clubs.