Dickey 'enjoying' sustained run of success
Blue Jays knuckleballer has allowed 3 ER or fewer in 12 of 13 starts after working on mechanics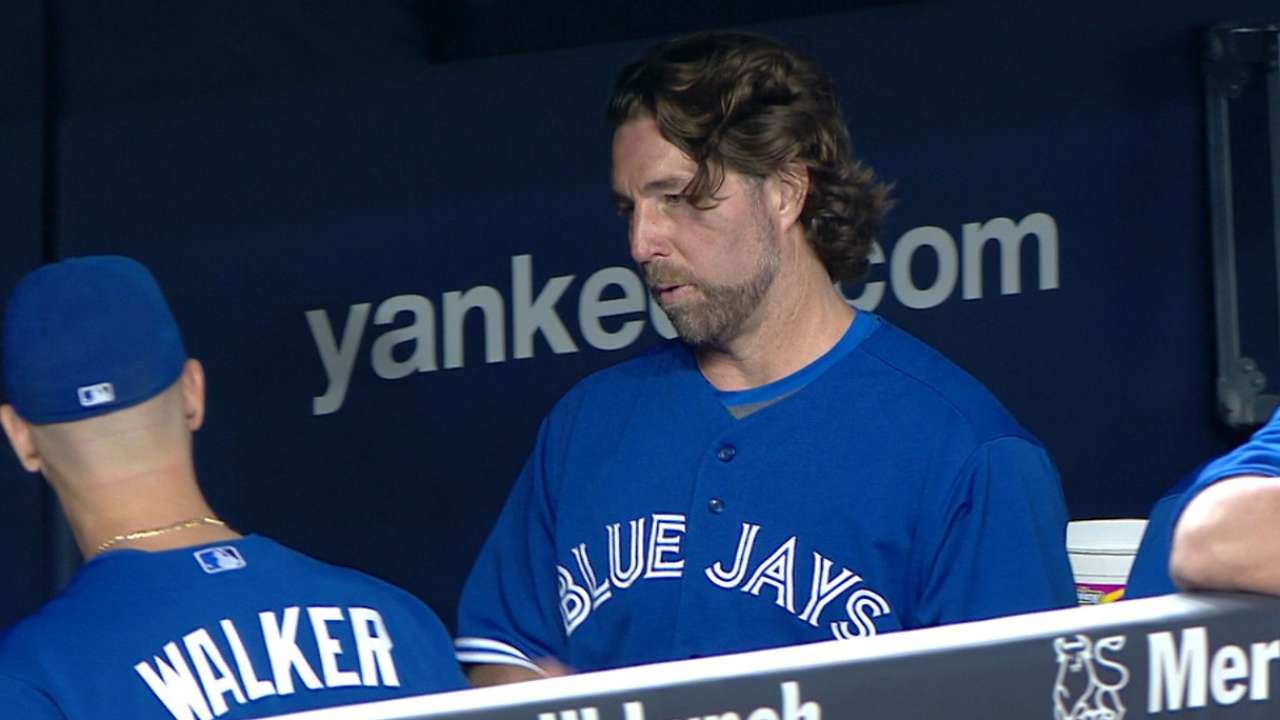 NEW YORK -- Don't look now but R.A. Dickey might be in the midst of his best stretch since joining the Blue Jays prior to the 2013 season, and he's doing it at the right time.
Dickey came through yet again on Friday night by limiting the Yankees to one run over seven innings. He didn't factor into the decision, but he was one of the main reasons Toronto hung around long enough for Jose Bautista to hit a solo shot in the 10th inning en route to a 2-1 victory.
The 40-year-old Dickey has allowed three earned runs or fewer in 12 of his last 13 starts. He's been even better more recently, with two runs or fewer in the last six, which begs the question: Is this the best he has been in a Toronto uniform?
"I know that the Torontonians think that I probably haven't had two very good years, but I feel like I've had some pretty good stretches in there," Dickey said. "I'm enjoying this because I feel like I'm having the success, I've put a lot of work into it, and I always hoped to be able to deliver like this.
"That's always my hope, so when something like this happens, whether it's a streak or a game, it feels satisfying. But I've still got 10 starts left, that's a whole lot of season, almost a third of the season."
Dickey does have a point. Even though he received more than his fair share of criticism, he posted an ERA under 4.00 last year, which is no easy task in the American League East. The veteran knuckleballer also has come on strong in the second half during each of the previous two seasons, but in 2015 he seems to be taking it to another level.
The progression dates back to a series of mechanical adjustments he made with pitching coach Pete Walker following a disappointing outing against the Astros on May 15. He made some changes to his delivery, and it has led to improved command and higher velocity, bringing back memories of his 2012 Cy Young Award season with the Mets.
Since the beginning of June, Dickey has a 2.59 ERA over 87 innings. He has only four wins to show for it over that span -- and he didn't get one again Friday night -- but that doesn't matter to him as long as the Blue Jays continue on their current trajectory.
"The individual record, I couldn't care less about," Dickey said. "It's amazing what you can accomplish when you don't care who gets the credit. It was a unique way to win a ballgame tonight. A lot of people contributed, a lot of people did their jobs. We've been going good, and we have to stay even-keel. You can't ride the rollercoaster, otherwise you'll tire out at the end."
Gregor Chisholm is a reporter for MLB.com. Read his blog, North of the Border, follow him on Twitter @gregorMLB and Facebook, and listen to his podcast. This story was not subject to the approval of Major League Baseball or its clubs.