Markakis, Pierzynski living up to leadership roles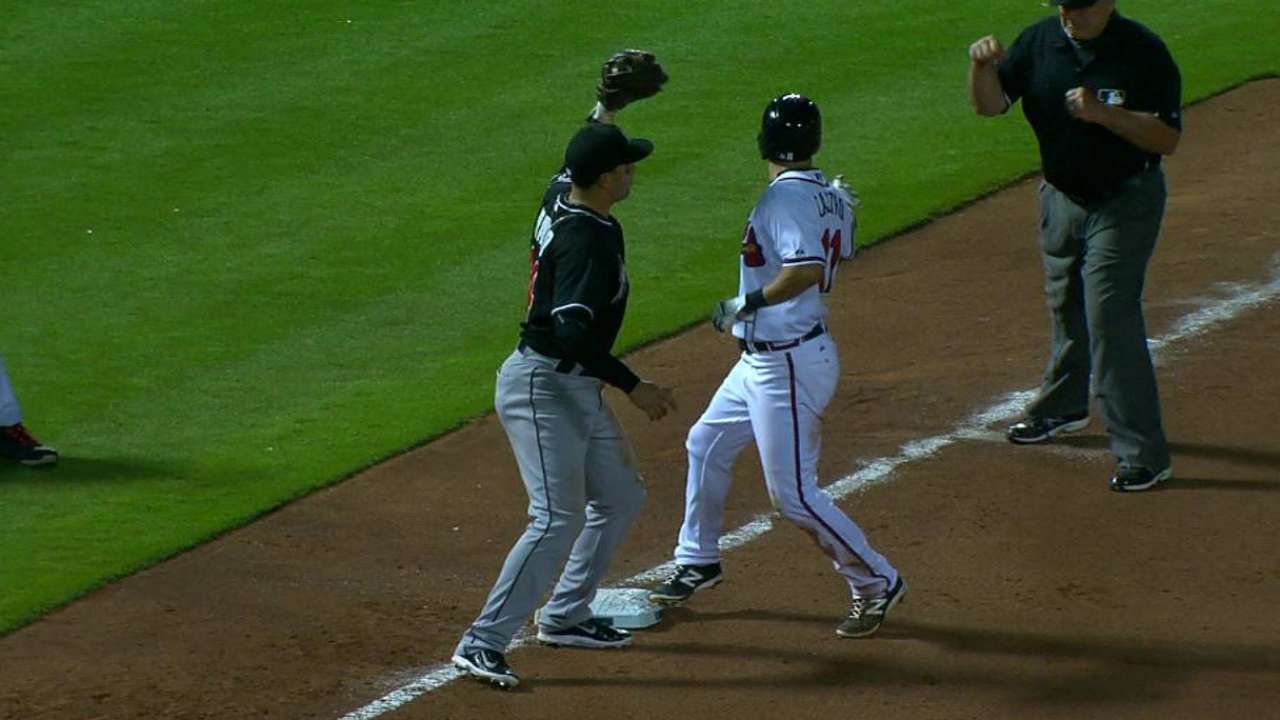 ATLANTA -- As the Braves began their rebuilding process this past offseason, they targeted high-character players who could produce on the field and positively impact the young players in the clubhouse. It surprised some when they pursued both no-nonsense Nick Markakis and the polarizing A.J. Pierzynski to serve as a couple of their new team leaders.
But as the first four months of this season have unfolded, Markakis and Pierzynski have proven to be perfect fits, both in the clubhouse and on the field. They have maintained their intensity while the team has struggled over the past few weeks and proven to be key contributors, like they were during Friday night's 6-3 win over the Marlins.
"You appreciate them the way they go about their business," Braves manager Fredi Gonzalez said. "Hopefully that carries over to that clubhouse for the [Jace] Petersons of the world. He's in his first year in the big leagues, but he sees the way Markakis, Pierzynski and Kelly Johnson -- when he was here -- go about their business."
Markakis capped his second three-hit game of this homestand with a two-run single in the seventh inning of Friday night's victory. Three innings earlier, the 31-year-old outfielder extended his hitting streak to 14 games by concluding an eight-pitch at-bat (that included nothing but strikes) with the first of four straight singles allowed by Jose Fernandez. The Marlins' ace had not surrendered a hit to any of the previous 11 hitters he faced.
Pierzynski followed Markakis' first hit of the night with a single that scored Daniel Castro with the game's first run. The 38-year-old veteran has shown little wear and tear despite unexpectedly being given the starting catching duties less than two weeks into the season. He has batted .302 on the season and .426 (20-for-47) during his 12-game-hit streak.
"I mean yeah, sometimes he seems mean," Braves pitcher Julio Teheran said of Pierzynski. "He likes to talk to the other pitchers, and that's the way he motivates, just to see if he can get something easy to hit."
Pierzynski readily admits that he has never shied away from using his mouth to motivate teammates or throw an opponent off his game. His reputation gave Gonzalez some concern when the team was pursuing him this past winter.
But Braves president of baseball operations John Hart has known Pierzynski since the catcher was 14 years old, and now shares an Orlando-area neighborhood with him. Hart has proven to be dead-on with his assessment that Pierzynski's personality and approach would benefit the Braves.
Now, Hart is hoping to receive similar benefits from the two highly respected veterans -- Michael Bourn and Nick Swisher -- he acquired from the Indians in exchange for Chris Johnson on Friday afternoon.
"We've got a ballclub filled with guys that like to play. They play to win and they play hard," Hart said. "As many injuries as we've had and as many deals as we've had to make, this club has never lost that way of going about things."
Mark Bowman is a reporter for MLB.com. This story was not subject to the approval of Major League Baseball or its clubs.