Kahnle whiffs Harper for first career save
Birthday toast: Rockies righty turns 26, racks up clutch K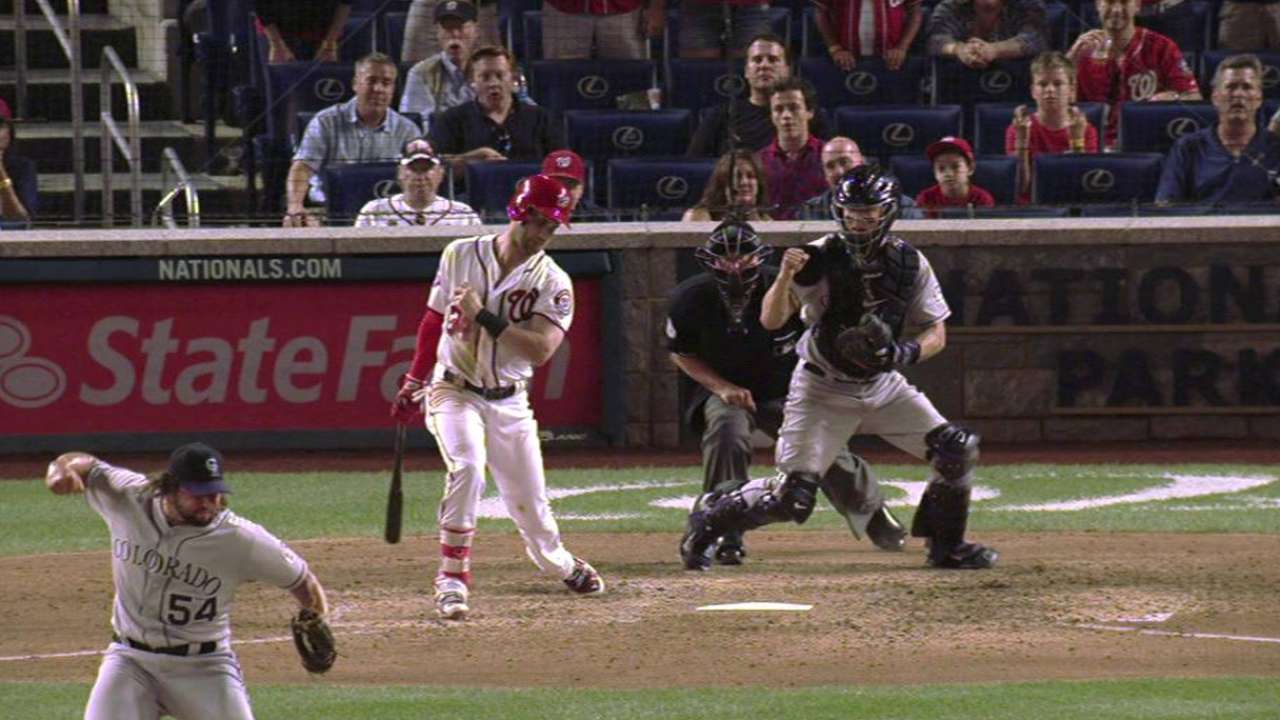 WASHINGTON -- Well before the situation actualized in front of a crowd of 33,622 at Nationals Park, Rockies manager Walt Weiss racked through the possibility of facing Bryce Harper with the game on the line.
"I went through that situation in my head about a man on first and Harper comes up," Weiss said after Colorado's 5-4 win on Friday night. "I thought about putting him on, to be honest with you. But we weren't going to give in."
With a one-run lead and two outs in the bottom of the ninth, Weiss' decision was made. As long as Tommy Kahnle, Friday's closer du jour, kept Harper out of a hitter's count, the Rockies would attack the strike zone.
"We've been mixing and matching in that ninth inning for about a week or so. Tommy's one of the guys I've been thinking about going to," Weiss said. "He's been throwing the ball well. The thing about Tommy is he rarely gets hit hard. ... His stuff is overpowering."
Pitch one was a 96-mph fastball. Strike one.
"He threw me some heaters," Harper said, "but I didn't really want to swing at the heaters, didn't think they were going to be over the plate at all."
Kahnle came back with another fastball, but it missed. Then came the first of two changeups.
"Really, I just go with whatever [catcher Nick Hundley] puts down," Kahnle said. "I had an idea that a changeup would work in that situation."
Harper whiffed and fell behind 1-2, then fouled off a fastball to stay alive for one more pitch.
On his 26th birthday against one of the game's best hitters, Kahnle went back to the changeup. It started out looking like a low fastball before tumbling out of the zone. The swing-and-miss it produced earned Kahnle his first career save.
Tommy Kahnle. 1st @MLB save on your birthday. THAT'S reason to celebrate! pic.twitter.com/AVnYP6qUQg

— Colorado Rockies (@Rockies) August 8, 2015
"That was a big time save against one of the best in the game in Harper," Weiss said. "Tommy got strike one and stayed in the count the whole time. He threw him a nasty changeup that last pitch."
Jacob Emert is an associate reporter for MLB.com. This story was not subject to the approval of Major League Baseball or its clubs.