Twins' Buxton inches closer to big league return
Baseball's top prospect goes 3-for-5 in his first rehab game with Triple-A Rochester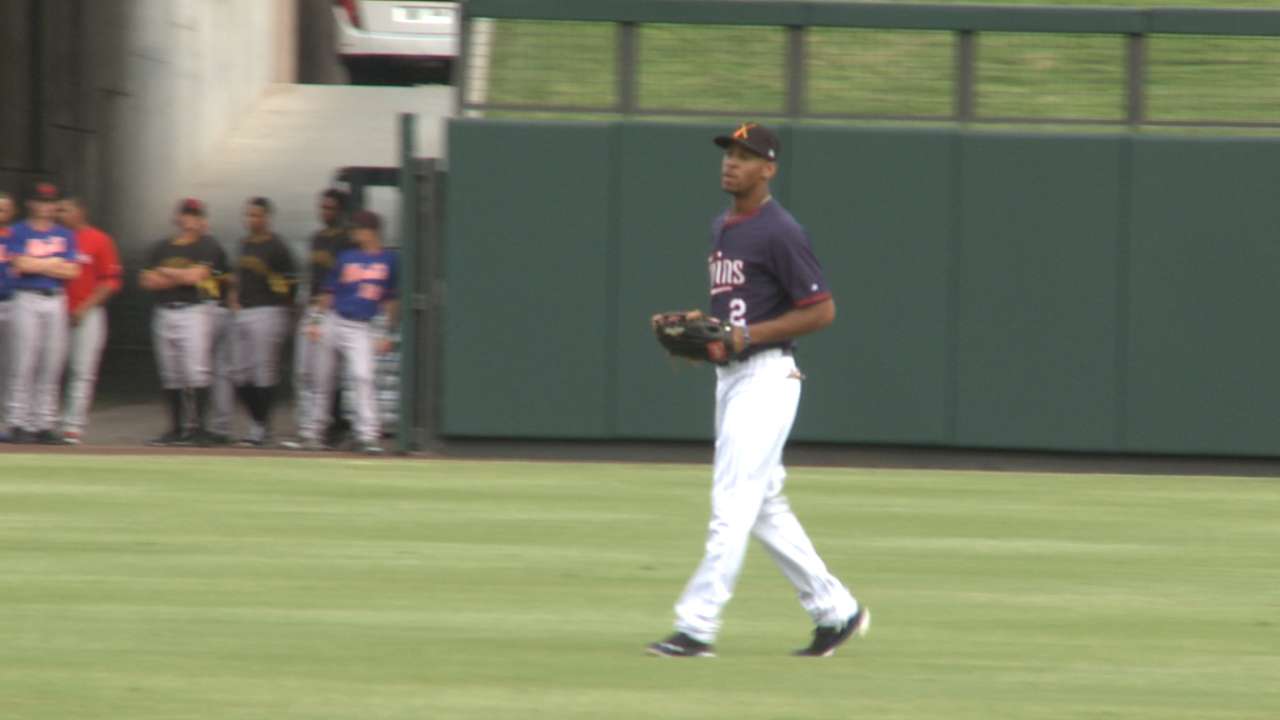 Byron Buxton officially began his rehab assignment on Friday, going 3-for-5 with a run scored in Triple-A Rochester's 9-5 loss to Charlotte while working his way back from a sprained left thumb.
Buxton served as the designated hitter in his first game since June 24. He singled to center field to lead off the game and later scored on a Danny Santana single. His second at-bat came in the second inning and resulted in an opposite-field single. Buxton grounded out in the fifth and seventh innings before adding a third single and an RBI on a grounder in the ninth.
Baseball's top overall prospect made his Major League debut on June 14 and appeared in 11 games before suffering the injury and hitting the disabled list. Buxton batted .189/.231/.270 through 39 plate appearances. His first-inning at-bat was actually his first at the Triple-A level, as he jumped straight from Double-A to the big leagues.
Aaron Hicks has excelled in center field during Buxton's absence, hitting .304/.371/.520 with plus defense. Twins manager Paul Molitor was noncommittal when asked about Buxton's return before Friday's game in Cleveland.
"We had a small glimpse of him up here," Molitor said of the Twins' top prospect. "It's kind of going to be how he goes and how he plays and if we decide to figure out a way to make him fit up here and how long that's going to take. If he needs 20 days or it's into September, those things are all kind of more based on how things are going here and how he does down there. We'll just have to see when it's the right time to get him back.
August Fagerstrom is an associate reporter for MLB.com. This story was not subject to the approval of Major League Baseball or its clubs.